THOUGHT BUBBLE FORTNIGHT! Kicking off our two weeks of dedicated Thought Bubble 2021 coverage today we begin with a chat with Josh Hicks, the creator behind the much loved Glorious Wrestling Alliance series and micropublishing enterprise Carp Publishing Endeavours. With Graphic Universe launching a colour version of the collected Glorious Wrestling Alliance series the 2017 Broken Frontier 'Six to Watch' artist (as ever, we did tell you!) chats about the origins of the GWA, taking the characters to new audiences, and accidentally starting a micropublisher…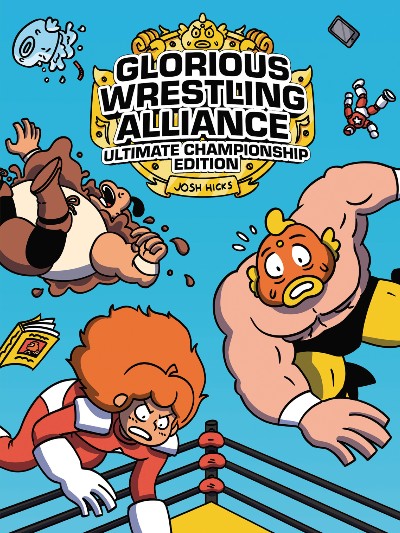 ANDY OLIVER: Since I first reviewed Glorious Wrestling Alliance's first issue way back in 2016 you've been on quite a journey with the book through self-publishing, crowdfunding and now the new edition from Graphic Universe. What was the original inspiration and influences for GWA? Especially in terms of the visual invention you bring to the comic.
JOSH HICKS: It has been a journey. The fact that I drew the first pages five or six years ago means that the initial inspiration period is a sort of hazy blur for me now. I know I wanted to do something with this wrestling world and aesthetic that I loved, and also wanted to carry on doing the semi-confessional (in the loosest, tamest sense of the word) comedy stuff I'd been doing in little short stories for anthologies. The rest just sort of came together as I started doodling and building the cast.
I remember being blown away by Daniel Clowes' Ice Haven, and that was a big inspiration for the first comic – these separate characters going about their business in a little world. Like Ice Haven, GWA is mostly interconnected vignettes, so there's that. Video games probably had more to do with the visual language of the book than anything else. That stuff was just in my bones at that point, and I remember thinking that there were lots of great graphical storytelling devices that developers would use – especially in old school RPGs and strategy games – that could work just as well in comics to throw you into the world of the story headfirst. I love that stuff.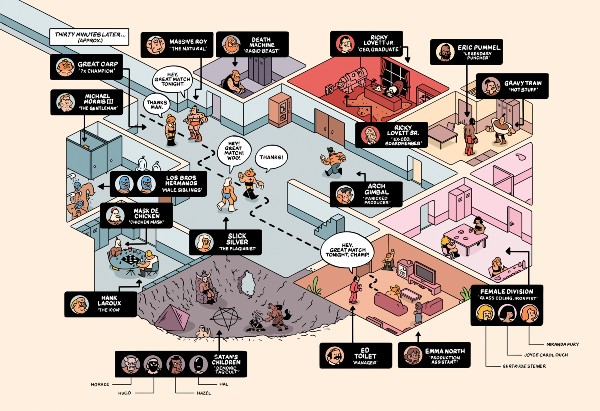 AO: For those about to discover the world of the Glorious Wrestling Alliance for the first time can you tell us a little bit about the book's colourful cast?
HICKS: Yes! The GWA is an extremely poorly-managed but inexplicably long-running wrestling promotion, and the book kind of starts at the precipice of everything falling apart. We follow a bunch of wrestlers as they struggle with their own little personal foibles – we've got Great Carp, a champion who is going through an extended period of deep malaise and is having a bit of an existential crisis; Miranda Fury, who knows she's capable of bigger and better things than management's archaic booking system will allow; Gravy Train, who wants a new gimmick but is hampered by the fact that his torso is a big gravy boat; and Death Machine, whose wrestling day job keeps getting in the way of his poetry aspirations. There's a lot of neurosis. These are, like, the big players. Between wrestlers, management and various side people there are like twenty-five characters in the book. Traditional thought may be that that is 'too many', but I think it's a good amount.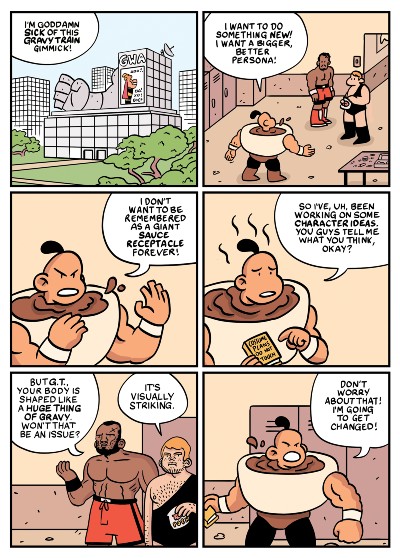 AO: Given the quirky characters you get to play with in GWA have any become particular favourites to write for as time has gone on?
HICKS: My aim for Great Carp is to try and just write his anxiety and mild-to-moderate depression vaguely realistically, and not in a storybook way – his brain is basically always going to be the way that it is, so it's just a case of him managing it and getting on with things. That stuff is challenging and satisfying to write. I definitely like writing Gravy Train and Death Machine the most; Gravy Train has grown into some kind of strange and erratic force of nature, and Death Machine is just easy to write because his stumbling poetry career is essentially an autobiographical guide to making small press comics. I also like writing wonky poetry, it turns out.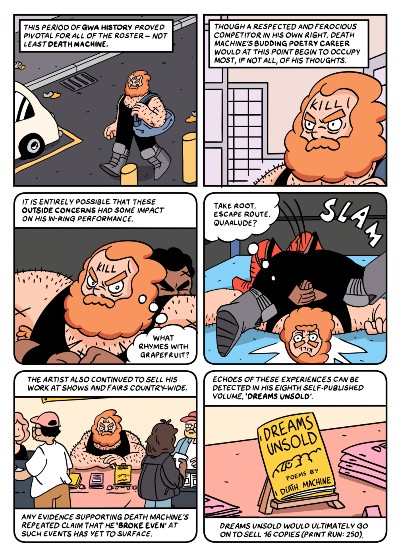 AO: The new Ultimate Championship Edition comes to us in full colour for the first time from Graphic Universe. How did the book get picked up by Graphic Universe and what kind of demographic are they pitching it at?
HICKS: My editor, Greg Hunter, came across the comic somehow and kindly bought it out of pocket, and then pitched it to the team at Graphic Universe and they wanted to do it! I'd already done a self-published, Kickstarter edition in single colour, but was excited to have a crack at colouring everything up and getting it out to a bigger audience.
Graphic Universe is primarily a kids and YA comics publisher, so it's ostensibly pitched as a YA book. I had no audience in mind when I made the book though, and so what you're getting is an essentially unfiltered DIY comic I made in my bedroom with a nice colour sheen. I suppose what this means is that I have a young adult's brain. It weirdly got a KID FRIENDLY stamp in Diamond's Previews, which is probably not fully correct unless you have a very liberal definition of the word 'kid.' There are hardly any content changes – I did opt to cut out some background cigarette smoking, but I saw that as an homage to the way anime would get strangely cleaned up when it went over to the US in the 90s. To me it's just a book about some very sensitive wrestlers.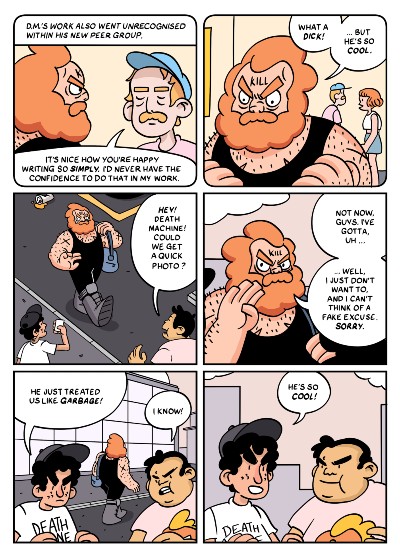 AO: For longer-term GWA fans the addition of colour to the new Ultimate Championship Edition may be a tempting lure to revisit the stories. What were the main considerations when approaching the application of colour to the strips, and can you talk about your creative process on the book in that regard?
HICKS: I'd played with colouring the comic before, for fun more than anything, but it was always a non-starter. When I finally had a reason to do it, I just got stuck in and coloured it in a way that felt natural to me. I got to play with mood a bit more, and I also got to do cool stuff with colour coding the different characters' backstage zones and stuff, which was fun. I think the colour helps the pacing of the jokes in a weird way, and I'm not sure why, really. I think it just gives it a slightly different vibe. I also sneakily redrew a few badly-drawn panels. Eagle-eyed readers can try and figure out which ones.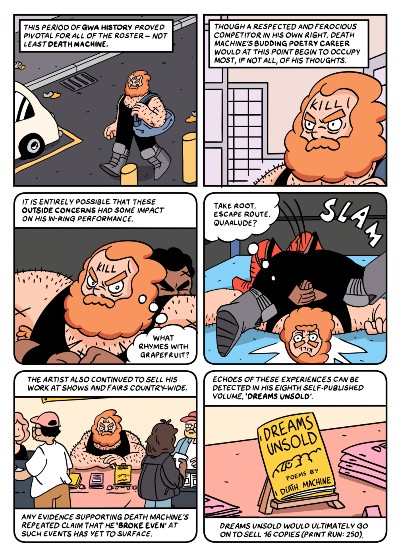 AO: The last 19 months have been challenging for us all. How therapeutic was it then to work on your sidestep GWA book Death Machine & Gravy Train Stay Indoors? Was there an element of catharsis to producing that one-shot short story?
HICKS: It was very therapeutic, because it kept me busy and I could process stuff as it was happening. That comic is ultimately about whether or not attempting to make art out of a crisis is an actual helpful endeavour or just a slightly self-indulgent way to get some kind of silver ego lining out of a bad situation, and I think I probably landed in the latter camp when I did it. I liked just doing a page with no planning, then having to spend the next few days thinking about where the next one would go. There was no pressure. It also felt like I was making my own sitcom bottle episode, which was fun.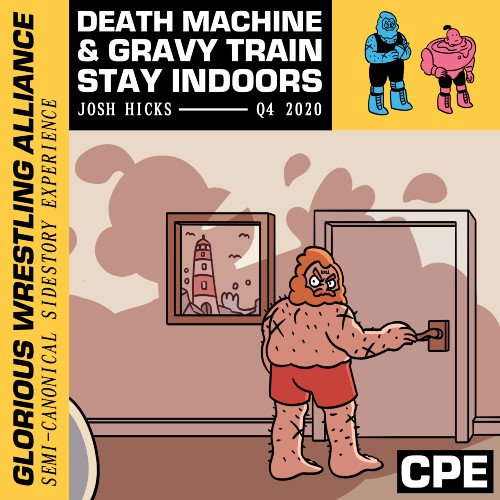 AO: A couple of years back you launched Carp Publishing Endeavours as an imprint/micropublisher for both your own work and other comics projects. What was the genesis of CPE and how would you describe its ethos?
HICKS: Carp Publishing Endeavours is the name of Great Carp's publishing imprint in GWA. When I self-published the first collection of GWA comics, I stuck the CPE logo on the side of the book as a joke, but then realised that I had basically started a micropublisher by accident, so thought I'd see if any friends wanted to put some books out. That's the ethos, if there is one – I ask my friends if they have a book they want me to put out and then I do it. Aside from my own stuff, I've put out Ioan Morris' Biggol, and Łukasz Kowalczuk's Only Wrestling is Real, which are both great. It coincided with the pandemic, so I haven't actually been able to take any of these books to shows, but I'm taking the entire CPE back catalogue to Thought Bubble this month and am hoping to get some more stuff out through CPE next year.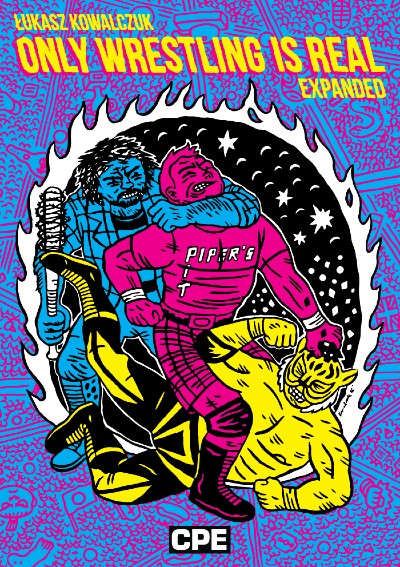 AO: As mentioned one of the breakout CPE projects was Ioan Morris's Broken Frontier Award-winning Biggol. What's the premise of the comic and what do you see as its major appeal?
HICKS: Ioan's Biggol is a five-issue 'documentary' comic about the birth and demise of an obscure, 60s television serial about a wizard. It's very silly and funny, and done with absolute attention to detail and great care. It's a topic very close to Ioan's heart and brain and you can see that in every page, really. I love it, and I recommend anyone with any affinity for obscure and neglected genre media to check it out.
AO: And, finally, what are you working on currently? What can we expect to see from Josh Hicks in the coming months?
HICKS: I'm doing a lot, but I don't know when exactly it'll all see the light of day. I'm finishing off the script for my next book with Graphic Universe. It's called Hotelitor and it's a sci-fi action thing about life inside a giant robot that is also a hotel. That'll be a long way off, because I also need to draw it. I'm also doing a bimonthly strip for a Welsh-language kids comic called Mellten. If you can read Welsh, look for that. I can't – I have to get it translated. Me and Ioan are working on something together, and I've been working with Tinkerbot Games in Wales to make an insane GWA card game, which is actually almost done and with any luck will be on Kickstarter at some point next year. I'd also like to do more GWA comics in some form. I've got a story that currently exists only in my notes app, but fingers crossed I can do that, too.
Visit Carp Publishing Endeavours here and Graphic Universe's Glorious Wrestling Alliance page here. You can find Josh Hicks and Ioan Morris at Table 12A in the Redshirt Hall at Thought Bubble.