Thought Bubble is coming and, in the fortnight leading up to the festival weekend, we're running a series of previews at BF  of some of the debut books that have really caught our eye.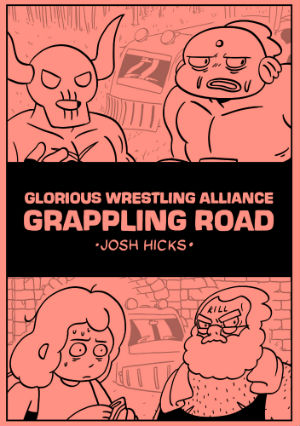 Today it's the turn of Josh Hicks – another of our 2017 Broken Frontier 'Six Small Press Creators to Watch' – to get his turn in the spotlight. Josh will be debuting the long-awaited second issue of his wonderfully madcap Glorious Wrestling Alliance series which follows the lives of some of the bizarrest ring-bound gladiators imaginable.
I reviewed the first issue here last year at BF noting "Glorious Wrestling Alliance is a fantastic introduction to [Hicks's] longer-form work. It would be criminal if we don't see more of this vividly realised company of players in future."
In the time since that first issue the versatile Hicks has gone on to be published by Good Comics with his Human Garbage anthology going to a second printing. You can find out more about his comics in his Broken Frontier interview here and his creator's commentary for the site here.
Here's the press release details:
The dysfunctional cast of the GLORIOUS WRESTLING ALLIANCE are getting in a bus and going on tour! Features simmering tension, petty bickering, sub-par personal hygiene and wanton invasion of space and boundaries. Official stand-alone sequel status: no prior reading necessary for enjoyment!
A5, blue riso on white paper. Twenty-six pages of pure GWA comix, plus BONUS illustrations from Rob Marland and James Lawrence, along with a full four-page BACK-UP STRIP by Ioan Morris. What a time to be alive!
Launches September 23rd at Thought Bubble, ships thereafter!
Pre-order Glorious Wrestling Alliance #2 here (#1 is also available on Josh's online store)!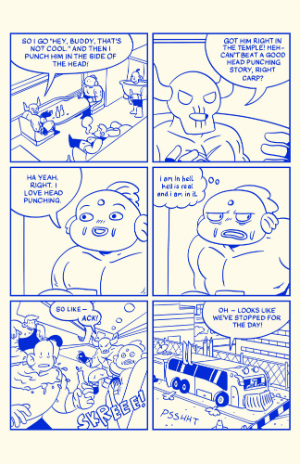 For more on the work of Josh Hicks visit his site here and follow him on Twitter here. You can visit his online store here. Josh will be tabling at Table 41 in the Leeds Town Hall Marquee at Thought Bubble.

For regular updates on all things small press follow Andy Oliver on Twitter here.