New Roger Langridge work is always going to be a treat and when it has an old school nostalgic vibe to it all the better! The much acclaimed New Zealand artist has worked on properties like The Muppet Show for Boom! Studios, Popeye in a wonderful run of stories for IDW and collaborated with Chris Samnee on the all-too prematurely cancelled Thor: The Mighty Avenger series at Marvel. He's also recently given us his take on that classic animated favourite Betty Boop for Dynamite.
But for indie fans it's his own creations like Fred the Clown that most resonate. We reviewed his self-published return to Fred in The Iron Duchess here last year at BF and the book will imminently be repackaged and published by Fantagraphics. For Thought Bubble Roger returns to his early 1990s Zoot! comic with the first issue of a second volume. Details and energetically cartooned preview pages below…
Originally published by Fantagraphics in the early 1990s, Roger Langridge has returned to his roots by self-publishing a brand-new issue of Zoot!, the title once described by the Comics Journal as "a wonderful comic that nobody ever read". The single-creator anthology features gag strips, self-contained short stories, new escapades of old characters such as Art d'Ecco and The Fez, the first chapter of a new western-themed Fred the Clown graphic novel entitled "Arizona Daisy", and new autobiographical material in which Langridge explores his sense of belonging and contemplates his place in the world.
Website: http://www.hotelfred.com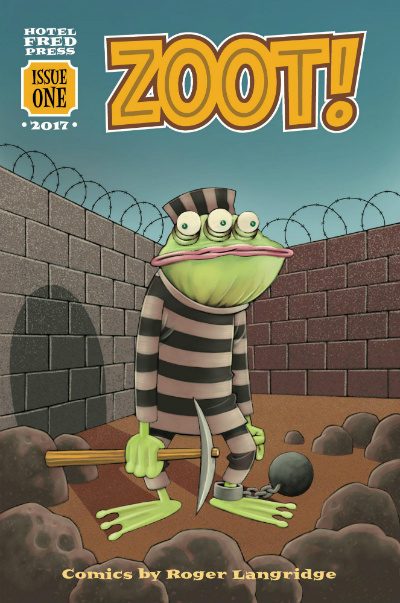 Find out more about the work of Roger Langridge here and follow him on Twitter here. Roger will be exhibiting at Table 59 in the ComiXology Marquee at Thought Bubble where you can buy Zoot! priced £5.00. 

For regular updates on all things small press follow Andy Oliver on Twitter here.