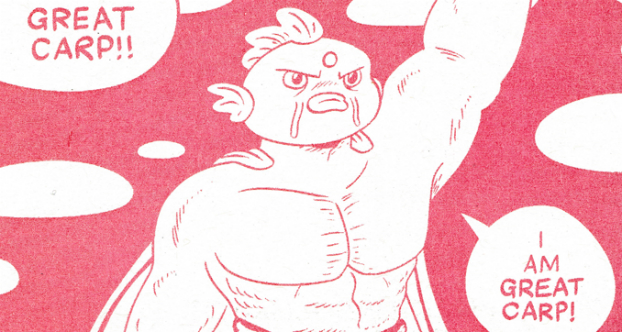 Triumphantly flamboyant exhibitionism to some… ludicrous, pointless pantomime to others… the world of wrestling is certainly a divisive one. Josh Hicks embraces these contradictions in his self-published short comic Glorious Wrestling Alliance with an ensemble character piece. It's one that is never afraid to poke fun at its subject matter but does so with a mirth that is fond and affectionate in its delivery.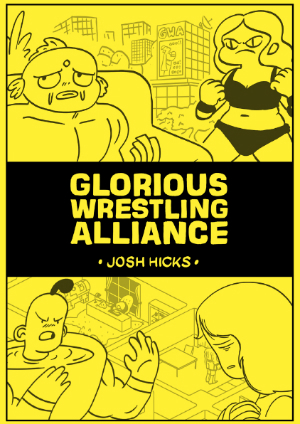 Some readers may recognise Hicks's name from recent UK anthology contributions. He's been part of the Dirty Rotten Comics line-up and was featured in the last issue of Off Life where his short strip 'Body Conscious' – with its humorously hypochondriac meanderings – caught my attention when I reviewed it here. Glorious Wrestling Alliance is similarly deft in its playfulness with the form.
We meet a number of the GWA's competitive combatants in this issue in what we can only hope is an opening round of many more to come. There's the Great Carp – a piscine fighter with a passing resemblance to The Creature from the Black Lagoon – whose life is beset by existential crises. We also encounter Death Machine whose profound grappling-based poetry belies his fearsome ringside persona; Gravy Train, a wrestler with the oddest of body issues (below); and Miranda Fury from the Female Division who's about to make her mark on the wrestling community in an unexpected way…
A kind of comedic soap opera, we follow this colourful crew of characters inside and outside of the ring through their personal intrigues, rivalries and inter-office politics. Hicks has a jaunty cartooning style and an expressive eye for visual characterisation but it's his inventive command of the layout of the page and clever panel-to-panel storytelling that most impresses.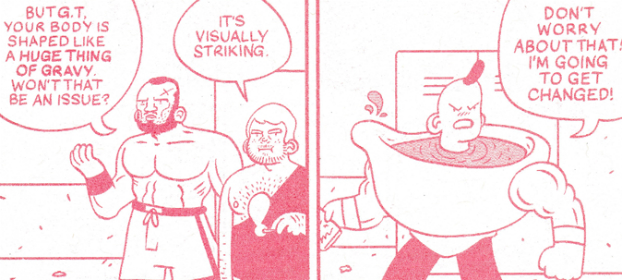 When we're first introduced to the sprawling cast, for example, it's via something resembling an architectural plan of their offices with plenty of neat sight gag flourishes. Hicks is adept at manipulating his methods of presentation throughout: wrestling posters, television screens and costume sheets all ingeniously and wittily move the narrative on at various points, and one dream sequence with Great Carp's anxiety nightmares juxtaposed with his sleeping self is particularly effective in its construction.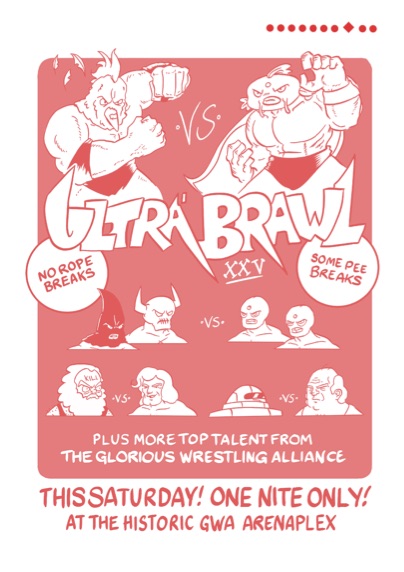 No joke outstays its welcome, with the rapid changes between scenarios and featured characters ensuring the humour never has a chance to become laboured or overtly repetitive. Indeed, all the various interweaving plot threads move satisfyingly towards a neatly tied up conclusion. But with plenty of material still set up for future potential instalments…
My exposure to Hicks's comics to date has been limited but it's already abundantly clear he's an artist with a wickedly fertile imagination. Glorious Wrestling Alliance is a fantastic introduction to his longer-form work. It would be criminal if we don't see more of this vividly realised company of players in future.
You can buy Glorious Wrestling Alliance online priced £3.00 for print here and £2.00 for a digital copy here.
For more on the work of Josh Hicks visit his site here and follow him on Twitter here. 
For regular updates on all things small press follow Andy Oliver on Twitter here.