The juxtaposition of the commonplace and the everyday with the fantastic and the bizarre makes Mengelmoes an unpredictably intriguing read throughout.
For those wondering, Mengelmoes means something akin to "mish-mash" when translated from the original Afrikaans. Given its propensity for merging autobiographical recollection with outlandish fantasy it's a particularly apt title for Willem Samuel's comic charting his life growing up in South Africa. This first issue of six from the ever eclectic Soaring Penguin Press is subtitled 'The Schoolboy' and picks up Samuel's story in 1997 as we spend a typical day's misadventures with our pubescent protagonist.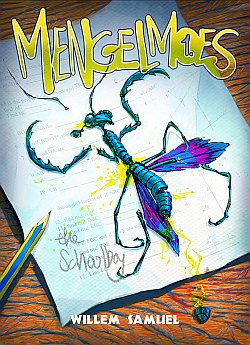 Young Willem is at that awkward teenage stage where his bespectacled, brace-wearing appearance and poor complexion mean his outlook on life is one of self-conscious self-indulgence. He's discovering girls, has a selection of dirty mags hidden under his mattress, and enjoys regular secret solo internet sessions. His schooldays are a ritualistic ordeal of grotesque authority figures, bullying teachers, embarrassing encounters with girls, and peer pressure. It's only that occasional clandestine spliff that makes life tolerable…
At this point you're probably thinking that the above paragraph sounds like an interesting, if unremarkable, premise that could apply to any number of retrospective slice-of-life comics you may have read in the past. Mengelmoes, however, deviates significantly from the standard tales of schoolyard antics – quite literally in terms of narrative twists – in one important respect. Throughout its 50-plus pages Samuel's imagination will suddenly veer off at a tangent as his daydreams seep in and out of reality, interjecting themselves into the real world scenario of the book.
Sometimes this takes the role of wish-fulfilment reverie, as in a sequence when on the car run to school with his father he drifts off into a scenario wherein 2000 AD's Judge Dredd intervenes in his bazooka-led approach to traffic management. At other points a school assembly morphs into a horror movie, the elastic folds of the Principal's double-chin expand into a self-propelling fleshy catapult, and a chance encounter with two of the school's most desirable female students is replayed a number of times as every possible permutation of the outcome of this random meeting is played through his mind.
It hardly needs saying that there are plenty of precursors to Samuel's "fictional" self, from Thurber's titular character in The Secret Life of Walter Mitty to Alan Bleasdale's Scully, but what marks Mengelmoes out is the clever use of the specifics of the comics form to bring to life the exploits of its first person fantasist.  Of course, that juxtaposition of the commonplace and the everyday with the fantastic and the bizarre makes this an unpredictably intriguing read throughout. As much fun as that constantly shifting dynamic of the banal and the uncanny is, though, it's Samuel's confidence as a visual storyteller that is the true triumph of this opening instalment.
From the very outset, as we are made privy to Willem's slumbering visions and their interruption by his alarm clock, there's an immediate realisation that we have a creator here with an assured command of the peculiar storytelling tricks that the comics form has to offer. Just consider the transition between dream state and reality in the pages below for example. From cleverly structured cutaways imposing themselves on the progression of events in the real world through to song lyrics floating into the atmosphere via the smoke of an illicit cigarette, Mengelmoes is full of subtle artistic playfulness. The contrasting depictions of the cast of characters – depending on their role in the story they can range from relatively realistic in depiction to cartoon goofiness – also seems most apposite in a tale that constantly concerns itself with blurring the boundaries between actuality and whimsy.
Rather bravely, Samuel adopts a raw honesty and "warts and all" approach to his subject matter that is as strangely endearing as it is, occasionally, cringeworthy given the situations his "on-page" avatar finds himself in. As narrator he is painfully candid in his delivery giving his past self a persona that is self-deprecating but stays (just) on the right side of excessive self-pity. In this regard he's the outsider the audience can empathise with and invest in, embodying that graceless period of our early, insecure teenage lives that we can all identify with; the deliberately styled anti-hero of his own story.
Understandably, much in the pre-publicity is made of the book's South African origins. I suspect as the series continues that heritage will play a greater role in the proceedings.  At this stage, although there are occasional references, nationality plays what borders on a superficial role in the narrative; after all, stories of gauche adolescence have a universality that speaks to us all. It will be interesting to see to how significant a degree cultural factors become a part of the tale once it advances out of the confines of the school campus.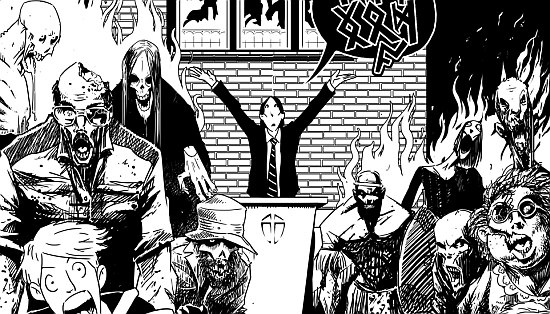 Slice-of-life comics with a defined difference, Willem Samuel proves with Mengelmoes that he's a creator who bears very close watching in the future. A poised and impressive debut that will, in turn, make you smirk, wince, laugh and nod your head in sly recognition.
Willem Samuel (W/A) • Soaring Penguin Press, £4.95, February 26th 2014