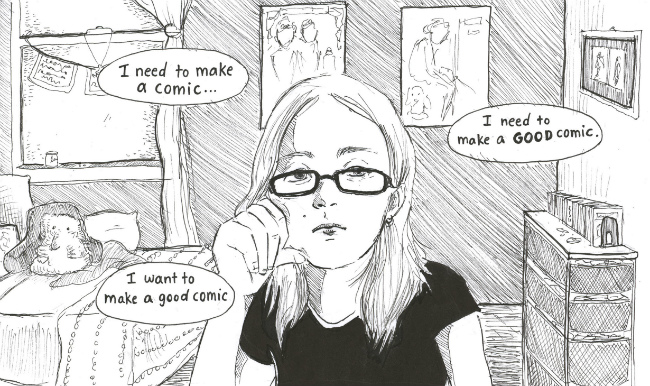 Tillie Walden's debut graphic novel hasn't even been published yet and already she's being touted as one of the most exciting new talents to have come into the medium for years. The maturity and confidence of her storytelling style is all the more remarkable when you consider that she still isn't out of her teenage years.
Walden's first full-length comics narrative The End of Summer comes to us via celebrated London micropublisher Avery Hill Publishing. The book is launched at Gosh! Comics later this week and will be available at ELCAF over the weekend. The End of Summer is a dark fantasy focusing on the relationship between young twins Lars and Maja as their family settles in for the winter in their vast and echoing castle home. Today at BF I chat to Tillie about the incredible diversity of her approaches to the form, working with Avery Hill Publishing, and the challenges of tackling a full-length graphic novel for the first time…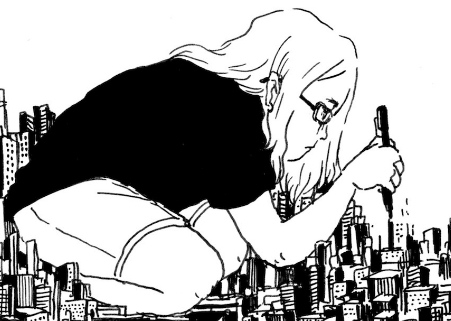 ANDY OLIVER: Before your debut graphic novel The End of Summer has even been published there's been a real buzz about your work online already. Indeed, our preview of the book here at Broken Frontier earlier this year was very enthusiastically received by our readership. As such an exciting new talent on the scene could we begin with a brief introduction to the Tillie Walden story so far for those unfamiliar with your work?
TILLIE WALDEN: Sure! I've been a cartoonist for about two years now. I'm from Austin, Texas, but currently living in Vermont while I attend the Center for Cartoon Studies, which is a two-year program focused on studying and making comics. I've been making short comics for a while now and The End of Summer is my first graphic novel.
Was there a significant entry point into comics for you? Something that principally influenced your love for the medium?  
There was a significant entry point for me, actually. I never drew comics for fun as a kid, it was more that the day I decided to draw comics I sat down to do it like it was a job, and haven't stopped since. What got me started was I went to a two-day workshop with Scott McCloud in Los Angeles when I was in 11th grade.
I remember being at this workshop, and I was very excited, but I had the realization that I had never actually made a single comic before. I had always read comics growing up, and I had always been an artist, but the two had never mixed. I remember being so terrified because there was Scott McCloud asking me to draw a comic and I had no idea what to do. So I came home from that and decided it was time to start.
Sample pages from Tillie's short story 'Sylvia'… Read it all online here
What gave me a love for the medium were the books I read as a kid. I think comics spoke to me especially because I was always a very slow reader, but with images I felt like I was finally reading in a normal way. My Dad bought me everything by Tezuka, and reading his series Buddha was a revelation for me. Tezuka was really my first love for comics, and when I finally started drawing them, all of his books were in the back of my mind.
Your work on your website shows a remarkable level of diversity in terms of its constantly shifting visual approaches and genres – from metafictional autobio comics (below) to Noirish period drama. Could you tell us a little about the many styles you've worked in on some of those self-published online pieces?
I think the shifting style comes from a few places. When it comes to the technical aspect of drawing in many different styles, I am very lucky in that I studied in a fantastic art program in my high school. So before I ever touched comics I had to learn how to draw perfect anatomy, and all the techniques like cross hatching or stippling.
So when I approached comics, I approached it in the same way I would a portrait in that I didn't realize there was a way of doing them in one style. Each comic seemed like an individual piece. But I think most of the diversity in the visual approaches and genres comes from the fact that I try really hard to make comics that reflect how I'm feeling exactly at the instant I'm making them.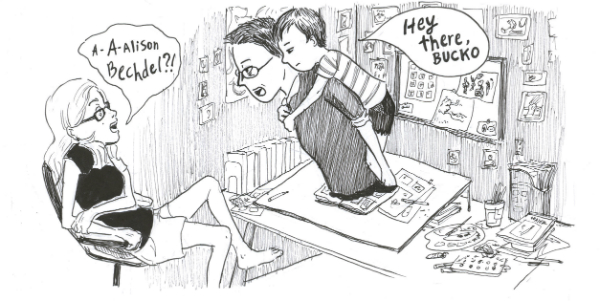 Unfortunately I am still a teenager and I find my moods are still pretty shifty, so whenever I'm making a new comic it usually is coming from a place that is very different from the previous work. So if I'm in a not so great mood, I let it affect everything from the style to the characters to the line quality. So what's ended up happening is my work on my website looks really varied, although it wasn't entirely intentional. It may be that my style finally starts to settle down as I get older, but who knows.
Following on from that then, is a sense of constant experimentation with the particular narrative possibilities of the medium something you are constantly seeking to embrace?
Definitely. I find if I get too comfortable drawing a certain way, it becomes too easy. I like it when my comics are a challenge, and I like it when I'm drawing something I've never drawn before. My comics don't usually take place in similar places, because experimentation with backgrounds and worlds is especially important to me. Backgrounds are my absolute favourite part of comics, and every time I start a new one I see it as an opportunity to explore somewhere I haven't gone yet. I also just think it's more fun to play around and change things up. Comics take so long to make, and I think I would get bored if everything I did was in a similar style.
The versatility of Tillie's work in pages from 'Sweet and Unknown', 'Don't Forget', and 'Glare'. All available to read online here. 
As mentioned, you're a student at Vermont's Center for Cartoon Studies. How has the course there informed your approach to the comics page? In what ways do you think it has allowed you to develop as a creator?
My first year at CCS has completely changed me as a creator and how I approach comics. A lot of what has changed is that there were just a lot of small things I didn't really know or think about until CCS – like lettering, composition, and how to use Photoshop. But I think the biggest way I've developed as a creator in my time here has been the way being in a community full of cartoonists has affected me.
Being surrounded by both students and faculty who are constantly creating and so unbelievably supportive has given me such a drive to push forward with my comics. You also aren't just making comics for yourself, you're making comics that you know you'll have to share with people, so you really have to think about your voice in your own comics and how that will come across.
I also think the environment is a little competitive at times, which I find seriously motivating. I have a background in competitive figure skating so there is nothing I won't do when I feel a competitive vibe.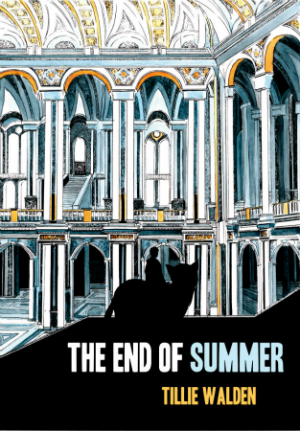 The End of Summer is published this month by British micropublisher Avery Hill Publishing. How did you originally come to the attention of AHP and join their acclaimed creative ranks?
I feel so lucky to say that AHP discovered me through my twitter and website. I was in 12th grade and had just started putting comics up on the web and tweeting pictures of my art, which was not something I wanted to do, but my Dad forced me and said I had to get my art out there (thanks Dad, you were right). And then lo and behold I got an email one day after school from AHP, asking me if I wanted to publish some short comics with them.
I was so shocked, and a little terrified, and I told them that I was too busy trying to finish high school. They were so nice about it, and we got back in touch a few months later after I graduated. We talked about doing a book of some of my short form work, but I thought doing a graphic novel would be more fun and more of a challenge. They were into my ideas, and the rest is history. Working with them has been so wonderful, and I would never have drawn this book without them.
What's The End of Summer's basic premise and can you introduce us to the book's cast of characters?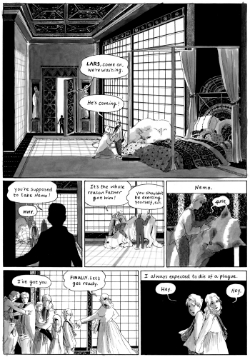 The End of Summer is about a boy named Lars and his family as they are stuck in their sprawling mansion for a long winter. Lars is the narrator of the story and you follow him through his issues with illness, boredom, and his relationship with his twin sister Maja, a rebellious girl who has very little fear and a lot of energy. The other people in Lars' life are his giant cat, Nemo, and his faithful aide Hector.
It's a tragedy with a lot of twists and turns, and his family is full of extreme personalities; a stubborn and angry father, an older brother in love, another brother who hears voices, and a complex mother who is fighting quite a few battles.
Altogether, the family forms quite a complicated world, and it is all seen through the eyes of young, sleepy boy, as they try to make it through the winter.
What have been the particular challenges for you in working in a much longer-form narrative for the first time?
Putting together the story was initially challenging, especially since the cast is so large. Making sure every character had an arc and making sure everything fit together. But for the most part, I found doing a longer-form comic was just really fun. I liked sticking with the same thing for the couple of months it took to make everything. I was actually expecting it to be a lot harder then it was. It's probably a little dangerous that I had such a good time drawing this, because now all I want to do is draw more graphic novels.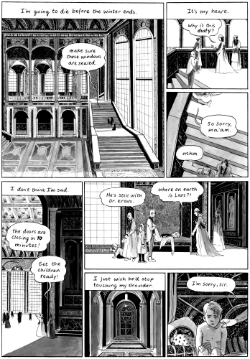 The background location of The End of Summer is one of the book's many memorable aspects. What inspired that fantastical castle setting?
When I was in high school, we would go on field trips to art museums in Houston and Dallas. It was there that I started realizing that I was never actually looking at any of the art, but rather I was just looking at the buildings and the interior space. I found these giant, beautifully designed spaces so calming, and it actually made me really sleepy to sit and stare at these huge rooms. So I definitely think that was the genesis for this story in a giant castle with a boy who is constantly sleepy.
But when I actually started drawing The End of Summer, I didn't plan out how the castle was going to look. Every panel I would just look at the shape of the panel, close my eyes and imagine I was sitting in a warm museum and try and visualize what kind of architecture I would enjoy looking at. And that's how the castle sort of came in to being. The more I drew it, the more it started to have its own personality and it became its own place.
There's a very personal throughline to The End of Summer. Could you elaborate on some of the autobiographical themes that are merged into the book's fantasy?
Ah, you noticed. Yes, there are a lot of autobiographical themes in this book. The most notable is the relationship between Lars and his twin sister Maja (below), which is very much based on my twin brother and me. It's interesting, Lars and Maja both ended up taking attributes from both of us. But they are extremely close, and I am sort of insanely close with my twin brother as well. But there are aspects of John, my brother, that have always confused me or that I have never gotten, and a lot of the tension between Lars and Maja is that Lars doesn't really understand Maja's actions or intentions.
I've also had some health issues in the past, so a lot of what Lars is feeling physically is based on what I've been through. It's funny for me to think of the book as fantasy, because even though it takes place in an otherworldly place and it doesn't resemble modern life, it's ultimately a very personal story for me.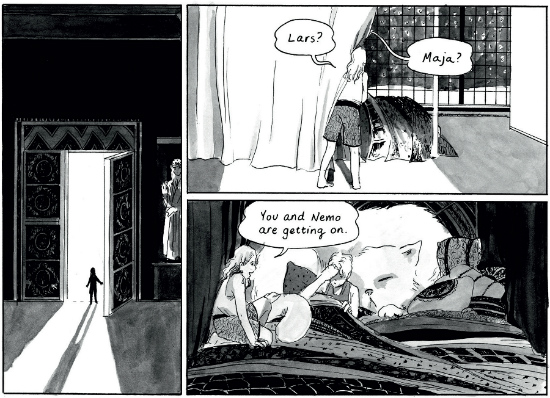 Returning to that question of creative process, what medium do you prefer to work in? And what's your approach to plotting and story structure? Do you meticulously prepare thumbnails and layouts? Or do you adopt a more fluid approach?
I am totally traditional; I hate doing anything digitally. I use technical pens and brushes and do all my pencilling, inking, and ink-washing all on the same page because I can't use light boxes (they are too bright). I wish I could be someone who does meticulous thumbnails and layouts, but my process is actually weirdly unplanned.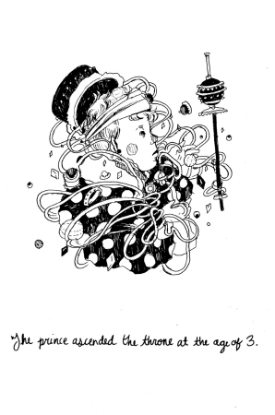 When I start with a story I'll usually just make a short list of the major plot points, and from there I do some very sloppy thumbnails that only consist of the moments with important visuals. A lot of my thumbnails are just a blank square with a page number. I start getting serious when I pencil, and as I drew this book I wrote it at the same time. I can't write any dialogue or narration in advance, I find it too hard to write without drawing at the same time.
This isn't great because there are some moments in the book where there are like, five storylines going on as well as an unrelated narration overlaid on all the panels, which was pretty challenging to pull together as I drew it. And then, the most ridiculous part of my process, when I start inking, I usually completely erase the pencils before I start drawing.
I hate having pencil lines underneath, so I just stare at the pencils for a few minutes so I can kind of remember what the drawing should look like, but often as I start inking it totally changes into something else. I like having a really fluid process, because at any point I feel totally free to change anything. So as I drew The End of Summer, a lot of the important parts of the book I came up with as I was drawing it.
And, finally, what's next for Tillie Walden? Do you have any plans yet for any projects after The End of Summer?
That is a good question. I don't have any specific plans for projects, except that I know I'm not going to slow down any time soon with my comics. My next year at school I'll be doing a thesis, which I'll get another graphic novel from, but I may be doing more then just that. I do know that whatever I do next, it probably won't look or feel anything like The End of Summer. But I think that's what's so exciting – what is ahead will probably surprise me.
The End of Summer is published by Avery Hill Publishing on June 19th and is launched at London's Gosh! Comics that night where you can meet Tillie Walden in person! It will also be available at ELCAF. You can pre-order it online from Avery Hill's online store here.
For more on the work of Tillie Walden visit her website here and follow her on Twitter here. 
For regular updates on all things small press follow Andy Oliver on Twitter here.