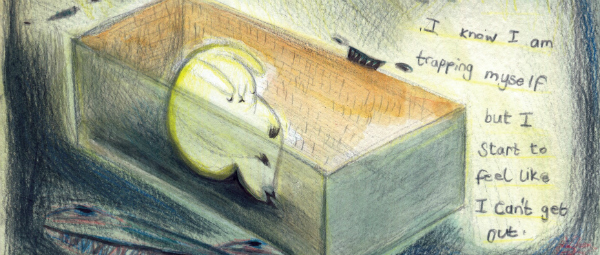 One of the new 2016 Broken Frontier 'Six Small Press Creators to Watch', Kim Clements came to prominence last year with her autobio comic Rabbit Thoughts, a beautifully poignant piece of storytelling focusing on the loneliness of one young woman in the big city.
So well regarded by the BF staff was that debut self-published offering that it earned Clements a nomination in the 2015 Broken Frontier Awards in the Best One-Shot category. Rabbit Thoughts went up against the likes of industry legend Grant Morrison's super-hero blockbuster Multiversity: Ultra and Jillian Tamaki's Frontier issue in the ballot. A phenomenal achievement for a book with a print run of less than 200 copies!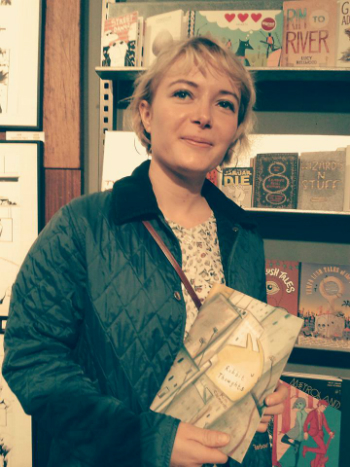 Clements combines a faux visual naivety with emotionally layered narratives to provide comics that often speak to the reader on richly empathetic levels. Her work could also be seen last year in anthologies like A Bit of Undigested Potato, Tempo Lush Tales of the Tanoox and Dirty Rotten Comics. She has also contributed to the Broken Frontier Small Press Yearbook.
Announced earlier this year as one of our aforementioned second Broken Frontier 'Six Small Press Creators to Watch' initiative – alongside Rebecca Bagley, Brigid Deacon, Emily Rose Lambert, Jey Levang and Ellice Weaver – Clements is the first of the "2016 intake" to feature in a series of major interviews here over the next few weeks. Today we chat about her parallel interests in children's illustration, her distinctive approach to the page, and what the rest of 2016 has in store for this memorable new voice on the UK small press scene… 
ANDY OLIVER: You're one of a large number of small pressers I've covered at Broken Frontier to have studied at the University of the Arts London. To begin with, could you tell us a little about your background and artistic practice to date?
KIM CLEMENTS: At first I wanted to be a serious painter but then I quickly gave up on this idea after realising the course (BA Painting at Camberwell) heavily focused on conceptualism. It kind of put me off a bit as there was so much theory involved. I found it more appealing to make books and animation as it allowed me to let my work do the talking.
I did like the entertainment factor of presenting though, and would revel in having such a captive audience. I would make slides of crude drawings to contradict what I was saying in order to get some laughs. I am not sure if it really helped me get good marks but it enabled a pathway into zine-making.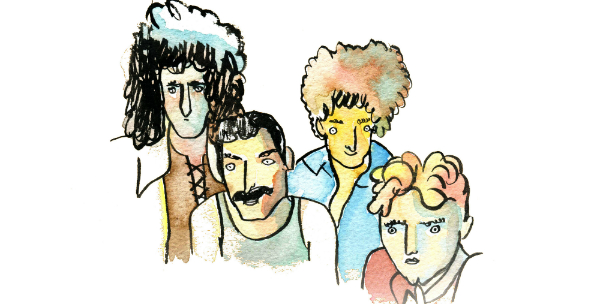 Queen from last year's Freddie Mercury zine
Creating comics has been a recent development for you with your first foray into sequential art coming in 2014 in the online strip The Great Cat Mystery. What was your route into the form? What was it about sequential art that inspired you as a medium for your storytelling?
After getting out of university in 2013 I became more interested in children's book illustration and would try and develop characters in my free time. The crossover between this side of illustration and comics meant that I got into work by people like Luke Pearson, Isabel Greenberg, Philippa Rice and I loved whatever Nobrow produced. I would look at their concertinas at work and then read things like The Black Project by Gareth Brookes and my mind would do somersaults. I also met people through friends and at fairs, like DIY Cultures and ELCAF, and was totally enraptured by the whole scene.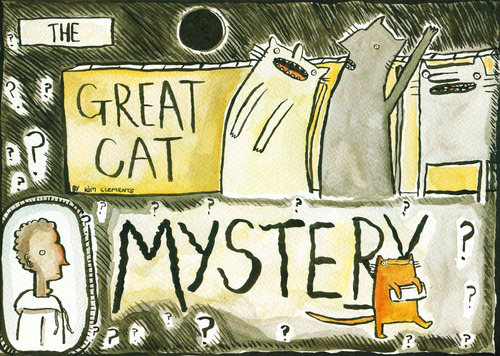 I sparked friendships with Wallis Eates, who makes comics and runs Laydeez do Comics, and also Keara Stewart, Gareth (who I mentioned above) and Elizabeth Querstret, who also make their own comics, through going to fairs. I found that they enjoyed being part of the comic world simply for the love of creating. I have always found it hard to show people my work, so I really appreciated everything that these people had to tell me in terms of what they thought being a creator is really about. I found that I was able to work harder and lose a lot of my own stigmas – plus I met someone named Andy Oliver, so my comics education just took off!
Anyone who visits your website will be immediately aware of your interest in children's illustration. To what degree has that informed your approach to comics? And who do you count as influences on your work from that world?
This is a hard question because I get obsessed with people all the time and get caught up with the buzz surrounding new styles and trends. I like really graphic work that has interesting design aspects, such as Patrick Kyle's illustrations and comics, but I know he is not a children's illustrator…! I normally go between children's books and more adult work seamlessly and I enjoy looking at things that hover between the two. I am not a big fan of cute illustration and get a bit annoyed with myself when I start drawing things just to fit into what I assume is desired by the children's book industry.
I like a lot of Spanish illustration and use Planeta Tangerina's catalogues as inspiration when I feel a bit stuck. Isabel Minhós Martins is a particular favourite of mine from Tangerina, alongside Madalena Matoso. I also love Kitty Crowther, Jon Klassen, Beatrice Alemanga, Laura Carlin, Maisie Paradise Shearring, Mouni Feddag, and I have just discovered the wonderful Maria Luque.
I also watched The Happy Prince with my brother recently with animation by Zoe Josephine. The combination of the story and the beautiful collage animation moved and inspired me.
When I found out at the Bologna Book Fair that Maisie Paradise Shearring produced a version of this tale too I was just so happy. I love picture books that are dark and sad as well as fun and silly, and so I was glued to her exhibition of her drawings from this new book. It was hard not to spend all my time in this area of the fair, as it also had Laura Carlin's work and I couldn't pull myself away!
You've had a growing profile in the UK small press scene over the year culminating in a 2015 Broken Frontier Award nomination in the 'Best One-Shot' category for your well received self-published debut Rabbit Thoughts. Tell us a little about the premise of that comic?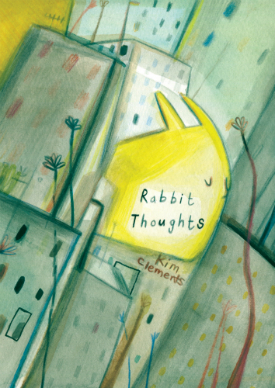 Rabbit Thoughts came about because of a page I did for Richy K Chandler's Tempo Lush Tales of the Tanoox anthology. I had to interpret a set of lyrics and found that I naturally drew a foreboding cityscape. I realised that I was relieved to get some of this atmosphere onto the page. I bought new materials the next day and didn't stop to think about it until I was about 20 or so pages in. I know that I should have planned it because I was writing down streams of consciousness. But it was such a cleansing process I didn't want to stop.
Given the subject matter of Rabbit Thoughts, was it a cathartic exercise creating the book? Or was it difficult to revisit more melancholy periods of your life on the page?
I would say it was definitely a cathartic process. I woke up early in the morning and went to bed late, having worked continuously all day. It kind of overtook everything for a few weeks but I am happy that I took advantage of having all of this tension inside of me to do something creative, rather than just falling into a stupor.
It didn't really feel difficult because it all felt so fresh. I suppose I had just come out of a hard period of my life and didn't know how much of myself I had been neglecting. Rabbit Thoughts was a chance for me to reflect and I think it has benefitted me greatly.
The powerful visual metaphor of Rabbit Thoughts resonates with readers because it's such an empathetic representation of feelings that we have all lived through at one time or another. What for you are the particular strengths of comics in communicating emotional states and life experiences?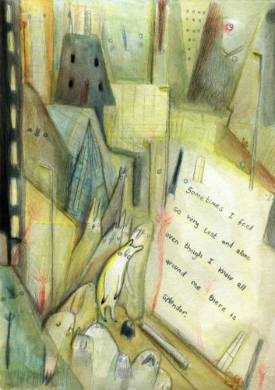 I like to be surprised with comics and although I am naturally drawn to beautiful and stunning works like I have been most affected when I read something I find complex or confusing. Matilda Tristram's Probably Nothing was one of the first graphic novels I got into when I was learning about comics and it knocked the wind out of me. I found her drawing style so accessible and some of her tales really funny despite the serious subject matter. I was kind of shocked that comics could reveal so much about someone and make you feel that you understood what they had gone through, much more so than a biography or a film.
I find that I connect with comics much more when they are simple, honest and contain a sense of humour. Probably Nothing belongs to this category, as does the works of Wallis Eates, who creates the You Chew, I Spew series. Wallis's clear illustration accompanied by true to life stories are great and I always find that they have an impact on me, even if the anecdote is a funny one.
Turning to your artistic process what medium did you work in to bring Rabbit Thoughts to the comics page?
I used hot press watercolour paper and made up layers of colour with watercolours before drawing with ordinary and coloured pencils. I experimented with finding how many shapes I could find in the brush stokes and didn't know where the themes would go before they started to appear.
I am currently enjoying using this technique again, but in a more simplistic way. The subject matter is also much more uplifting!
Above – more pages from Broken Frontier Award-nominated Rabbit Thoughts
While your visual style is incredibly distinctive, and as a result instantly recognisable, the subject matter of the comics you've produced to date has been very diverse – surreal fantasy, graphic medicine, autobio, and bizarre humour. Is that a reflection of coming to the medium relatively recently and wanting to constantly experiment with its possibilities?
I am very new to the comic's world so I am reading as much as possible and it is probably coming out through my work. I enjoy seeing what I like best and playing with themes and possibilities. Being interested in children's books as well helps, as I find that it allows a kind of distance, like a secret door that you can always go through to have a bit of space and time to think.
Pages from A Bit of Undigested Potato (left) and Tempo Lush Tales of the Tanoox (right)
You've contributed to a number of small press anthologies this year including Keara Stewart's A Bit of Undigested Potato, Richy K. Chandler's Tempo Lush Tales of the Tanoox and Dirty Rotten Comics #6. Tell us about your very diverse offerings in those books and how you became involved in each project…
I was a bit naïve when I did work for Keara Stewart's anthology, as I had not done anything like that before, so I did something quick and did not worry too much. I found it easy to come up with a nightmare, as I had a horrible maths teacher at school and I was always picked on to do mental arithmetic, which I hated. I had just had a dream about being in a bakery with people that hadn't got proper faces, peering down at me, as I couldn't work out how much anything was… making me feel stupid and helpless.
When Richy K. Chandler asked me to do work for Tempo Lush Tales it was a bit of a surprise. I had met Richy at Laydeez do Comics and I knew that he was very prolific. Making something for him was a pleasure. I had to interpret song lyrics and chose to draw an urban landscape with a rabbit-like character in the forefront. I had fun and I think I would plan it better now, but it helped me to understand what it was like to do something that was restricted by subject guidelines.
Clements' two-pager from Dirty Rotten Comics
Dirty Rotten Comics was different as you could submit anything and I chose to do something about my uncle, who had just had a stroke. I had visited him in Ireland and he was getting confused trying to differentiate between reality and inanimate objects. It was horrible to see but somehow really engrossing. I suppose because it is exciting to think of statues coming alive and to imagine strange things happening in laundry rooms, so I got a bit trapped in his world. I found that I liked listening to him and did not want to contradict him. I decided to draw him and his fascination for a man in a tree, who wasn't really there, as a result. I would also have drawn this differently now, possibly planning a bit more, but I am keeping that as my top tip.
When asked to make a page for the Broken Frontier Small Press Yearbook 2016 I was a bit more considered and made the work to the right size and also did two versions, because then I feel more comfortable having explored different directions. Also having free reign with this was such a treat!
How vital has the community aspect of anthology participation been to you in immersing you in the small press scene?
I think it is what is the most attractive aspect of doing work for an anthology and probably why they are so popular. I like the surprise of finding out what people do, and also the freedom involved in creating work for them. There is less pressure than a solo comic as you don't have to print it or publicise it yourself, so it means more focus can go on the work itself.
I have met lots of people through being involved in anthologies and I am very glad this is an essential part of the process. I think my favourite work I did for one so far is probably the Broken Frontier Small Press Yearbook 2016, but this is because it is the most recent!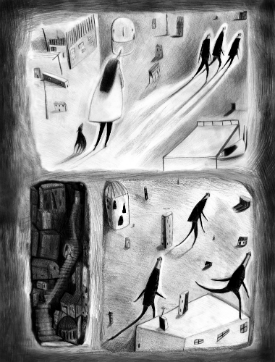 You're part of the next issue of graphic artzine Tiny Pencil (right). Are there any teasers you can give us to what we can expect to see there?
I loved making work for Tiny Pencil as I normally work in colour and so it was very refreshing. I also wanted badly to do it justice because it is such a wonderfully aesthetic magazine. I know I can be sloppy sometimes when I make things, as I like to do things quickly, but I had a good time making work that was better planned and took more time to produce.
I am going to continue working on what I submitted to Tiny Pencil as I got so into the story, but I will just say that what I made features around lots of shadowy figures…
Looking back on your inaugural year in comics what would you say were the highlights of 2015 for you?
I started to grow in confidence in 2015 and would say that from visiting the Bologna Book Fair in April to being part of Keara Stewart's A Bit of Undigested Potato anthology I felt I was getting my footing.
Then when Richy K. Chandler of Lucy the Octopus asked me to be in Tempo Lush Tales I was very grateful and happy to be part of another communal project. I enjoyed making a page for this, and I just kept going, not really worrying too much about what reception I would get, if any.
I was attending a short course at the time at the House of Illustration, something that Keara had suggested. I learnt about children's book illustration, especially about the industry, through Claire Alexander and found a real support group. I think doing this paired with being involved in comics just spurred me on and I felt a little overwhelmed but happy.
'The God of English Etiquette' – previously unseen comics work from Kim Clements
Dirty Rotten Comics was another highlight, as my submission was successful for issue #6. I did not expect this and I think that this opportunity was extremely encouraging. I had just made Rabbit Thoughts a month or so before and still was a little intimidated, so I was extremely chuffed to have been accepted into the issue.
After making my first solo comic, Rabbit Thoughts, I just felt relieved to have made something and not given up. I am still shocked that it received so much attention with an interview by Broken Frontier and also being nominated for the One-Shot category at the end of last year. I just want to keep improving and I feel positive that all these opportunities were available to me.
What's next for Kim Clements? Do you have any ideas for self-published work or planned festival/fair appearances in 2016?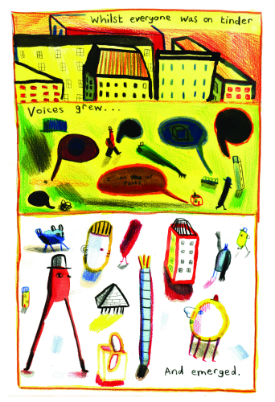 I have some ongoing projects to work on before May and I am trying to get new work out for ELCAF and DIY Cultures fair this spring. I am excited to be tabling this year, as I have never done this before, so it is a fantastic time for me.
I am working on the story I made for Tiny Pencil as well as a compilation of illustration and comics for ELCAF. I also am making a minicomic about Hackney to sell in order to raise money for a charity called Headway East, based in Haggerston. I am running a half-marathon in May and want to raise money through comics too.
After coming away from the Bologna Book Fair too, I feel quite enlivened right now to produce more children's illustration. I have always tried to work full-time and then do art work when I got home and at the weekend, but I have decided to take a little risk and spend more time making work.
And finally what targets have you set for yourself for 2016? Where would you like to be with your comics practice by the end of this year?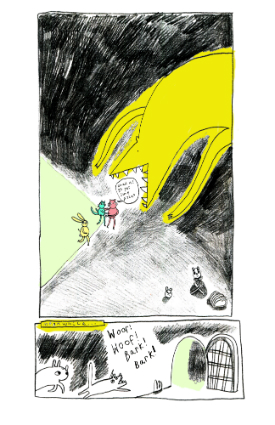 I suppose I want to understand what it is like to be at fairs, have regular comics coming out and also see what it is like to expand on this, having more work for sale online etc. I am still getting to grips with the comics scene, so I think I am a novice at present. I want to enjoy learning where I want my work to go and have fun with it.
I aspire to people like Katriona Chapman with her Katzine and regulars on the comics scene like Donya Todd. I just go a bit giddy when I see their work and how much effort they put into making stuff that people want to own. It is almost like building a business, but one that is not soulless or driven for self-gain, as it is quite clear to me that you don't get rich through making comics…(unless you have insider information?).
But in all seriousness I am always trying to make my work look better and I get fed-up when I have blocks or get down. So I suppose ultimately to get through 2016 having made work that I am content with, or feel proud about would be good, no matter if it isn't well received or only affects one other person.
Lastly I want to say thank you for interviewing me Andy and for all the support you have given me through my journey as a comics creator. It has been great.
For more on the work of Kim Clements visit her website here and follow her on Twitter here. You can also visit her online store here. 
Kim Clements is also a contributor to the Broken Frontier Small Press Yearbook which launches at London's Gosh! Comics on April 29th and will be available to sign copies on the night. Full details here and on the Facebook event page here. Pre-orders are available online here priced just £6.00 plus postage.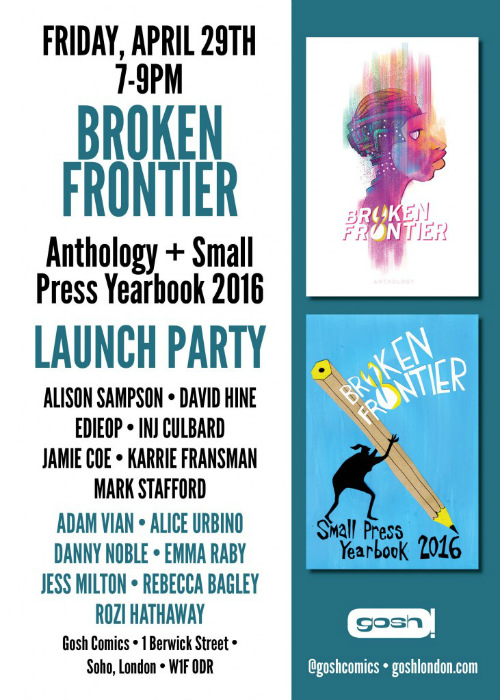 For regular updates on all things small press follow Andy Oliver on Twitter here.