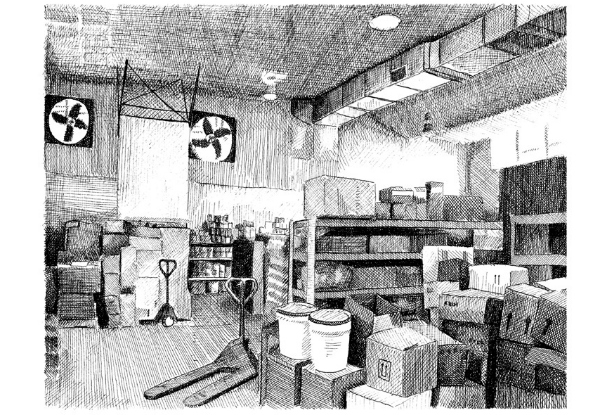 Gareth Brookes is understandably most associated with his debut graphic novel The Black Project, a darkly witty tale of youthful DIY love. The book won the 2012 Myriad First Graphic Novel Competition before going on to triumph in the Best Graphic Novel category in the 2013 Broken Frontier Awards.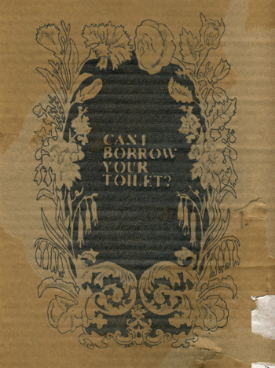 A couple of years back Avery Hill Publishing also brought his and Steve Tillotson's Manly Boys and Comely Girls Annuals – a mix of reprinted and original material – to a whole new audience. Brookes is currently working on A Thousand Coloured Castles, his follow-up graphic novel to The Black Project for Myriad Editions.
But while those Myriad and Avery Hill projects are most prominent in the wider comic audience's consciousness Brookes has a long and eclectic background in the small press and zine worlds. This includes his Man Man minicomics, silent sci-fi saga The Land of My Heart Chokes on Its Abundance, involvement in anthology The Comix Reader, and the tongue-in-cheek, Bizarro-Gerard Manley Hopkins verse of The Smell of the Wild.
Can I Borrow Your Toilet? is a product of an earlier Brookesian period but one that firmly embodies the dry and droll voice of its author. First published in 2008, its reprinting this year gives fans of Brookes' more recent projects an opportunity to enjoy his deadpan delivery at its richest. It's important to note upfront that this is not a comics project. Rather, it's a mix of prose and single illustration which roots it firmly in the graphic narrative field rather than sequential art per se.
A presumably autobio-based account of a dreary day of work in a loading bay, Can I Borrow Your Toilet? takes its name from the awkwardly phrased request of one of the many van drivers to visit those environs in the hours chronicled therein. Brookes acts as unseen narrator, making quiet but cutting commentary on this male-dominated mini-culture, replete with its own arbitrary rules and arcane rituals.
It's that same storytelling technique that further emphasises the position of Brookes' protagonist as somehow "other" in the proceedings, wryly committing his experiences of his largely unfathomable surroundings to the page. A truly Gerber-ian Howard the Duck "trapped in a world he never made" with his invisible presence underlining lives lived in parallel but only superficially intersecting.
As the workday continues we meet fellow employees like the misanthropic Ticking Time Bomb Tom, Sleepy Roberto with his hidden makeshift bed in a clandestine corner of the stockroom , and Frightened John, forever living in terror of an indiscretion at the Christmas party. Can I Borrow Your Toilet? is stuffed full of characters like these who Brookes somehow manages to simultaneously depict with both a Dickensian grotesqueness and yet a squalid down-to-earth ordinariness.
This is one of the great accomplishments of this zine. On the one hand its characters seem like gross caricatures and yet, on the other, they're instantly recognisable from every dreadful, dead end, fill-in job the reader may have had to endure in their lives. Here, Brookes compiles a catalogue of cringe-worthy rites of passage, adversarial camaraderie and unfortunate insights into a reality where not liking football makes you a pariah and casual sexism is part of the job description. All punctuated with bawdily succinct philosophical soundbites on the human condition by the drivers who arrive at the loading bay as the day progresses.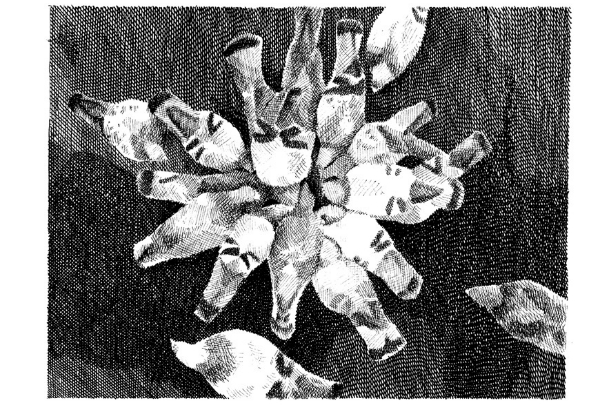 Of course, the main reason that Can I Borrow Your Toilet? speaks to its audience is that we can so empathise with the plight of Brookes' avatar as he deals with the tedium and staggering banality of his employment. The soul-destroying routines and worldweary resignation are so profoundly foreshadowed in an early sequence when he arrives outside the loading bay for work to discover a group of pigeons feasting on a breakfast of vomit left over from the night before (above).
Brookes' prose has an understated and knowing cadence to it with his crosshatched illustration adding an Arthur Ranson-style layer of photorealism that never lets us forget that, as exaggerated as his oddball cast appear to be, real life can so often be stranger than fiction. Brookes is biting in his observational humour but never really cruel. And yet there's something almost freakishly uplifting about the whole enterprise as well. It's weirdly comforting to read about people happy in the tedium of their 9-to-5 lives, satisfied by the mundane, and enriched by the monotonous.
If you have come to the slightly skewed mindscape of Gareth Brookes through his more recent work then the new print run of this zine represents an opportunity to get your hands on one of the true classics of his self-published output. Bleak but brilliant, I have returned to re-read Can I Borrow Your Toilet? over the years more than I have any other single small press offering. That, in itself, should be recommendation enough.
For more on the work of Gareth Brookes visit his website here and follow him on Twitter here. You can buy Can I Borrow Your Toilet? from his online store here priced £4.00. 
Gareth Brookes is a contributor to the Broken Frontier Small Press Yearbook which launches at London's Gosh! Comics on April 29th and will be available to sign copies on the night. Full details here and on the Facebook event page here. Pre-orders are available online here priced just £6.00 plus postage.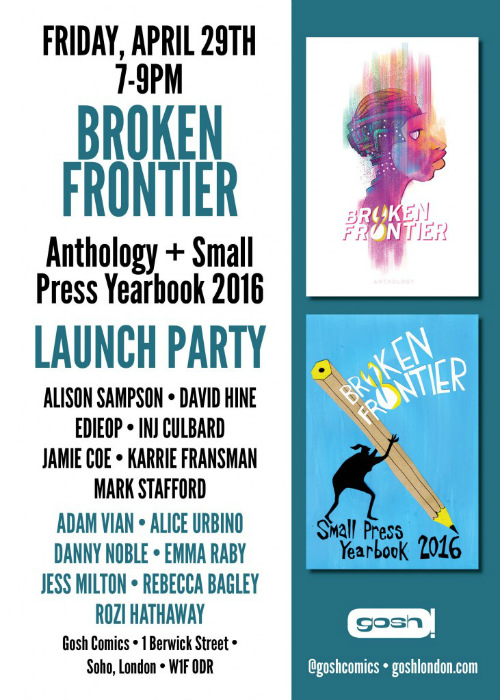 For regular updates on all things small press follow Andy Oliver on Twitter here.