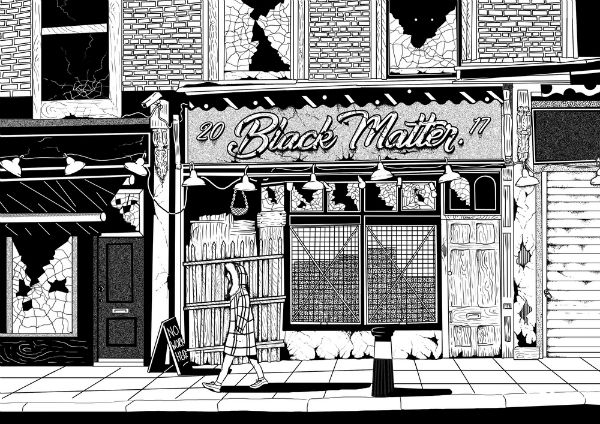 Comics as a medium is one that asks for an extra level of involvement from the reader; not just in terms of interpretation but also in how we interact with the narrative and control the reading experience for ourselves. The finest work I review in this column is practice that understands that unique three-way relationship between creator, page and audience, and exploits it to communicate its themes in ways that no other medium can.
That's something that's very evident in Black Matter where Cat Sims presents a short comics story that is replete with layers for the reader to carefully unpeel and consider. It plays on a combination of pop cultural standards and stark social commentary, presenting a story that uses zombie horror overtones to embellish its psychogeographical explorations.
Over the course of an evening we follow one solitary young woman as she journeys through her local area on her way to a hastily arranged meeting via dating app. As the night progresses in a flurry of urban oppression and designer drugs, a frightening metamorphosis eventually takes hold of her…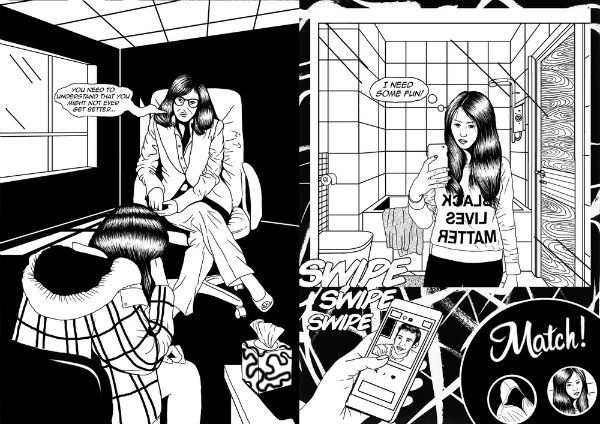 Sims takes a familiar genre concept and uses it, if not obliquely then certainly with a carefully constructed indeterminate quality, to invite the reader to grasp their own meaning from this extended, sequential, visual metaphor. There are a number of recurring motifs that we are asked to consider as playing into her protagonist's transformation. Flashbacks and cutaways hint at profound loss and its ongoing ramifications on her life. Loneliness and isolation – the kind which is all the more overwhelming for its proximity to others – also feed into events.
But, as we travel through her immediate environment with her, other factors become apparent. Societal inequalities and gentrification stand out as obscenities in a landscape where the divide between the wealthy and those eking out an existence becomes ever more expansive and unstoppable. By the comic's end it's not a question of what transforms her but more a question of why the conditions for that change exist.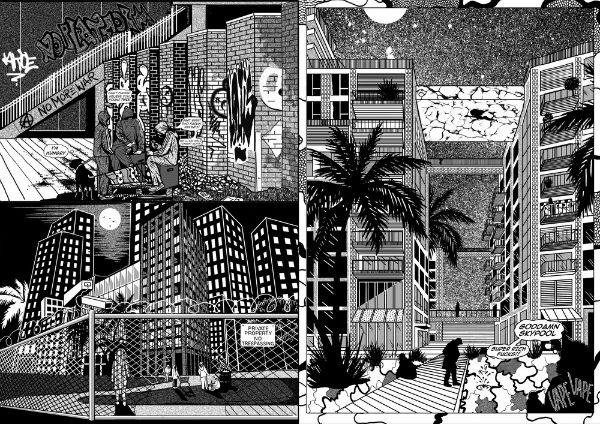 Sims' moody deep blacks and intricately detailed artwork create a claustrophobic and relentlessly disquieting world with some neat shifts in lettering styles and effects playfully enhancing the tone of the tale. It's a powerful piece of storytelling that is enhanced on every re-reading as new thoughts are provoked and wider truths revealed for consideration. Cat Sims is, of course, one of our 'Six Small Press Creators to Watch' for 2018 and this inventive example of comics with a social conscience perfectly underlines exactly why I chose her to be on that list this year.
For more on the work of Cat Sims visit her site here and follow her on Twitter here and Instagram here.
Black Matter is available from her online store here priced just £3.00 and you can also read it online here.
For regular updates on all things small press follow Andy Oliver on Twitter here.