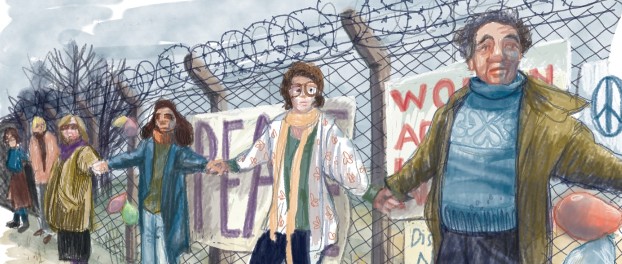 Emerging from an Inktober-related exercise, Myfanwy Tristram's Sorry for the Inconvenience… We Are Trying to Save the World (the title coming from an Extinction Rebellion placard) is an 80-page celebration of the right to protest, a particularly relevant subject in the UK at a time when the Conservative government's Police, Crime, Sentencing and Courts Bill threatens to quash our freedom to protest with tyrannical malice.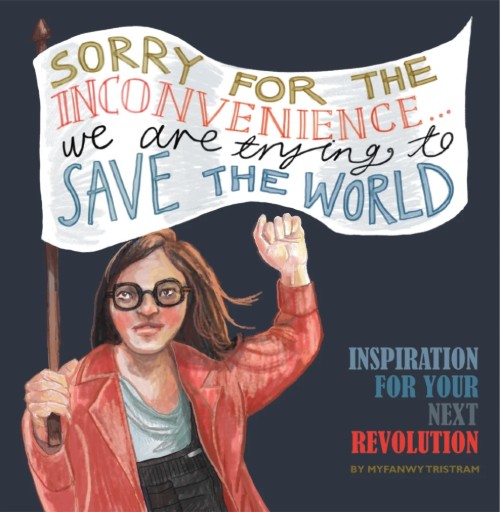 Tristram, as regular Broken Frontier readers will remember, was the driving force behind the Draw the Line (out in a new edition from Street Noise Books this year), a collection that saw over 100 international comics artists come together in a project showcasing actions we can all take to improve the world around us. It won a Broken Frontier Award in 2017 and featured the work of creators like Fumio Obata, Kripa Joshi, Dave McKean, Woodrow Phoenix, Steven Appleby, Roger Langridge, Hannah Berry, Danny Noble, Wallis Eates, Katriona Chapman and EdieOP.
Taking a similar socially conscious stance, Sorry for the Inconvenience… We Are Trying to Save the World sees Tristram recreating moments of protest from both contemporary and more historical times, in a series of visual vignettes that aim to spotlight "a wealth of great placard slogans to dip into when you're planning to save the world." It mixes sequential elements with single illustrations, the latter still employing some of the tools of comics like speech bubbles. It also includes sections on why the current UK government is so hellbent on suppressing freedom of speech, how to construct a banner, the role of protest in a functioning democracy, and tips for staying safe when protesting.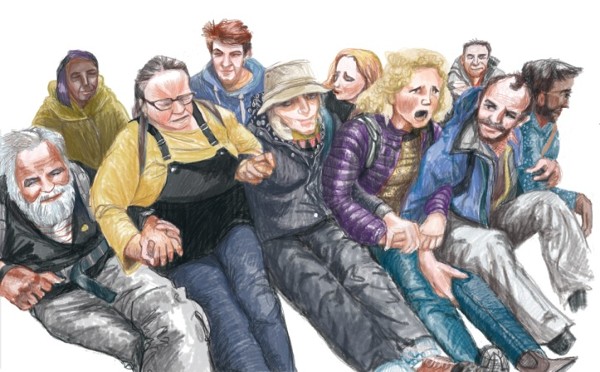 Each placard/protestor illustration is taken from a real world counterpart; their extraction from their surroundings and placement on white backgrounds ensuring the message they are projecting stands out in stark relief. Tristram has subtitled the book 'Inspiration for Your Next Revolution', a fitting tagline given the breadth of examples from history on show. These include more recent examples like "Priti Fascist" at a recent Tory Conference and "Respect Black Lives Like You Respect Black Culture" at BLM marches, to 1960s anti-Vietnam slogans like "Bombing for Peace is Like Fucking for Virginity" or "Revolution – It's Just a Kiss Away" from a 1970s gay rights demonstration.
Like Draw the Line what makes Sorry for the Incovenience… really stand out is its practical sections which are not only instructional but also positive in their message that our vanishing rights to express ourselves in the UK don't have to remain the status quo, and also suggesting ways to demonstrate that circumvent the current undemocratic policies of the Conservative party. At a time when we are experiencing the dictates of an increasingly totalitarian and despotic government Sorry for the Inconvenience… We Are Trying to Save the World is a small beacon of shining hope in these darkest of times.
Myfanwy Tristram • Self-published, £10.00
Review by Andy Oliver