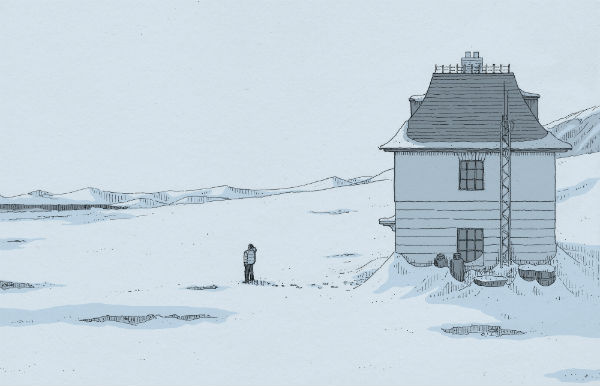 A few weeks ago when we made British Ice our 'Comic of the Week' at Broken Frontier we also noted that we have been following the progression of its creator Owen D. Pomery for the best part of a decade, from his very earliest minicomics to his Avery Hill Publishing books including The Megatherium Club and Beyond the Billboards and the Authoring of Architecture. It's always pleasing to see creators we remember from their hand-stapled, self-published, earliest efforts going on to being picked up by acclaimed publishers and imprints, and 2020 looks set to be something of a banner year for the London-based artist. It sees not just the publication of last month's British Ice from Top Shelf Productions but also Victory Point, another upcoming graphic novel from Avery Hill.
Set in the 1980s, British Ice begins with the British High Commission posting diplomat Harrison Fleet to an isolated Arctic island somehow still under British rule a hundred years after being colonised. Dealing with indifferent locals and an openly hostile indigenous people, Fleet finds himself caught up in both the outpost's sinister past and the echoing reverberations of his own family's history,
Long believed cursed, this small colony has an eerie, unsettling quality and Fleet soon begins to realise that the tensions in the area are the products of generations of brooding resentment and secrets long hidden. What is the truth behind original governor Netherton's insistence that the island's importance meant it should always stay in British hands? What happened to Fleet's predecessor who mysteriously disappeared in post? Can Fleet separate legend from reality when exploring the settlement's 19th century origins? And with opposing factions moving ever closer to open conflict can he also complete his investigations before time runs out?
Pomery's architectural background has informed much of his comics work to the degree that, on occasion, environment seems as much protagonist as its central characters, influencing narrative flow and acting as catalyst for plot movement. That sense of place has been such an intrinsic part of his work from the claustrophobic environs of Between the Billboards to the nexus point of The Victory Motel through to the bleak comedy of Kiosk and its history of the fictional Jantia Free State. British Ice is no exception, with the vast, open spaces of the remote Arctic as essential a member of the cast as its sprawling human players.
In British Ice Pomery weaves an intriguing historical mystery, tautly paced and scattered with sudden brutal twists that never allow the reader to become complacent in their expectations. It's also a scathing commentary on British colonialism that simply allows the horror of that legacy to speak for itself without the need for redundant additional discourse. The evils of the past cast a long shadow over the present here, but for the ultimate wielders of power it's a darkness they are happy to continue to embrace.
With a cold monochromatic aura to his pages that reflects the barren landscape of this isolated world, Pomery reminds us that for all its sweeping and largely untouched majesty there is still something oppressive and confined to its reality. Frequent changes in perspective and reader viewpoint of events only underline this sense of brooding alienation. Stark and atmospherically charged, British Ice combines a damning study of jingoism and the legacy of empire, a flawed but quietly defiant central character and a forbidding locale to provide probably the bleakest comics thriller you'll read in 2020.
Owen D. Pomery (W/A) • Top Shelf Productions, $14.99
Review by Andy Oliver
Follow Andy Oliver on Twitter here and Instagram here. 
British Ice will be officially launching at London's Gosh! Comics on Friday February 21st. More details on the Gosh! site here.