When you stop and think about it, every art project begins with a single line. Where it goes from there unlocks personal creativity, and that's what makes it art.
Cartoonist Mike Kunkel (Hero Bear and the Kid) has launched an exciting new project through Kickstarter, and I think you're going to like it. Mike Kunkel's Squiggle Project explores the creative power of a single line as he transforms squiggles into finished pieces of art and collects them in a hardcover book. Kunkel presents each original squiggle on a transparent piece of parchment paper. The following page contains the artwork inspired by the squiggle, and when you set the pages together, the original squiggle sets on top of the finished piece.
This project is appropriate for all ages, and Mike hopes that it will inspire readers to pick up a pencil and start drawing. The Kickstarter campaign runs through January 31 and offers a wide variety of nifty extras and rewards for backers.
Mike is really excited about the project, and he was kind enough to discuss it with me—actually, I hit him with a barrage of questions and his infectious enthusiasm for art came pouring out.
BROKEN FRONTIER: I know that you started it all as a fun exercise with your kids. Can you talk a little about how important it is that we pass along this love of creating—letting our imagination go—to the next generation?
MIKE KUNKEL: Exactly just that! We have to encourage creativity in people—young and old. We need to be reminded to not over-think our imagination. I've always tried to encourage my kids to not get bogged down in the process, let their imagination run a bit. The Squiggle Project is an art project I've done for a while now. The process is something I've done since I was a kid—scribbling a line on paper while on the phone, in a meeting, at a restaurant, and then turning it into silly picture.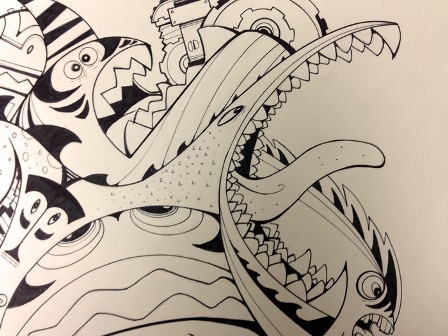 And then it started as a fun game I'd play with my kids and their friends. I'd let them draw a random squiggle of a line and then I'd create a piece of artwork based on that squiggle. The fun of this was making artwork with people and encouraging everyone to be creative and let the line lead them. It helped us to find a new way to be creative with just the simplest of lines. And that inspired me so much that I then began creating my own squiggles lines and creating a bunch of new art pieces…and that has become the Squiggle Project.
BF: Can you give me some of the technical details of how you created the pieces?
KUNKEL: I'm having so much fun making these. All of the Squiggle Project artwork is done "old-school," all hand done traditional. No digital. I work on a canson-type paper/board. I pencil it in first, and then ink it with french curves and rulers to get the lines flowing. Most of the originals are approximately 9×12", but some are smaller. I'm going to be trying some larger pieces with some brushes on larger canvases. And now, this Kickstarter project is a new book that collects all of my squiggles lines and squiggle artwork into one book that displays them in a very unique way. I'm going to have special transparent vellum paper for the original squiggle and then as you turn the page it reveals the new artwork on the next page—kind of a fun way to display the art and process.
BF: Discuss the bookmark, the postcards, and some of your favorite additional items created as rewards for this Kickstarter project?
KUNKEL: Well, we tried to make some fun stuff for the rewards. The bookmarks and postcards will have limited designs for the Kickstarter rewards. And I hope we've created some neat stretch goals—special slip case cover, a unique print, and one of the coolest stretch goals is our Guest Celebrity Squiggles. We have some very cool people contributing original lines/squiggles to the project and I will then create brand new squiggle art pieces based on their lines. These will be added into the book if we meet our stretch goal. I can't wait to share this extra artwork! I've also added the chance to get some original artwork in this project—there are sketch cards with unique squiggles drawn on each one. And then finally, I'm offering a very limited amount of rewards to get your very own squiggle line drawn by me into an original squiggle art piece. This is a way to get something very special with this Kickstarter adventure.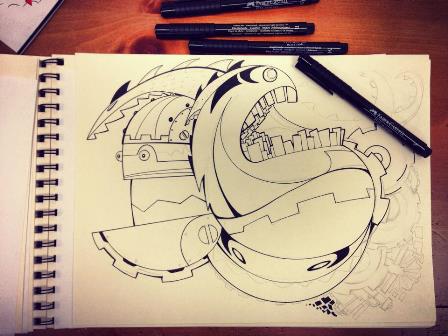 BF: How do you decide where to go with the squiggle? It's just a squiggle, how did you know it was a pirate ship?
KUNKEL: That's the fun of it. I never know where the line will lead. It could be a pirate ship, a many-toothed creature, a steam-driven robot, or all three swirled together! I think that starting with a simple line is a great way to explore your imagination. It's good for beginning artists to try…I think they will find that when they approach a creation or drawing in this way, they don't come at it with any preconceived notions. They follow down a path to come to a solution in a way that is natural to their abilities and talent.
BF: Anything else you'd like the fans to know about the project?
KUNKEL: I just wanted to thank you all for taking the time to let me babble about squiggles. And also, thank you for visiting the Squiggle Project on Kickstarter here. My hope is that you'll all find it interesting, and it will make for a very fun experience of a book to hopefully inspire others to be creative with their artwork.