Mike Kunkel has mastered heartfelt graphic storytelling in perpetual motion.
You'll have to read this issue twice to catch all of the cool nuances of character he stuffed into these pages.
Despite Tyler's prior adventures and the revelation of his unique and awesome heritage, he's still just a kid. And he acts like a kid. Being part of a superhero team has given him a small sense of responsibility, however, and until now he has done a good job of handling the repercussions of receiving his grandfather's gifts.
But not everyone is happy with Herobear's heroics. Heroes needs villains worthy of his talents, and Mr. Von Klon may prove to be more than our dynamic duo can handle. Von Klon sets a crocodile against the hapless city zoo and rather than fighting, the croc soon reverts to a wind-up toy, in much the same manner as Herobear when he transforms into a stuffed animal. Confused, Tyler collects the toy and brings it home not realizing it was just a trick to lead Von Klon right to his doorstep.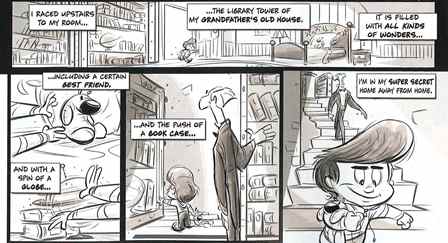 Henry the faithful butler is so much more than he seems. (Nope, not going to give you the spoiler.) And when Henry asks Tyler for a simple but important favor, Tyler agrees. Unfortunately, it's not a very exciting task, and Tyler is soon bored enough to break his promise to Henry and head off to the New Year's parade. This gives Von Klon the opening he needs and an unsuspecting Henry is in for real trouble.
Kunkel's first new Herobear story in almost a decade was definitely worth the wait. Tyler has a lot to learn, Herobear has a lot of history to divulge, and creating an important role for Henry has added a whole new dimension to the artfully crafted world of Herobear. Time has meaning beyond the numbers on a clock, and it is the central theme of this exciting new series. Kunkel uses time to underscore the importance of family and responsibility as we see Tyler making mistakes and (hopefully) learning from them in future issues. No creator assembles a page like Mike Kunkel, and his animated style sends his characters flying off the panels and straight into your heart.
Saving Time is clever, fun, and suitable for any reading level, so buy one issue for yourself and another to give to a kid. You'll both be happy.
Mike Kunkel (W, A), Boom! Studios, $3.99, April 23, 2014