Celebrating Pride Month! Collecting the recent four-issue Dark Horse Comics miniseries, Killer Queens is a snappy, high-speed, intergalactic romp with a queer comics focus. If the title doesn't give a clear indication of what can be expected in its pages then the tagline "Putting the SASS in ASSASSIN!" probably tells the reader all they need to know about the book's irreverent tone. With an all LGBTQ creative team this is space opera high adventure with an endearingly offbeat humour.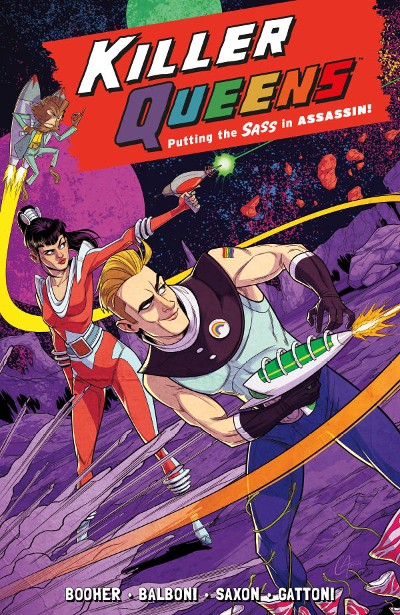 Max and Alex are former assassins for hire (also described as "super-duper gay") on the run from their former boss Captain Bieti, a jetpack-wearing space monkey who wants the ship they stole from him back. Urgently needing funds the duo accept a rescue mission to the nearby inhabited moon Antigone, a world that is inhabited by democratic humanoids on one side and the fascistic Rhinocorns on the other. As they try to rescue an ambassador's children from the Rhinocorns the pair will build up a wider group of "team-mates" while still having to deal with Bieti's determined pursuit…
Witty and instantly likeable Killer Queens is a flurry of set piece escapades and knowing banter. Writer David M. Booher's tale is full of gems of dialogue ("You just totally tyrantsplained fascism to a fascist" being a particular favourite) and, in partnership with artist Claudia Balboni, some deft comedic timing. Indeed Balboni's art and page layouts have a high-energy, kinetic quality to them that perfectly match the near relentless, action-packed pacing of the story, particularly in its more frenetic sequences.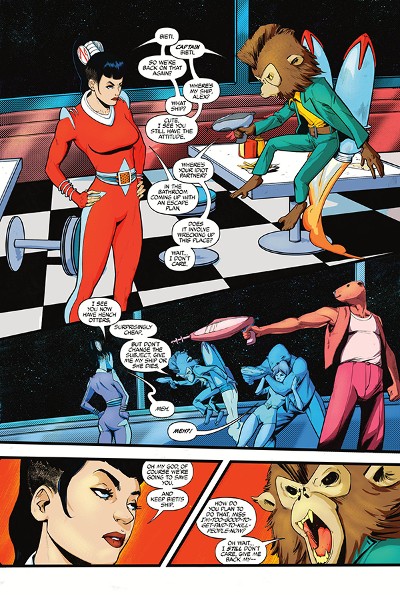 Balboni also has a good eye for world-building double-page spreads that create an often notably retro-futuristic sense of environment. It can only be speculated on as to whether it was intentional that Harry Saxon's colouring should match the hues of the rainbow flag but fittingly it does, and those vibrant colours positively crackle throughout. Lucas Gattoni's lettering sound effects also make important contributions to the explosive action sequences.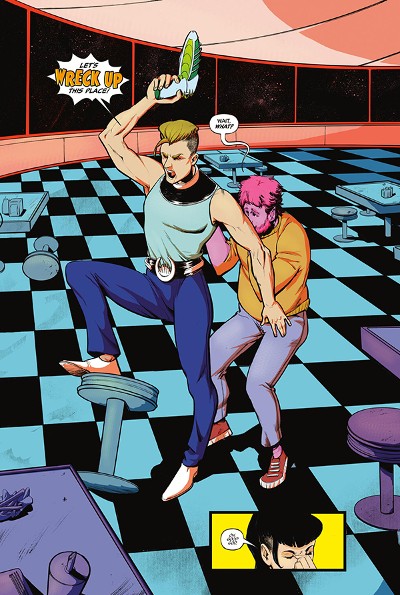 What doesn't work quite so well is that by story's end we know very little about the characters outside of the immediacy of the depicted events. Their back story is vague and given their former profession that makes it difficult to empathise with them to the degree that the story wants us to. Of course, this may well have been intended as the opening arc of an ongoing series and Booher's intentions could have been to throw us headfirst into the action of the world of Killer Queens before further fleshing out the characters thereafter. We can only hope that a second series/collection is on the cards, allowing us insight into the cast's pasts and the forces that shaped them.
Embedded with social commentary and sparky back and forths between the cast, there's lots to enjoy about Killer Queens as solid escapist fare. Volume 2 quick please, Dark Horse. These characters and this creative team deserve another opportunity to strut their wonderfully OTT stuff.
David M. Booher (W), Claudia Balboni (A), Harry Saxon (C), Lucas Gattoni (L) • Dark Horse Comics, $19.99
Review by Andy Oliver