A superhero support group run by a narcissistic therapist battles interdimensional invaders. Or do they?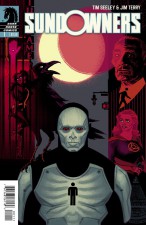 Are they heroes or a collection of crackpots? Writer Tim Seeley and artist Jim Terry bring us a wacky collection of ordinary humans who are fighting crime in their community as costumed heroes.
All are experiencing strange sightings of horrific beings and, according to their therapist, they are also suffering the effects of "sundown syndrome."
Seeley begins the book with the retirement of The Pidgeon, a hero who once enjoyed hearing "a criminal shout out her 'night name' with at least a little fear in his voice." But now she has another calling, and it's clear that this superhero story has a horror side.
Those first two pages also establish a retro early-1970s artistic vibe, carried off beautifully by Terry. There are even some gorgeous bits that are evocative of the EC horror comics of the 1950s in here, so don't speed-read your way through.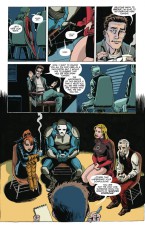 During the group session, each hero outlines the strange things they've been seeing, but none is certain of anything until Karl, the oldest (and most mysterious), is attacked in the street after the session. Coming to his aid, they battle both the assailants and the creatures only they can see, and the fight doesn't go their way.
A dark look at the hero genre, Sundowners #1 effectively presents horror as a realistic plot element rather than as a vehicle for gratuitous gross-outs.
Seeley and Terry have set up an interesting mystery with a story that walks the edge of perception and madness. Is it a solid story? How should I know? I can't tell yet if the heroes are crazy or the only defense we have against invaders from another dimension. And I think that's the point.
Tim Seeley was kind enough to answer a few questions about his newest comic.
When we spoke about the book at C2E2, you mentioned that it's a horror book but not just a horror book. How would you characterize it now?
Tim Seeley: I think it's a horror book first, but I think it's also pretty solidly a superhero book. It's about those things that superhero comics are intrinsically about: why someone becomes a symbol against injustice, what it does to their lives, and how much awesome, colorful fighting can we jam into a comic?
The horror aspects, I think, deal with the deeper psychological stuff: can we trust what we see? How can we know if we're sane? And how horrible is it that that woman's back is filled with tiny monster eggs?!
Issues of mental health and perception seem to be key to the actions of the superheroes. Can you tell us a bit about where this idea came from and how this will affect the story going forward?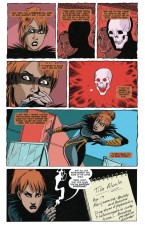 The "mental health" aspect of the story comes from the "real superhero movement." In recent years there's been this group of real people who wear costumes and patrol their neighborhoods… not quite in the same impressive manner as the ones in comics, but still. And, the way people react to those people is always, "They must be crazy."
We don't question our mythic comic book and film superheroes, but the ones we have in the real world come across to us as lunatics. So I thought about that, my own struggles with anxiety, and my fears about being crazy, and formed the heart of Sundowners!
Jim Terry's artwork gives the book a late-1960s/early-1970s vibe. And those candles on page two are (wonderfully) straight out of an EC horror title. How did you and Jim collaborate on the overall look for this title?
Jim is a friend of mine from the Chicago Drink 'n Draw scene. I've always wanted to work with him on something, but I never had the right book.
When I started developing Sundowners, I thought about how I'd like to have the book look like a modern version of an old '70s superhero/horror comic, like Werewolf By Night or Man-Thing or Swamp Thing, and Jim fit the bill perfectly.
Jim is also a writer himself, so I was able to really let him run wild with ideas because I know he's got the chops!
Tim Seeley (W), Jim Terry (A) • Dark Horse Comics, $3.50, August 20, 2014