As a general rule we don't encourage copying large swathes of text directly from the publicity of work we review at BF. But in the case of Isabel Greenberg's The Midnight Babies let's make an exception because it's eminently quotable:
The babies have come from far and wide, crawling and walking and toddling and tumbling. These are the can't-sleep babies, the won't-sleep babies, the itchy-feet babies, the just-one-more-story-please babies. "Sleep! Sleep! Anywhere but Sleep!!!" sing the babies. And the quest of the Midnight Babies begins!
That paragraph is indicative of the wonderful lyrical narration of Greenberg's most recent foray into visual storytelling for younger audiences. In The Midnight Babies we follow a group of defiant toddlers as they fight the forces of sleep, travelling through a strange yet oddly familiar dreamscape to the shores of Nodoff. Along the way they take in such locales as the Forest of Nightlights, the Sea of Stories, and the Garden of Lullabies.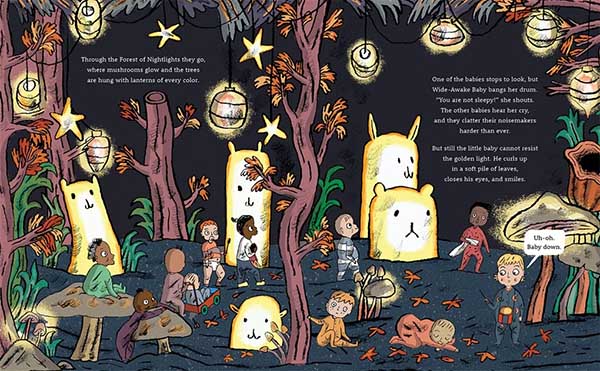 Whether it be long-form work like the metafictional Brontë sisters biography Glass Town or her shorter-form folkloric adaptations like her recent Confinement, Greenberg is one of UK indie comics' most accomplished and inventive visual storytellers. Here she effortlessly blends children's illustration and comics to entrancing effect. And make no mistake, The Midnight Babies does assuredly employ sequential art not just graphic narrative, replete with playful uses of the form (babies climbing over panels into other panels for example) and fully utilising its tools (speech balloons, sound effects, and deft manipulation of the passage of time between images).
Greenberg's affectedly faux naïve presentation gives the children's perceptions of reality an enchanting quality, with a carefully selected colour palette emphasising the nocturnal magic of the lands they journey through. Finishing with a beautifully cyclical twist The Midnight Babies is the kind of book that parents will undoubtedly love reading to kids, especially given the melodious rhythm of Greenberg's accompanying words.
Isabel Greenberg (W/A) • Abrams, £12.99
Buy online from Gosh! Comics here
Review by Andy Oliver