SLCZF 2023! It's hard to believe that it has been three years since we last reviewed a book by Isabel Greenberg (Glass Town, her part speculative biography/part metafictional meditation on the lives of the Brontës). Even harder to consider that it has been a whopping eight years since we last covered small press work from her (Dreadful Wind and Rain). That latter was based on a folk song, as is SLCZF print-debuting short comic Confinement, originally published online as part of Fictionable magazine. For Greenbergian fanpeople this will undoubtedly be a highlight of the show.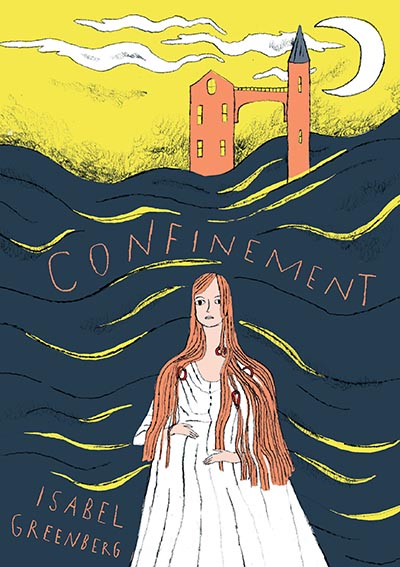 Based on the ballad 'Willie's Lady', Confinement is the story of the new wife of William, who takes her back to live with his mother in an isolated castle by the sea. But his vindictive mother has witch-like powers and, when the young woman is put into the customary "confinement" to await the birth of her first child, events take a sinister turn. Why is she enduring a seemingly never-ending pregnancy? aAnd what are the witch's plans for her?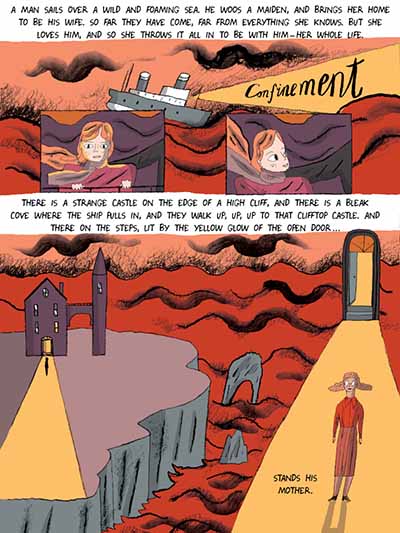 Greenberg creates fleshed-out narrative from poetic plot outline, providing something immediately accessible. It's an adaptation that may hopefully encourage readers to go on to investigate in greater depth not just the source material but also similar work. At the same time Greenberg puts her own spin on events, with life in the castle being recounted in the wife's words to an unseen confidante. The language and settings here take on a contemporary realisation but without losing the spirit of the original, with the narration embodying an ever growing sense of unease and tension within the castle walls.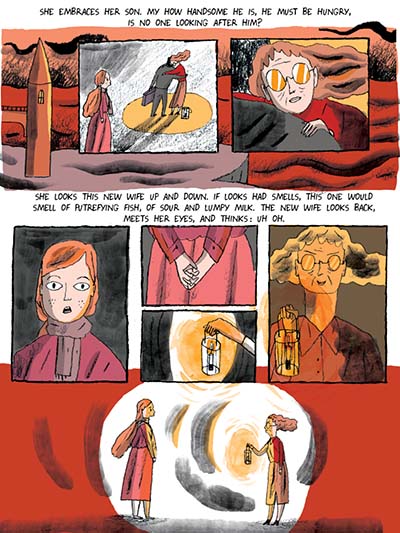 Visually this is Greenberg at her finest; that loose but sophisticated line accentuating the eeriness of the story's locale as life takes on an ever weirder character and the protagonist's ordeal becomes increasingly nightmarish. Panels within panels allow us to experience the characters' reactions to their wider surroundings more intimately by juxtaposing expressions and environs, while Greenberg manages that unlikely achievement of making a limited colour palette vibrant in impact. Everything here works with clockwork precision in creating that air of malevolence; from the "speech" balloon-mismatched chiming of the clocks wrapping around and oppressing the central character to the weird coiffure of the mother, giving her an otherworldly character.
It's been a long time in the waiting but new short print comics work from such a renowned artist as Isabel Greenberg has to be high on the must-buy list of every punter visiting SLCZF this month.
Isabel Greenberg (W/A) • Self-published
Review by Andy Oliver
SLCZF is held at Stanley Arts on July 16th. More details here.