SLCZF 2023! A year or two back at Broken Frontier I described UK horror comics artist Sarah Gordon as one of our finest practitioners in the area of "graphic melancholy". It's a description that could also be applied with equal veracity to small press mainstay Paul Ashley Brown. Brown's Browner-Knowle series returns at SLCZF this Sunday after a noticeable hiatus with a second volume, a new #1 issue, and a collection of darkly brooding comics shorts.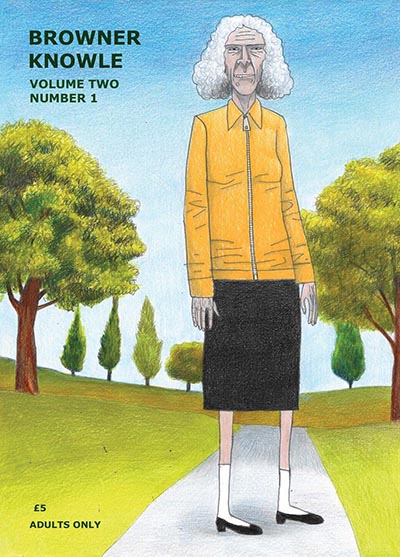 The first thing to note about Browner-Knowle Vol. 2 #1 is that when Brown gives an adults only warning at the start of the comic he means it. Not simply because of any explicit sequences but also because this is often disturbingly melancholic material. Sometimes quietly so and sometimes overtly. But there's  a constant sense of predatory hopelessness and despair just lurking under the surface in Browner-Knowle, circling the reader and, on occasion, with its vicious jaws ready to break through and take a bite out of an unsuspecting audience.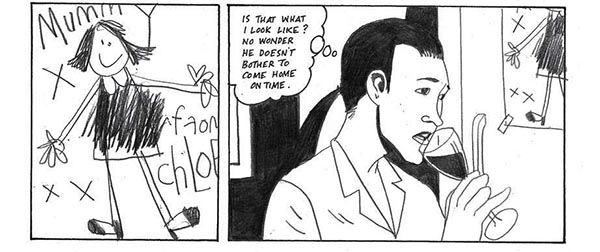 The longest story herein is 'What You Really Look Like' (above), a character study about identity; how we see ourselves, how others see us, what we hide, and the facades we project for whatever reason. A kind of ménage à quatre between a wife, husband and two male sex workers it's a deliberately uncomfortable commentary on suppression, repression and relationships. One that overpowers the reader with its bleakness by story's end.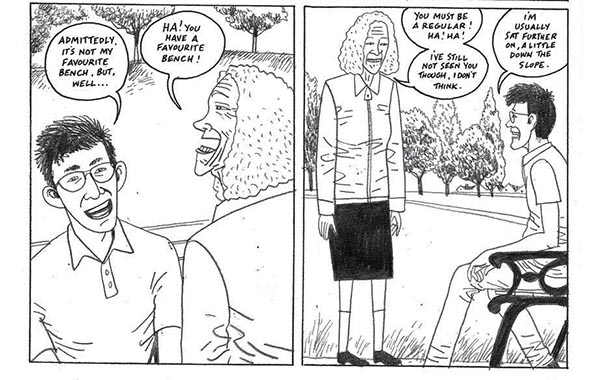 The pandemic makes its presence felt in a couple of stories. 'Sunday in the Park' (above) sees an on-page avatar of Brown's in a chance encounter in the park just before curfew. Here a friendly chat with an elderly stranger starts to veer into something more disarming. 'These Days' (below) sees a masked Brown contemplating the futility of existence, our legacies, and life's purpose while walking through the park amid the after-school throng. His introspective dialogue in this story takes on a kind of nihilistic beauty in a monologue that almost seems to seek to celebrate the fatalistic and the cynical.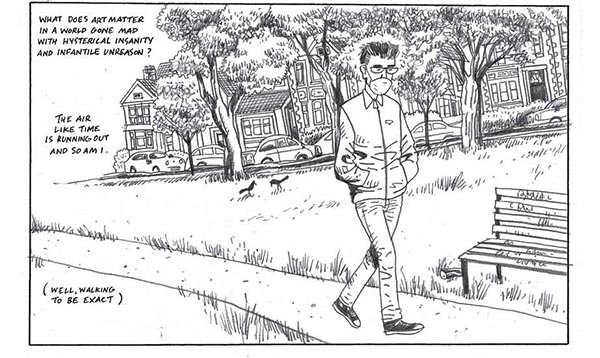 For those of us in the UK of a certain age there's a pessimistic nostalgia – the antics of glue-sniffers, the horrors of the Thatcher years, workmen drying out tea-bags to use again – that has its own disconcerting allure. A final page entry 'Sequential Potential' absolutely skewers the idea of the comic artist's journey to recognition with a brutal worldweariness.
"What does art matter in a world gone mad with hysterical insanity and infantile unreason?" asks Brown in one particularly maudlin sequence. I would argue that's a question that answers itself in its phrasing. Browner-Knowle Vol. 2 #1 will no doubt be a challenging read for some given how emotionally desolate it can feel in places but that, in itself, marks it out as something very different to pick up at SLCZF this weekend.
Paul Ashley Brown • (W/A) Self-published
Review by Andy Oliver
SLCZF is held at Stanley Arts on July 16th. More details here.