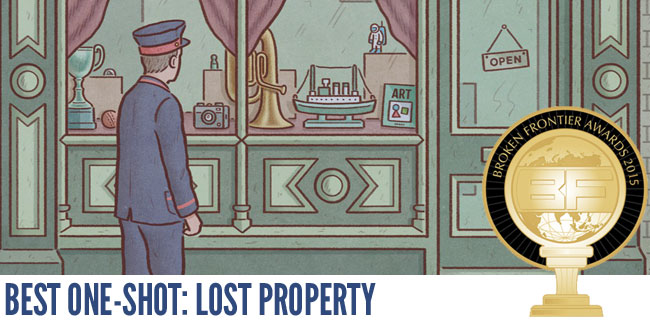 Here at BF we've been following the career of our Broken Frontier Best One-Shot Award winner – Lost Property creator Andy Poyiadgi – from way back in those halcyon small press days when he was still known as "AJ". Poyiadgi first gained recognition a few years back when his Teapot Therapy strip was shortlisted for the Observer/Jonathan Cape/Comica short story prize. He rapidly became known thereafter for both his thoughtful, reflective narratives and his willingness to experiment with the physical boundaries of the comics form.
That latter quality can be seen in self-published work like Teabag Theories (minicomics in a teabag) or his interactive origami comic in Mike Medaglia's Wu Wei anthology of spiritual comic strips from a couple of years back. But it's the immersive, contemplative feel of his delicately constructed stories in collections like ink + PAPER, Tiny Pencil and Score and Script that sowed the seeds for his first longer-form comic, the one-shot Lost Property (reviewed here at Broken Frontier) from Nobrow Press.
It's always rewarding to see previously self-published creators being picked up by bigger publishers – a growing trend in our ever burgeoning UK small press scene – but there can be few comics craftspeople more deserving of that status this year than Poyiadgi. Lost Property was presented in Nobrow's reinvigorated '17 x 23' format; a series that has given us some excellent work in the last year or so from the likes of Joe Sparrow, Jen Lee and William Exley.
The 24 pages of Lost Property focus on postman Gerald Cribbin whose working world is concerned with the careful delivery of other people's belongings. When Gerald receives a call from his local Lost Property Office, though, he makes the oddest of discoveries. Within the premises is every single item he ever mislaid. This find will lead to Gerald re-evaluating his existence, finding his true place in the world and, ultimately, his life changing forever…
Poyiadgi's story of self-discovery is beautifully and gently communicated – a feelgood parable that is all the more effective for its sensitive and graceful understatement. But it's his pure visual storytelling and his control of the structure of the page that most successfully forges the book's bond between reader and author.
Back in June of 2015 I had the pleasure of chairing a panel on self-publishing with Andy Poyiadgi, Philippa Rice and Sam Bosma at Nobrow's ELCAF Festival and I took the opportunity then to ask Poyiadgi about the way he exploited those unique properties of comics to play with the passage of time as a recurring motif in Lost Property. His answer was typically self-deprecating, playing down the accomplished technique on show in the comic with a casual claim that he didn't really think about his creative process too extensively. That was for reviewers to ponder over!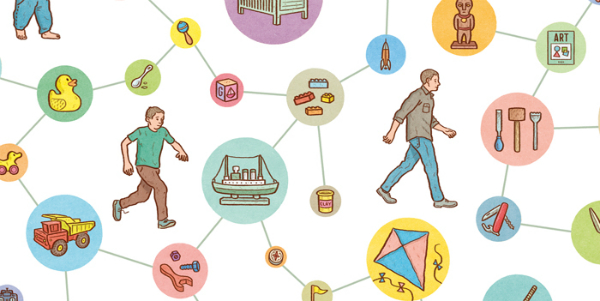 Despite its creator's modesty, though, make no mistake about it – Lost Property is a deft and stylish use of the form. Subtle but sophisticated, touching without ever degenerating into uncomfortable sentimentality, it's an unforgettably poignant piece of comics that underscores Poyiadgi's place as one of the most original and exciting new talents on the UK scene in recent years. We can only hope – after his triumph in the Broken Frontier Awards and his British Comic Awards nomination this year – that the next stop for Andy Poyiadgi is a full-length original graphic novel. That will most certainly be worth the wait.
You can order Lost Property from Nobrow's online store here and visit Andy Poyiadgi's website here.