G. Willow Wilson's Ms. Marvel is a superhero for everyone.
In 2014, respected author, journalist, and perhaps above all, extremely talented character writer, G. Willow Wilson not only proved she's a rising force at the House of Ideas. She also pulled of the unthinkable, creating Marvel's first Muslim superhero to star in her own series and making said character an instant favorite.
For a lot of readers, Wilson seemingly came out of nowhere, but that's definitely not the case. In 2008, Vertigo published her debut original graphic novel, Cairo, a magical-realism thriller and an ode to the city where Wilson worked as a journalist. The book was illustrated by M.K. Perker, who she later teamed up with for the monthly Air series about a flight attendant sucked into a supernatural terrorist plot. After publishing a memoir and award-winning prose novel, Wilson came back to comics in a big way, launching the Ms. Marvel series with another returnee in artist Adrian Alphona of Runaways fame.


The book, starring Pakistani-American teenager Kamala Khan, reached heights the Carol Danvers-led book never could and resonated with readers in a big way. So much so that its first collected edition became the best-selling graphic novel in October this year and nearly topped the New York Times paperback graphic novels Best Seller list. Wilson has managed to create a story about a minority, alienated character who appeals to the mainstream comics fans – something that has the potential to bring a whole new perspective to a great range of people.
Kamala Khan is the archetypical quiet, reluctant and geeky teen hero – the Peter Parker type – and while Wilson's story might be a first in terms of its protagonists religion, it's a story with familiar and relatable issues, much like Spider-Man was back in the 1960s.
No doubt that's what makes it so effective: Kamala is a 16-year-old girl, who wants to fit in, make friends, do good and 'ship' her superhero idols. A geeky teen that writes fanfic might not seem like instant villain-busting material, but she has a special talent for slipping neatly into mainstream comic canon and finding a place in the hearts of, like, basically, every shy teenager alive. She can also, you know, shapeshift.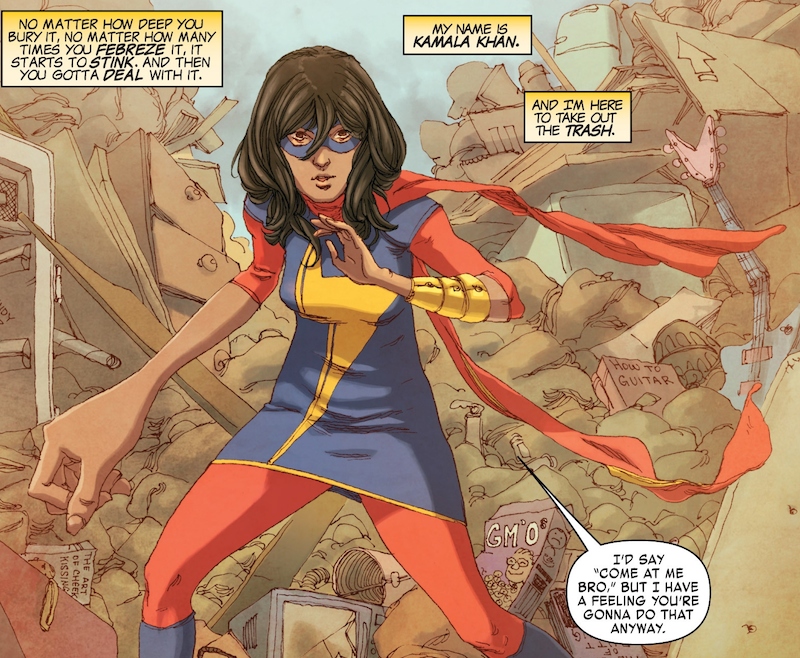 Willow Wilson's busy year is drawing to a close, but it's only just beginning for Kamala Khan, with Wilson promising 'tougher choices, bigger obstacles and more tension' for her young hero in upcoming issues. It certainly looks like both Ms. Marvel and Wilson will be taking big new strides after Marvel's announcement of an exclusive agreement with the writer, whose next big project will be a stint on the all-female X-Men series.
Certainly there's an air of mystery around her upcoming run on the book, which promises to take some of the most powerful mutants on the planet completely out of their element, and into new corners of the Marvel Universe.
But big storylines and blockbuster action aren't the reason Wilson is turning so many heads. The true reason is the skill with which she crafts rounded and relatable characters that absolutely anyone can empathise with.