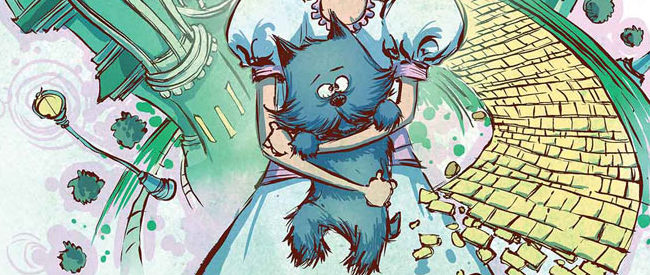 Eric Shanower and Skottie Young's Emerald City of Oz is a gorgeous book to behold.  Across the first issue of this miniseries readers will be treated to a collection of beautiful settings, from the ruby-red halls of the Nome King Roquat to the emerald-green palace of Ozma herself, where the stage is set for an attack to destroy the emerald halls and place the future of Dorothy, Aunt Em, and Uncle Henry in peril.
For someone like myself who has never picked up one of Shanower and Young's adaptations it is great to see the pair skillfully introduce the characters, settings, and past events without relying on the worn-out "catch-up" style of storytelling. Without any prior knowledge, readers in a similar position as my own will feel completely at home in Shanower and Young's world, while fans who are familiar with Dorothy's adventures will not be dragged down by a history lesson of the great land of Oz.  Emerald City is paced, for instance, to keep the energy high and fun, while laying the groundwork for an oncoming attack on Ozma's palace, as Shanower adapts L. Frank Baum's story with a focus on the formation of Roquat's army of purely evil and hideous monsters.  As the first issue comes to a close, moreover, Shanower's cliffhanger is the perfect representation of the overall tone of the book, while simultaneously building to the oncoming battle.
Long time readers of the pair's work will surely know what to expect from Skottie Young's pencils, but those who are unaware of the artist's talents are in for a treat.  Young's style perfectly captures the magic of Oz, while being wholly unique and fresh.  Each panel of Emerald City looks fantastic, whether it be the angry rantings of King Roquat within the underground mines of the Nomes, the awe-inspiring palace of Ozma, or the dreary home of Dorothy and her family. Most of this issue focuses on story building through a variety of conversations between Emerald's large cast, but it is safe to say as the series builds towards an epic climax Young's pencils will be action-packed, thrilling, and perhaps the biggest draw of the book.
Eric Shanower and Skottie Young continue their award-winning adaptations of L. Frank Baum's Oz adventures with the beginning of their new series, Emerald City of Oz.  As is to be expected from the pair, Emerald City is gorgeous and fun, which is a rarity in the comics industry these days.  Without ever opening a page of the pair's work in the past, it is safe to say they have gained a new fan, one that will be patiently waiting for next month's second issue.
Eric Shanower (W), Skottie Young (A), Marvel Comics, $3.99, July 3, 2013