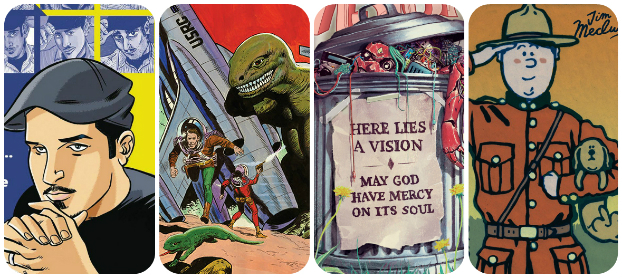 It's nearly Wednesday, and you know what that means: a fresh load of comics and graphic novels! With so many publications hitting your local comics store or digital storefront, the BF staff is here to lead you through the woods with our weekly staff picks. Satisfaction guaranteed!
Comic of the Week
The Vision Volume 2: Little Better than a Beast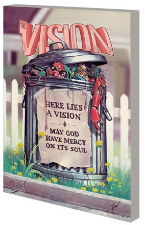 If there's been one "mainstream" comic that's been an absolute revelation over the last year it's been Tom King and Gabriel Hernandez Walta's series featuring everyone's favourite synthezoid-in-search-of-his-humanity. Taking the very simple premise of the Vision attempting to understand his place in the world by creating his own nuclear family it's run with that concept to provide one of the freshest takes on the hero in years without ever ignoring his established characterisation and continuity.
This second volume collecting the final six issues of the run sees the android Avenger's crumbling experiment in domestic bliss reach its inevitable conclusion as secrets come to the fore and the ominous foreshadowing of the last few months finally plays out. The darkest of suburban sitcoms, The Vision has been a welcome reminder of bygone days when Marvel was known for its character-led stories rather than its story-led characters. Tautly scripted by King with a building sense of tension, expressively illustrated by the excellent Walta and sumptuously coloured by Bellaire The Vision has been the standout super-hero comic of 2016.
Tom King (W), Gabriel Hernandez Walta and Michael Walsh (A), Jordie Bellaire (C) • Marvel Comics, $17.99
– Andy Oliver
So Buttons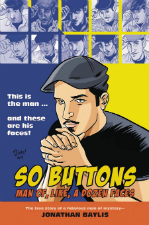 Who is Jonathan Baylis? Find out with this new collection of Baylis's long-running autobiographical comic series, which largely avoids the dull navel-gazing that has plagued the genre in recent years. Baylis cites Chester Brown, Julie Doucet, and Seth as inspirations, and the list of his artistic collaborators is similarly impressive: Jim Steranko, Fred Hembeck, and Ed Piskor, to name a few.
In addition to highlights from the series' past decade, this collection also includes two new stories – including 'So…Hallow" featuring art by perennial Broken Frontier favorite Noah Van Sciver and Rick Parker.
Jonathan Baylis (W), Various (A) • Alternative Comics, $20
– Paul Mirek
The Life and Legend of Wallace Wood Volume 1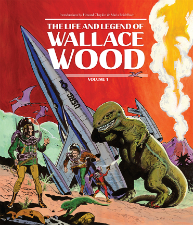 There are few comic book artists who have influenced the medium to the same extent as the legendary Wally Wood. Although somewhat of a tragic figure at the end of his life, Wood's long career was filled with many noteworthy milestones. He worked in virtually every genre available and his contribution to the storytelling mechanics of comics is without peer.
Edited by the late Bhob Stewart, Fantagraphics' biography of Wood is a remarkable collection of rare personal photographs, anecdotes from his contemporaries, and a broad sampling of the cartoonist's beautiful artwork. This gorgeous, insightful tome is a must-have for armchair comics scholars and historians everywhere. We could think of worse gifts this holiday season.
Bhob Stewart (Editor) • Fantagraphics Books, $39.99
– Jason Wilkins
Doctor Who: The Third Doctor #3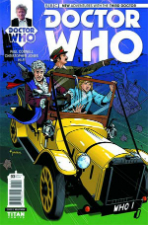 The solicitation for Paul Cornell and Christopher Jones's Third Doctor series claims that the creative team "continue their take on a classic Doctor as you've never seen him before". I'm going to ask you to ignore that statement for the moment because the greatest strength of this series to date is in its wonderfully familiar evocation of the Jon Pertwee/UNIT era of the show's history.
Newer fans of Paul Cornell will, of course, remember him from his adaptation of his novel Human Nature as a Doctor Who two-parter (Human Nature/The Family of Blood) during the David Tennant era which has arguably been the new series' greatest moment to date. Older enthusiasts will recall his New Adventures entry Timewyrm: Revelation which redefined the scope of Who in prose a quarter of a century ago.
This miniseries has seen the Doctor's third incarnation up against another of the alien incursions that were such a staple of Pertwee's time as the show's lead. Old faces, unlikely allies and some truly charming continuity references abound in a tale that nevertheless remains wholly accessible to a newer audience. Jones captures the cast perfectly and just check out that alternative cover by Kelly Yates above that so encapsulates the Pertwee years. An absolute delight!
Paul Cornell (W), Christopher Jones (A) • Titan Comics, $3.99 
– Andy Oliver
Moon Knight Volume 1: Lunatic

One of a generation of new creators content to split their time between work-for-hire and creator-owned comics, Jeff Lemire's catalogue seems to get exponentially longer with every passing week. His mainstream work on books such as Green Arrow, Bloodshot Reborn, and Hawkeye continues to impress both fans and critics. His run on the latest volume of Moon Knight might be his strangest work for a major publisher yet.
Unlike his more traditional work on books like Justice League United, Lemire's take on Moon Knight delves further into the hero's fractured psyche, enthralling readers with a harrowing journey into his mental illness. Lemire builds upon the new status quo established by Warren Ellis and Declan Shalvey but deals with Moon Knight's battle with mental illness head on. The book's metafictional elements and unreliable POV character force the reader to question its version of reality and infuses the reading experience with an odd, discomfiting feel.
Smart, stylish, and gorgeously illustrated by Smallwood and a host of today's top artists, Lemire and company continue to use Moon Knight to push the boundaries of mainstream comics in new and refreshing ways.
Jeff Lemire (W), Greg Smallwood, Franco Francavilla et. al. (A) • Marvel Comics, $15.99
– Jason Wilkins
Sgt. Chip Charlton and Mister Woofles of the Royal Canadian Mounted Police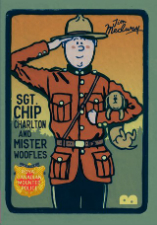 Bog Eyed Books is the new publishing imprint of Gary Northfield, that celebrated mainstay of the UK children's comics world. Northfield, of course, is responsible for such all-ages favourites as Gary's Garden in The Phoenix, The Terrible Tales of the TeenyTinySaurs! and Julius Zebra.
Its first offering brought back to print Northfield's much loved Derek the Sheep strips from The Beano and this second publication shines a spotlight on the adventures of Jim Medway's unconventional Mountie character Sgt. Chip Charlton and his canine sidekick (also originally featured in The Phoenix).
Medway was the creator behind the criminally underrated Playing Out from Blank Slate Books a few years ago which we had a lot of positive things to say about here at BF. This collection of reprinted strips is a perfect Christmas stocking stuffer for the younger reader. The book is also launched at London's Gosh! Comics on Friday December 2nd when Jim Medway will be signing copies in the store. You can also order it online here.
Jim Medway (W/A) • Bog Eyed Books, £6.99
– Andy Oliver