There are several things going on in Geneviève Lebleu's debut Weeding that don't register with one's first reading. The body horror, unsurprisingly, becomes the most engrossing thing about the book because Lebleu is clearly an accomplished artist. A second reading, however, shows just how appealing she is as a writer too. It makes for the kind of book one thinks about after turning the last page, which is good because it can prompt further readings.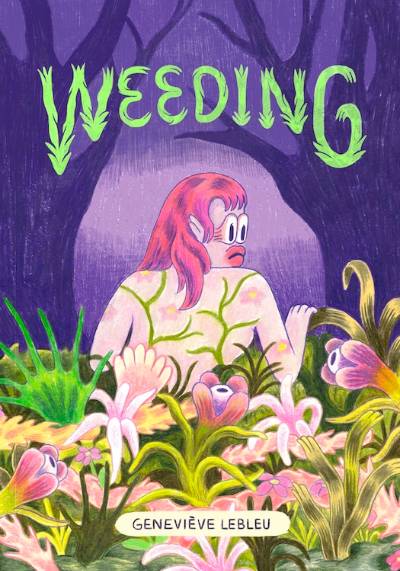 The title works on multiple levels, referring not just to the act of removing unwanted plants to beautify a space, but also to the elimination of people from one's circle or life. Whether the plants or people being eradicated are genuinely harmful is a matter of debate because there are also power struggles at play in this story. The book is set within the confines of a single afternoon and focuses on the meeting of some seemingly normal, middle-aged women for tea. There's a garden outside the home where this takes place, and one of the women is working on her plants when things start to go awry.
Lebleu's weeds aren't normal. They tend to devour or occupy the minds of those who come into contact with them, and even transform the bodies of people in grotesque ways. They have an intelligence of their own. We are never entirely sure if the women have been turned into plants, or the plants are being used as a hallucinogen to induce states of extreme emotion in them.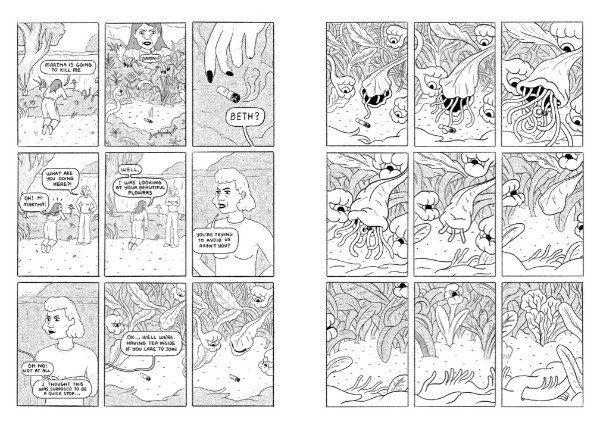 As the afternoon progresses, multiple betrayals start to emerge among the key players, and the women turn on each other. There's Martha, whose house this gathering takes place in, her sister Maureen who may or may not be dead but has been missing for years, and estranged friend Elizabeth who is struggling with the aftermath of stealing Martha's husband away from her. The accuracy of these details can be debated to some extent too, because this could all be just a fever dream in the minds of any one of the characters. One isn't even certain if the women exist or are simply appendages of the weeds that wield ultimate control in this plant world.
Body horror can be used to stunning effect in the right hands but can just as easily deteriorate into cliché if its purpose is merely to shock. Lebleu deploys it to make pointed statements about relationships between these characters, and her weeds take on menacing aspects that mirror the ruthlessness with which people can harm each other while maintaining a façade. Her women aren't even safe from their own relatives.
This isn't to say the narrative can't be criticised, because it sometimes starts to resemble a soap opera gone wrong. That is probably the point though, because satire works only when it exaggerates something which, in this instance, happens to be the way these women react to each other. What makes Weeding so powerful, ultimately, is that it uses body horror to address social anxieties in the best possible way.
The book ends as ambiguously as it begins, leaving us with even more questions. It's still a great debut though, and marks Lebleu as an artist who has much to accomplish and all the tools to do it.
Geneviève Lebleu (W/A) • Conundrum Press, $18.00
Review by Lindsay Pereira