Strictly speaking, Canadian indie artist Howard Chackowicz's Nothing to See Here isn't actually comics given that it's a book of mostly single illustration cartoons. But this Conundrum Press collection of work, continuing in his Howie Action Comix style, still somehow imbues each of its individual images with a sense of narrative in and of themselves. Chackowicz's approach ranges from the laugh out loud funny to deeply unsettling introspection, all coloured with a dark and often bleak wit.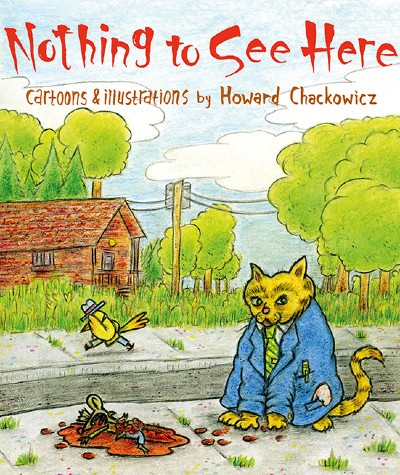 There's something absurd about describing punchlines to gag cartoons that readers can't see in reviews, but it's an unfortunate necessity in communicating a vision of the kind of material on show in Nothing to See Here. To give a brief flavour this Conundrum Press offering introduces us to such ideas as a vivisected monkey sympathetically chatting about mindfulness with his scientist tormentor; Marvel's Man-Thing having an unlikely but unfulfilling spiritual awakening; a pen top breaking up with its pen partner; the weary exasperation of the Rock, Papers, Scissors trio; and Jack Shit railing against over-familiarity…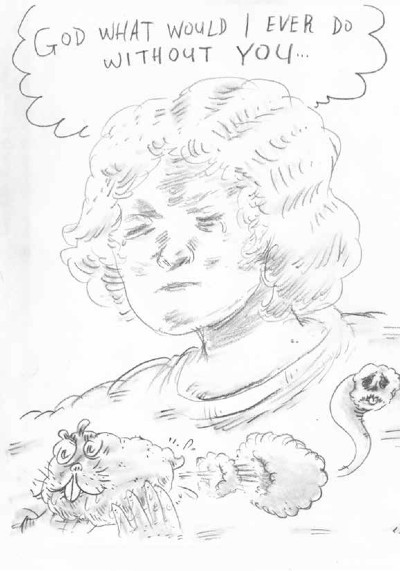 It's this juxtaposition of the unlikely and the familiar that makes Nothing to See Here such an unlikely treat. It's bizarre, disconcerting, warped even… and yet there are horribly recognisable truths at the core of much of what rests within these pages. It can indeed be enjoyed on a surface level as an exercise in comedic surrealism but there are also far deeper layers in which its insights into the human condition – our foibles, fears and aspirations – are observed in incongruous but strangely relatable ways.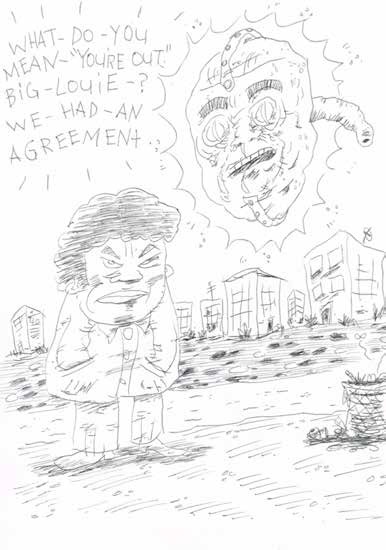 Herein old adages get very literal interpretations and social commentary bitingly addresses issues of online over-reliance and political apologists. From the pop cultural (the unlikely consequences of Clark Kent switching to contact lenses) to the brutally slapstick (a remorseless variation on the "gotcher nose" joke) through to terrible but delightful puns ("the cowering inferno"), every page is presented with a raw immediacy that perfectly captures the moment of creative inspiration.
In Nothing to See Here, Howard Chackowicz provides work that is sometimes uncompromisingly crude and throwaway in conception, but at other times philosophical, symbolic and surprisingly profound. The perfect taster for the practice of this Harvey Award-nominated cartoonist.
Howard Chackowicz (W/A) • Conundrum Press, $18.00
Review by Andy Oliver