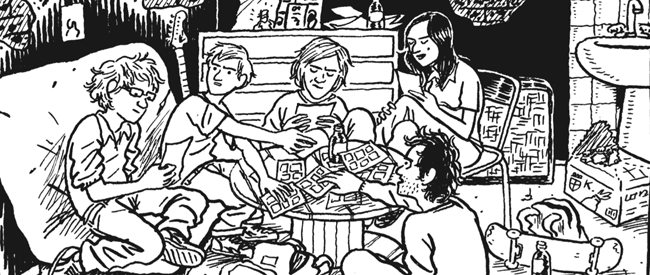 In a scenario that will send shudders through a sizeable chunk of our readership, Pierre Maurel's graphic novel Blackbird depicts a world in which self-publishing becomes illegal.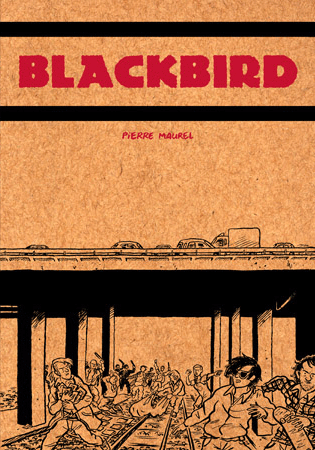 We're a broad-minded lot here at Broken Frontier when it comes to the comics we like. However, we can't deny that we do have a particular penchant for the DIY do-ers out there: the have-a-go heroes who swerve the gatekeepers and don't wait for permission to do their thing. (We've even got a bit of skin in the game ourselves.)
And we're not on our own. All around the world, events such as this weekend's DIY Cultures in London and the Riga Zine Fest in Latvia showcase the army of self-publishers – in comics and beyond – who make their voices heard through that most accessible of mediums: the zine.
But what if, to silence dissent and protect commercial vested interests, self-publishing was suddenly prohibited? What if knocking up a zine at your local copy shop became an illegal subversive activity?
That's the scenario at the heart of Pierre Maurel's Blackbird, published (fittingly) in mini-comic form by Belgium's l'Employé de Moi between 2009 and 2011 and now collected in an attractive English-language edition under Andy Brown's Conundrum International imprint.
The book's protagonists are a collectif who produce the eponymous zine. The opening pages depict, in documentary style, the sort of activity that fills the hours of many a self-publisher: copying, folding, stapling and hawking the finished product around any retail outlet that will give you the time of day.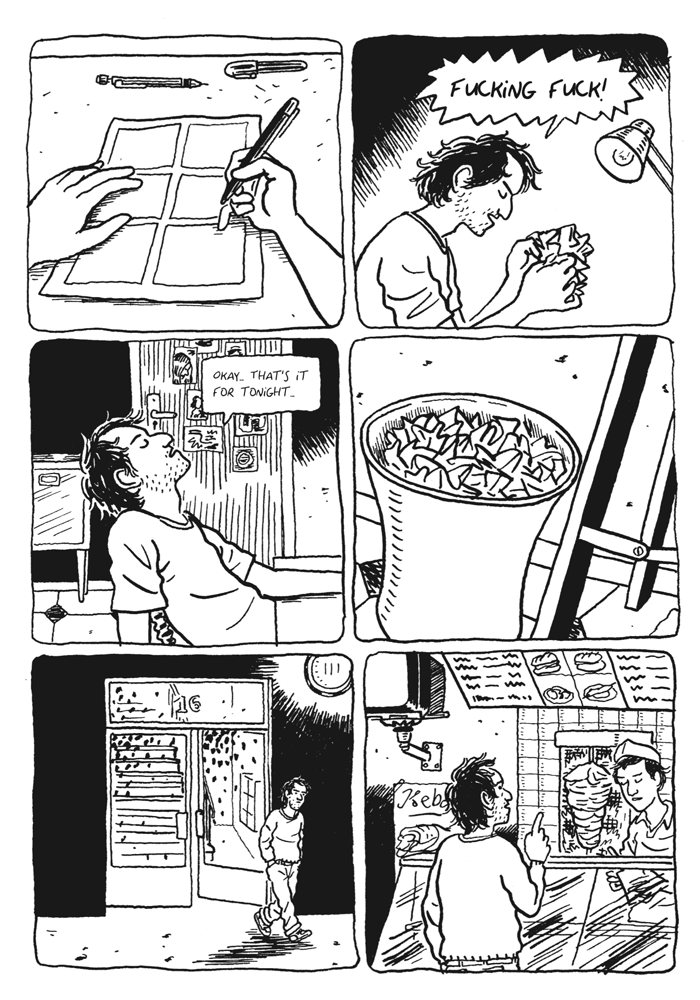 However, it doesn't take long for cracks to appear when one of the contributors is offered a mainstream publishing deal. And things get much more complicated with the passage of a law dictating that all publications have to come from an accredited publisher, certified by the government.
With their Copy Shop Guy casting a suspicious eye on their activity, the group manage to source their own copier, highlighting the irrepressible spirit of DIY culture. But they attract further heat when the group's loose cannon gets in a violent altercation with a shop-owner while out stickering.
The police attention forces them to become fugitives, and before long the mainstream media are reporting them as "radicals… carrying out illegal propaganda activities". Meanwhile, in the background, the publishing ban paves the way for a bill that would give the authorities new and draconian powers of arrest and detention.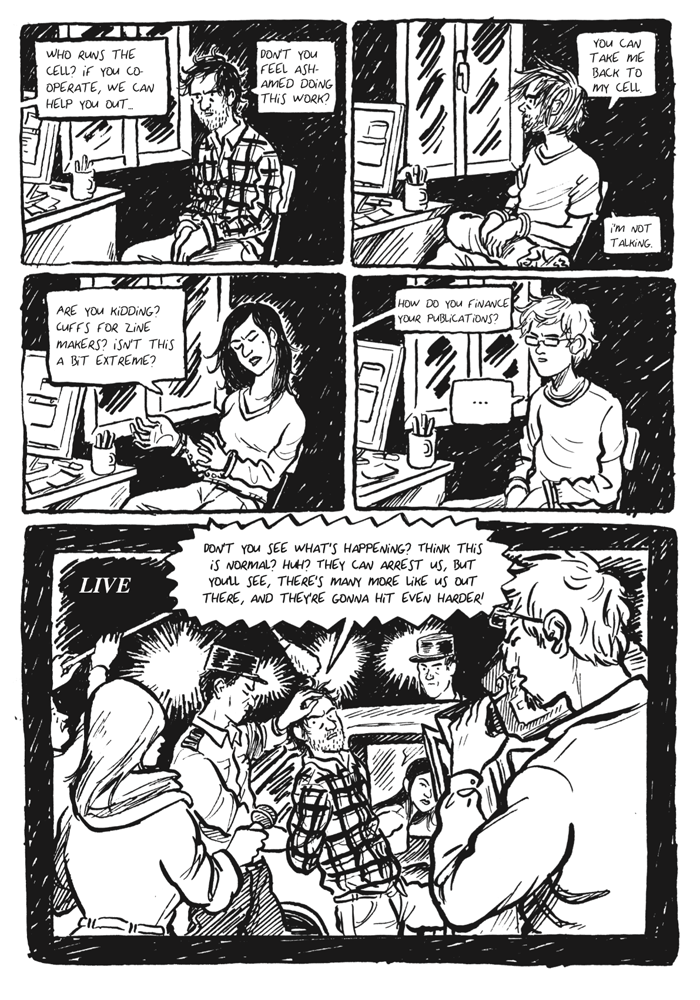 One of the book's themes seems to be the old tenet that when freedom is outlawed, only the outlaw can be free. As we've seen in the real world, repression always prompts a reaction. In the face of injustice, people become politicised or even radicalised (for good or bad). And that is dramatised here, as the outlaw zinesters, now driven underground, escalate their activity into a campaign of direct action.
In terms of the art, Maurel finds a nice balance between cartooning and naturalism; he has a confident line, but with just enough rough edges to give his world of squats, skatepunks and downbeat neighbourhoods a strong sense of authenticity. The look of the pages is helped in no small part by a lively font created by Dan Berry, which helps Helge Dascher's translation to skip across the page.
Blackbird has no pat Hollywood ending, but it concludes with the message that the spirit of DIY culture remains irrepressible. People's urge to communicate will always be there, and methods of self-expression will always exist, springing up like weeds between the paving stones, no matter how quickly the self-appointed cultural gardeners try to pull them up
Pierre Maurel (W/A), Helge Dascher (Tr.) • Conundrum International, $17