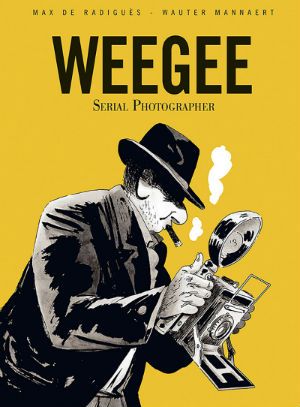 "Tragedy comes to New Yorkers so naturally…"
So says Arthur Fellig, aka Weegee, a renowned figure on the 1930s-40s New York press beat in one key sequence in the pages of Weegee: Serial Photographer. A shutterbug with a knack for being an immediate presence on a given crime scene (thanks to his monitoring of police radio) Weegee's photo-journalism was uncompromising and revelatory, depicting the social realities of urban life in the city in a way unseen before.
But he also lived a life of dualities. The man whose nickname came from a play on "ouija board" (to underline his seemingly spooky ability to reach events at the same time as the authorities) was not averse to manipulating his shots for greater dramatic effect, and is portrayed in the pages of Conundrum Press's graphic biography as someone who both loved the streets he worked on and yet yearned to escape them.
Translated from writer Max de Radiguès and artist Wauter Mannaert's original by Aleshia Jensen, Weegee: Serial Photographer explores the life of a man who was both enigma and phenomenon, and whose seminal street photography was achieved with the most basic of equipment. Radiguès captures all the contrasts and conflicts in his subject's life giving us a flawed protagonist happy to put art over reality and to pose photos with corpses if it gave him a better picture. It's a fascinating portrayal of a complex individual; one who loves the city and its people and yet is unafraid to indulge in manipulative and exploitative behaviour if it results in the shot he wants.
Mannaert's visuals are positively Eisner-esque in places with the humanity of his characters ironically being all the more realistic and authentic for the slightly distorted caricature of their appearances. It may sound like a critical cliché but New York is as much a character in the book as any of its cast of players with Mannaert capturing the hustle and bustle and the throbbing heart of the city with an atmospheric period feel. The acute strengths of de Radiguès and Mannaert's collaboration is in evidence in the lack of narrative exposition here, with dialogue between the characters moving the story onwards and de Radiguès allowing his partner's nuanced visual characterisation to communicate motivation and emotional state on a far more immediate level.
Weegee: Serial Photographer recounts not just its subject's obsession with his "vocation" but his frustrations with it as well, and how that path began to taint his reality. Like any graphic biography that attempts to translate historical record into structured narrative it relies on a certain element of supposition and interpretation with which to frame its story. But that seems wholly appropriate in documenting the life of a man whose own relationship with actuality was often economical in its approach. Another worthwhile project from the oft unsung indie comics connosieurs at Conundrum Press whose eclectic curation has generated an outstanding catalogue of titles over the last couple of years.
Max de Radiguès (W), Wauter Mannaert (A) • Conundrum Press, $18.00
Review by Andy Oliver