It's almost Wednesday, and you know what that means: a fresh load of comics and graphic novels! With so many publications hitting your local comics store or digital storefront, the BF staff is here to lead you through the woods with our weekly staff picks. Satisfaction guaranteed.
Comic of the Week
Kaptara #1
This one's a no-brainer, right? I mean, you've got Chip Zdarsky of Sex Criminals and Applebees' Facebook fame pairing up with the insanely talented Kagan McLeod, whose massive Infinite Kung Fu works even better as hyper-detailed pulp fantasy than it does as a 464-page doorstop.
This new series follows intrepid space explorer Keith Kanga and his adventures on the planet of Kaptara, which Zdarsky describes as "a world populated with classic toys and action figures." But can you trust him? Either way, this series looks like full-blown outer space fun with a surreal sensibility that you might see in one of Rick and Morty's more fascinating dimensions.
If you need more convincing, peep McLeod's art at the link above. Bathe in its grooviness. And make sure to snag this from your local shop at your next visit.
Chip Zdarsky (W), Kagan McLeod (A) • Image Comics, $3.50
– Paul Mirek
Empire: Uprising #1
The wait is finally over. Originally published fifteen years ago, Mark Waid and Barry Kitson's Empire explored a dystopian world where the all of the heroes fell, leaving the planet under the brutal, steel-fisted rule of the powerful armored supervillain Golgoth.
The series represented a refreshing twist on the traditional, heavy-handed power struggle featured in mainstream comics, turning the tables on the heroes once and for all, and setting up Golgoth as a robust, conflicted protagonist, whose subverted moral compass craved a direction in which to focus his mad intellect. In short, with all the heroes dead, he had no one left to fight.
After some legal wrangling, Empire's rights reverted back to Waid and Kitson, who continued the story online over at the former's forward-thinking Thrillbent Comics website. The first print release to hit shelves under a new era of partnership with IDW Publishing, Uprising fills a void fans and critics have been clamouring to see filled for almost a decade and marks Thrillbent's first foray into print comics.
In this new volume, set one year after the events of the first series, Golgoth continues to fend off attempts to overthrow his rule from all sides, all the while wondering if the fight is worth the effort. Having already achieved his dream of world domination, what's really left to accomplish?
Mark Waid (W), Barry Kitson (A) • IDW Publishing, $3.99
– Jason Wilkins
Convergence: Swamp Thing #1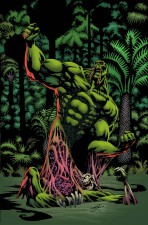 The convergence of stellar comics talent producing DC's Convergence series is perhaps the real story of this acclaimed crossover. Who better to bring back Crisis on Infinite Earth's Swamp Thing than Len Wein, the man who co-created the character? Wein and Bernie Wrightson created Swamp Thing as a horror character who made his debut in The House of Secrets #92 (July 1971). In the mid-1980s when a young Alan Moore revitalized the character's origin with the release of Saga of the Swamp Thing, Wein was the editor of the project.
With Convergence Swamp Thing #1, Wein once again takes the reins of the defender of the Green. On Telos, the domes have been lifted and the once powerless heroes have regained their abilities. But what does it mean for the version of Swamp Thing we knew in Crisis on Infinite Earths who is cut off from his source in the Green?
Veteran artist Kelley Jones should provide an ideal complement to Wein's vision for the book. His portfolio includes work on several iconic characters, including, Deadman, Conan, Batman, and Sandman. Crisis-era Swamp Thing is in good hands with this creative team.
Len Wein (W), Kelley Jones (A) • DC Comics, $3.99
– Karen O'Brien
The Disappearance of Charley Butters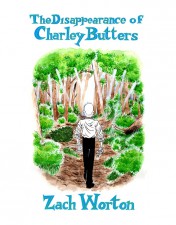 Four years after The Klondike (Drawn and Quarterly), Zach Worton's epic depiction of the 1890s gold rush in the Yukon, the Toronto-based creator is back with a new graphic novel. Coming with recommendations from alt-comics luminaries such as Noah Van Sciver and Charles Forsman, The Disappearance of Charley Butters looks set to bring Worton's strong cartooning to a wider audience.
Depicting the final throes of a death metal band, it returns to the great outdoors, which Worton depicted so evocatively in his earlier work. While filming a music video, the band stumbles upon an old cabin in the woods containing the archives of a disappeared artist. The discovery sets in motion a chain of events which eventually leads to one character's redemption.
Zach Worton (W/A) • Conundrum Press, $17
– Tom Murphy
Ballistic Vol. 1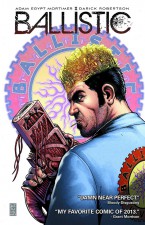 If you want to see why we're so excited to have Adam Egypt Mortimer on board for the Broken Frontier Anthology, check out the book that Publishers Weekly says "ends with the reader desperate for more of this addictive, ballistic madness."
Mortimer and Robertson keep the sci-fi high-concepts flying as fast as the bullets, all the while pushing against and past the boundaries of the comic form. This kind of fluidity is to be expected when just about everything has a mind of its own, from trash-talking protagonist Gun (who's just what you'd expect) to the DNA-constructed Repo City State.
Robertson's art is at its frenetic best here, and fans of his previous work on Transmetropolitan and The Boys will eat this one up. But be certain: Ballistic is its own beautiful monster, and it's one that all your friends are going to be talking about.
Adam Egypt Mortimer (W), Darick Robertson (A) • Black Mask Studios, $14.99
– Paul Mirek
Haunter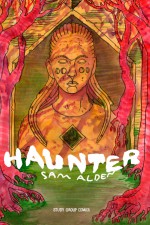 Originally published online by Study Group Comics and then in print via a Kickstarter campaign, indie comics sensation Sam Alden's first longer-form narrative was solicited in the February edition of Previews. Now a whole new expanded audience get the opportunity to read a story of which Bone's Jeff Smith said "It's impossible to start the thing and not keep reading it. It really flows."
Alden's tale focuses on a young huntress who discovers an ominous temple-like building within the forest in which she is tracking her prey. Therein she awakens a monstrous presence, and quickly finds herself going from pursuer to the pursued in a frantic attempt to escape this unrelenting force.
Featuring some of the most stunning panel-to-panel storytelling you will see this year, Haunter is the perfect introduction to Alden's acclaimed work. Read a full review in our 'Small Pressganged' column.
Sam Alden (W/A) • Study Group Comics, $15.00
– Andy Oliver
Wild Blue Yonder HC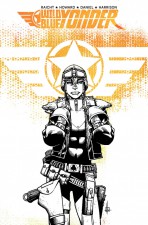 The epic, aerial adventure series that burst onto the scene last year is now collected into one high quality hardcover.
In the near future, mankind has destroyed the Earth and the only refuge from radioactive pollution can be found in the skies. Join the crew of The Dawn, a sky-freighter that runs on renewable energy, and the family tasked with protecting it.
Whether it's piloting a jet fighter or taking to the air with a rocket backpack, Cola and her friends will fight to keep their home in the sky safe from bloodthirsty air pirates and the relentless villain, The Judge, who is determined to have The Dawn for himself.
Mike Raicht & Austin Harrison (W), Zach Howard & Nelson Daniel (A) • IDW, $29.99
– Tyler Chin-Tanner
The Realist GN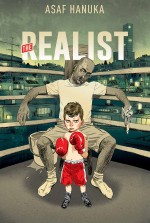 The emotive, artful and self-deprecating weekly strips of Israeli cartoonist Asaf Hanuka unfold and fuse together to make his truthful, intimate and witty autobiography, The Realist. Sometimes realistic, sometimes surreal, sometimes satirical, Hanuka's work always captures the state of mind of the artist at the time, bringing you into his world of wild imagination – and slow silent desperation.
The comic details marriage difficulties, the artist's conflict with 'settling down and moving to the suburbs', intimate raw emotions through to a brand of tired social activism. There's a sense of things barely being held together as they are – it's a honest series of stories and ideas.
Melancholic, but consistently funny, this is a revealing look into the life, love and inner struggles of a gifted artist with a knack for getting straight to the heart of things through a combination of straightforwardness and symbolism.
Asaf Hanuka (W/A) • Archaia, $24.99
– Conori Bell-Bhuiyan