One of the joys of following the publishing output of as eclectic a publisher as Conundrum Press has been discovering not just new voices from the North American scene but also established creators who I may not have come across before. It's a huge old comics universe out there after all and one person's long-time favourite work may be another's uncharted territory to explore. Represented Immobilized collects strips by "Montreal-based illustrator, post-underground cartoonist, writer, filmmaker and musician" Rick Trembles that originally appeared in the 1990s and 2000s in both the pages of Fish Piss magazine and a long-gone online venue. The result is a line in autobio that is irreverent and uncompromising; coming-of-age stories with an enticing line in the awkward and the excruciating.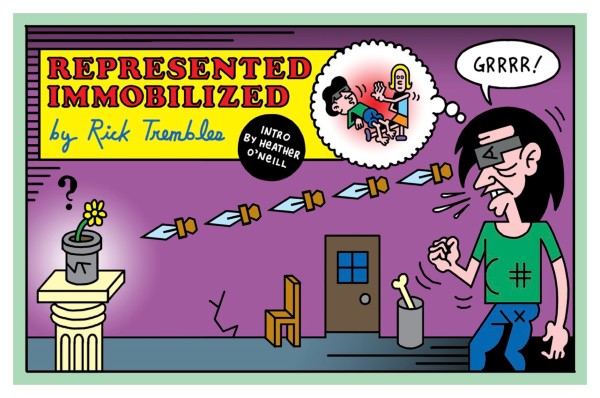 The main feature of Represented Immobilized, so to speak, is 16 strips whose origins lie in an apartment move. Relocating many of his childhood possessions led to a stream of associated memories that Trembles wished to commit to the page before he forgot them. The result is a suitably chaotic compilation of short anecdotal pieces about being robbed on the way to the comic shops, school hair-pulling fights, and mugging old ladies for money for dope.
Each landscape entry mostly works on a "comic strip within a comic strip" three-panel intro within a thought bubble with the final lengthier punchline panel allowing Trembles to reflect on events, either immediately or with the passage of time. Some of these reminiscences can be uncomfortable (an encounter with a seedy individual in a cinema), some have a slapstick quality to them (the arrival of riot police after a fracas when Trembles was thrown out of a music concert), and some have a familiarity that is universal (slacking off in a maths class).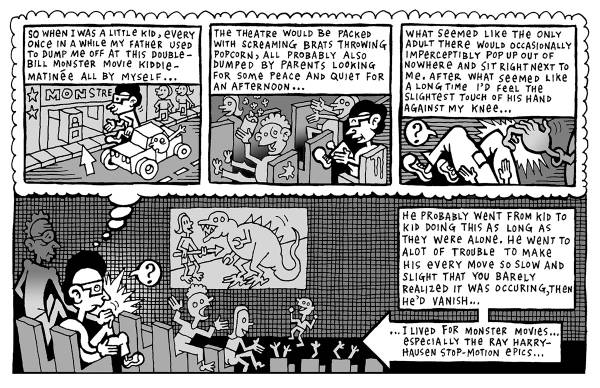 By necessity each story is very wordy, often cramping out art in some panels. Rather than being a drawback though this feels most appropriate. By juxtaposing a sometimes confined visual record of the actuality of events with a written one that is built on the fallible foundations of unreliable remembrance we are reminded of how ephemeral and prone to error our memories can be. Indeed, that's something Trembles explores further, ruminating on the nature of memory and how our perception of the world around us changes with time.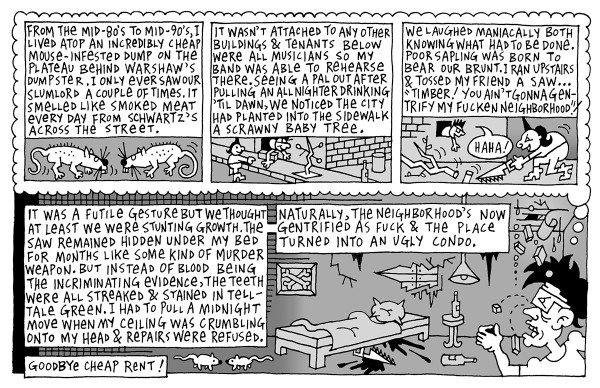 There's extra one-panel daily diary comic material backing up the main section of the book which is more pedestrian in content but proves an interesting counterpoint to the elaborate yarns of the section that precedes it. Perhaps again underlining how certain events become crystallised in our memories with a sharp (but possibly apocryphal) clarity while most of our existence veers more towards the humdrum and the monotonous. While Represented Immobilized is on one hand a colourful and unrestrained collection of outrageous anecdotes, on the other it has some surprisingly profound things to say about how we connect with our pasts.
Rick Trembles (W/A) • Conundrum Press, $12.00
Review by Andy Oliver