"Never in my life have I laughed more than a couple of hours I spent in an SPX hotel room with a half-dozen people listening to Henriette Valium say things." The words of the late, great Tom Spurgeon back in 2017 on The Comics Reporter, as a sidenote to his link to my Broken Frontier review of Valium's The Palace of Champions.
That magnificent hardcover was an alt comics revelation to me when I read it six years ago, and I said of The Palace of Champions and Valium's approach to the page then that it was "a reading experience that asks the reader to interact with the page – to interpret, to translate, to demystify even – in ways quite unlike any comic you may have read before.  A terrifying stream of (un)consciousness that nevertheless has its roots in the familiar and the shared." Later stating "There is something almost paradoxical about the way in which Valium's comics make sense of the world around us by robbing it of its clarity; by metamorphosing the frustrations of the everyday into hideously Bosch-like metaphors."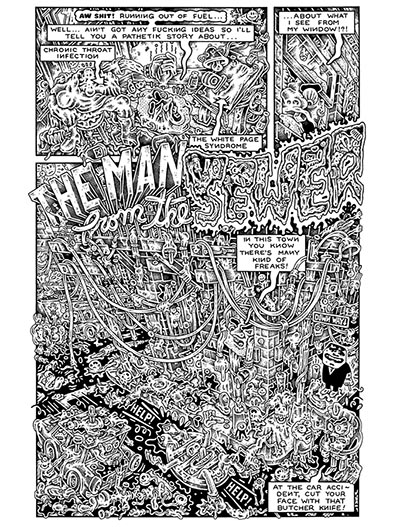 We have those great champions of Canadian cartoonists Conundrum Press to thank for bringing the work of Valium, aka Patrick Henley, to a wider audience through The Palace of Champions. Valium passed away in 2021 and so little of this giant figure of Canadian cartooning's work has been available for an English-speaking audience to date (for more on his importance in the Montreal comics scene is underlined in Marc Tessier's obituary on The Comics Journal). Conundrum have recently launched a Crowdfundr campaign to bring Valium's comics together in one print box set as the artist had always desired.
You can back the Crowdfundr here! The box set will contain five volumes but backers can also opt for individual books. They include 1000 Rectums (1982-1986), Primitive Cretin (1987-1990), Mother's Heart (1994-1997) Princess Brune (2000-2006 + never-before-seen material) and The Palace of Champions (reprint) (2006-2015). You can find out more about the specifications and contents of the box set on that campaign page.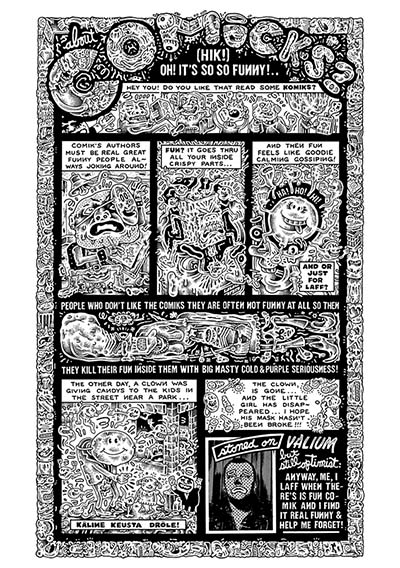 Conundrum have said of his contribution that "Valium's frenetically rendered comics appeared in almost every punk and underground publication in Montreal and France throughout the 80s and 90s. He self-published his own "albums" in giant silkscreened formats. Often called the "Pope" of the Quebec comics community he continued to produce artwork, music, posters, installations, comix and more until his untimely death on Sept 1, 2021." They're looking to provide a definitive archival record of Valium's often controversial but undeniably singular vision and work. That's something well worth our support given not just Valium's place in comics history but also in recognition of Conundrum Press's place as one of the finest and most under-rated publishers on the comics circuit.
Here's that link again to the Crowdfundr campaign!