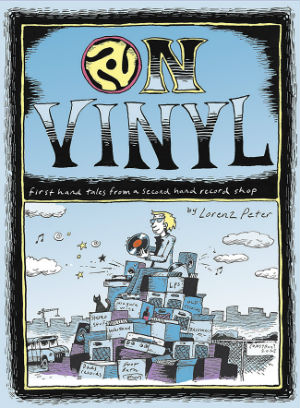 Almost a sequential art ode to (specifically) vinyl records, and more generally to the joy of collecting and the nostalgia rush it brings, Lorenz Peter's On Vinyl comes to us courtesy of Candian publishers Conundrum Press whose output continues to impress with its eclectic unpredictability.
This slice-of-life saga following a vinyl enthusiast's trials and tribulations is a bleakly humorous procession of anecdotal episodes with an overarching central plot that focuses on record store owner Lenny and his struggles to keep his business alive.
Lenny's small store in Toronto is both a joy and a source of constant worry as he deals with erratic sales and the threat of local developers. His shop brings in a stream of both music aficionados and eccentric oddballs but life is about to take him in an unexpected new direction. An unlikely discovery hidden away in the cover of an album sees him embark on a quest to find the legendary lost record collection of reclusive ex-DJ Hot Walter and a discovery that will change his world forever…
On Vinyl begins as a gentle observational comedy about vinyl fans, with parallels to the comics collecting urge that lend it an instantly recognisable quality. It's witty without being particularly cutting or acerbic and has a more worldweary feel to it. Lenny is a sympathetic if somewhat jaded protagonist, haunted by his doubts throughout and with a propensity for Reginald Perrin-style flights of fancy. It's told from both Lenny's perspective and old-school third person narration with the latter giving the book an apt storytelling style that fits its retro focus.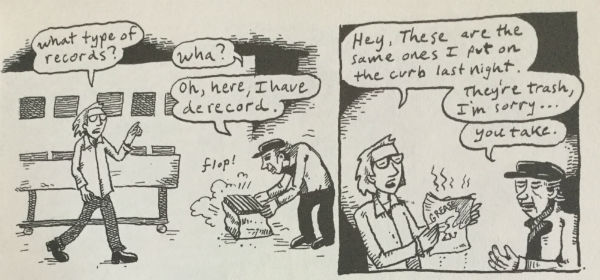 Peter's busy cartooning style also lends the book an almost underground vibe with packed pages crammed with involved panels and a lack of fear in regards to lengthy accompanying exposition. On Vinyl is more than simply a collection of keenly observed vignettes on the collector mentality; it's a book about how our passions shape and influence us, about the intimate relationship between nostalgia and melancholy, and one that reminds us that the thrill of the collecting hunt is as much about recapturing our pasts as it is about the target object.
Lorenz Peter (W/A) • Conundrum Press, $15.00
Review by Andy Oliver