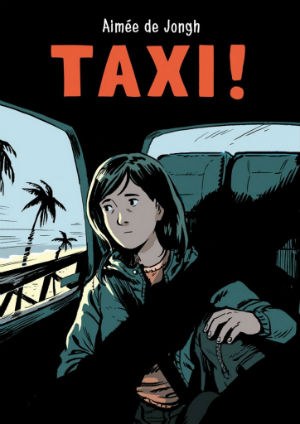 Some of the most powerful slice-of-life work speaks to us so eloquently not through an overt attempt at ostentatious profoundness but rather because it reveals familiar truths with a quiet gentleness and respect for its subjects. Aimée de Jongh's graphic memoir Taxi!: Stories from the Back Seat is one such offering; a collection of four interweaving encounters with taxi drivers across the years and the continents, that gradually builds into something far deeper than its apparent premise of cursory travel experiences would initially imply.
Chronicling four taxi journeys between 2014 and 2018 that de Jongh took in Los Angeles, Paris, Jakarta and Washington, Taxi! is the work of a creator whose understated narrative structure is quite beautiful in its careful and considered pacing. In Los Angeles in 2014 we observe her interactions with an initially taciturn driver who proves to have hidden depths; in a rainy Paris in 2018 her meeting with a French taxi operator of Algerian heritage becomes a touchingly empathetic moment; in Jakarta in 2017 two lives touch in unexpected ways as the shadow of the past is juxtaposed with a more hopeful present; and in Washington in 2017 poignant revelations come to the fore in an eventful drive to a comic convention.
Each story fades in and out, as de Jongh returns to the four different scenarios at multiple points, allowing her to contrast and also mirror themes and situations. As they play out, these character studies embody the funny, the uncomfortable, the sad and the dramatic; the interflowing, juxtaposed timelines all eventually converging into a greater whole. It's a book wherein de Jongh explores not just the worldviews and reactions of her "characters" but also her own, with her fluid visual characterisation and the emotional resonance of her characters' body language contributing significantly to its subtle connective qualities. Because, ultimately, this is a story that is as much about her cast's observations of her as it is about her observations of them.
Pathos, joy, revelation, trepidation… Taxi!'s emotional gamut ensures this is such a rewarding read in a markedly briefer page count. Worlds cross in ways that are both intimate and yet simultaneously ephemeral. But the greatest strength of the piece is perhaps in the way that de Jongh makes us invest so deeply in characters who have relatively limited on-page time. The fragile humanity of this story is a quiet but joyous gift in a graphic memoir that underlines just what a compelling talent de Jongh has proven to be since she burst onto the scene with The Return of the Honey Buzzard four years ago.
Aimée de Jongh (W/A) • Conundrum Press, $17.00
Review by Andy Oliver