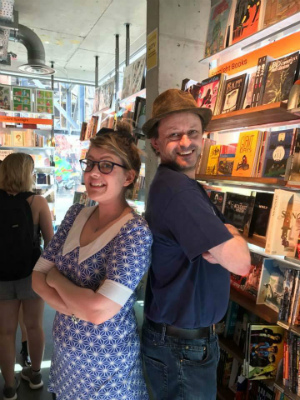 In just a few short days the comics world will be descending on Leeds for the convention weekend of the 11th Thought Bubble festival and Broken Frontier will be among them!
If you've been following the site regularly over the last couple of weeks you will have seen our regular updates of Thought Bubble debut comics reviews and previews. If you want to catch up with any you may have missed then you can find them all in one easily tagged place here. Keep watching because there's lots more going up this week…
So just a reminder today that the Broken Frontier Editorial Team of myself (Andy Oliver, Editor-in-Chief) and EdieOP (BF's Operations Editor) will be representing the site over the Thought Bubble weekend, Come and speak to us if you spot us – whether you want to talk coverage or just say "hello" we'll be happy to chat. And if you don't know who you're looking for then this gives me yet another opportunity to run that photo of the BF Team Supreme taken at Gosh! earlier this year on Small Press Day.
BF writer Jenny Robins will also be around on the Sunday and, of course, I'll be on the Gosh! Comics 'The Best Thing I've Read All Year' panel on the Saturday morning if you want to know which comics really caught my eye in the last year. That takes place at 11.00am in the Carriageworks Main Auditorium hosted by Tom Oldham with panellists Marley Zarcone (Shade the Changing Girl), Hannah K. Chapman (Comic Book Slumber Party), Katie Skelly (My Pretty Vampire), Spike Trotman (Iron Circus Comics) and Kelly Kanayama (Women Write About Comics, Mindless Ones).

Edie and I will also be hitting social media hard over the weekend so look out for the hashtag #BFTBPicks on Twitter and Instagram as we'll be using that to direct you to some of our favourite creators and projects on the Saturday and Sunday.

Last year's Small Press Day banner
And, wearing a different hat for moment (to coin a rather appropriate phrase), I will also be representing the Small Press Day team of David 'Ziggy' Greene, Amneet Johal and myself at a number of cons and festivals this autumn as we look to recruit small press enthusiasts who are active in their local self-publishing communities to work with us as regional co-ordinators for Small Press Day 2018. If you'd like to know more about what that entails then come and have a chat with me. In the next few weeks I'll be at Thought Bubble, the Bristol Comic and Zine Fair and the Lakes International Comic Art Festival with more to be announced thereafter.
Edie and I are looking forward to catching up with old friends and new. We'll see you all in Leeds at the weekend…
– Andy Oliver, Broken Frontier Editor-in-Chief, September 18th, 2017
For regular updates on all things small press and Broken Frontier follow Andy Oliver on Twitter here.