It's been a while since we ran one of our 'BF Bulletin Board' pieces but with so much comics-related fun happening in London this weekend it seems almost criminal not resurrect it for an end-of-year special. So here, in nugget-sized bursts of information, are some of the one-off events and ongoing exhibitions that you can make a trip to over the next couple of days…
The Avery Hill Christmas Party at Gosh! Comics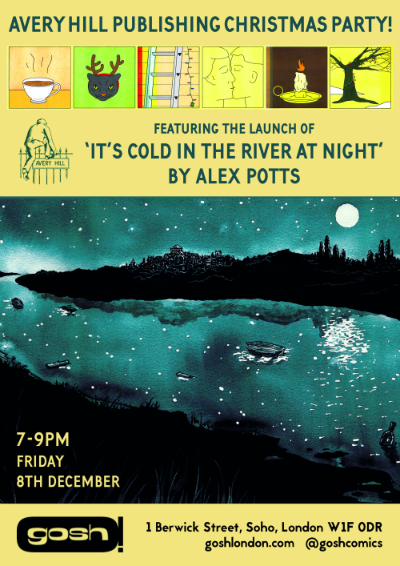 What? One of our favourite boutique publishers celebrate another year of top-notch releases with a party night at London's Gosh! Comics. It also serves as a launch for the first longer-length comics work of indie star Alex Potts whose It's Cold in the River at Night will be on sale (with Alex on hand to sign!).
Why? Multiple Broken Frontier Award-nominated publisher + frequent BF-collaborating location = a top way to see out the comics year for fans of the indie side of the scene.
Where? Gosh Comics is located at 1 Berwick Street in Soho.
When? It's TONIGHT! (if you're reading this on Friday December 8th!) so get your skates on!
More details… available at the Gosh! Comics website.
'Kirby Consciousness' Exhibition at Orbital Comics
What? An exhibition dedicated to Jack Kirby – the King himself – to mark the recent centennial celebration of his birth.
Why? One of (some would argue the) most influential comics artists of all time is paid fitting tribute by a whole host of top comics creators. The Orbital team are another fab crew we've teamed up with in the past, most recently when I chaired the Scream! and Misty Halloween Special panel with Simon Furman and Keith Richardson back in October.
Where? Orbital is located in London's Great Newport Street, near Leicester Square tube station.
When? The exhibition officially runs between December 9th and January 14th in Orbital's fabulous gallery space. There's also a private view in the shop tonight (Friday December 8th).
More details… here on the Orbital Comics website.
The Illustrators' Christmas Fair 2017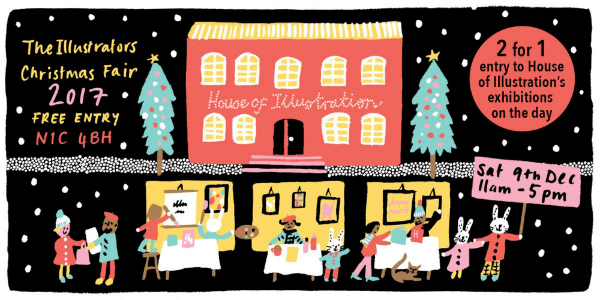 What? A curated event courtesy of House of Illustration featuring over 100 illustrators from a number of different disciplines.
Why? Comics folk are just one small part of this event but it's always a Christmas highlight and why not also pop into the latest House of Illustration exhibitions (including Gerald Scarfe: Stage and Screen) while you're there? Exhibiting comics creators include Tor Freeman, Chloe Elise Dennis, Alex Hahn, Hannah Lee Miller and Paul Shinn. A great chance to pick up a festive gift for illustration-loving chums.
Where? Granary Square at King's Cross, near to House of Illustration.
When? Saturday December 9th, 11am-5pm.
More details… here on the House of Illustration website.
Catford Comic & Zine Fair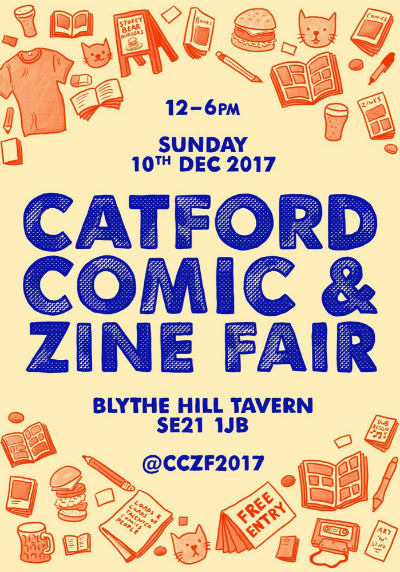 What? A compact small press fair housed in the welcoming environs of a pub!
Why? The comics calendar for 2017 is drawing to a close and this is a great opportunity to catch the work of some top self-publishing talents including such oft-featured Broken Frontier favourites as Wallis Eates, Gareth Brookes, Tim Bird, Douglas Noble, Elizabeth Querstret, John Riordan, Olivia Sullivan, Matt Boyce, Danny Noble and more (as well as newer up-and-coming faces on the scene like Hattie Webster and King Louie's Lab). The brainchild of father and son small press comics dynasty Henry and Stanley Miller this is definitely one to pencil in for Sunday.
Where? Enjoy a pint and some sequential art in the Blythe Hill Tavern…
When? This Sunday December 10th.
More details… and lots of ace exhibitor interviews on the Miller Town website.
Olivier Kugler's 'Escaping Wars and Waves'

What? An exhibition of the graphic reportage of acclaimed artist and journalist Olivier Kugler depicting the plight of Syrian refugees.
Why? Kugler's evocative reporting is not to be missed and half the proceeds of the sales of exhibited art will be going to Doctors Without Borders/ Médecins Sans Frontières. I attended the opening of this exhibition last week and can confirm what a powerful display of work it is. Myriad Editions will be publishing Escaping Wars and Waves next year and this acts as a taster for that much anticipated volume.
Where? The Mezzanine Gallery at Rich Mix, 35-47 Bethnal Green Road, London, E1 6LA
When? The exhibition runs until January 7th, 2018.
More details… here at the Rich Mix website.
D.I.Y. Art Market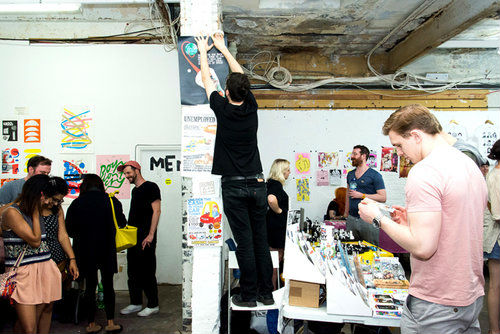 What? A cross-media celebration of DIY culture – the last of these regular events of 2017 is this very weekend.
Why? As the name suggests comics are just one aspect of the work on offer but you can expect to see familiar creators like Babak Ganjei, Gareth Brookes and Decadence Comics in attendance.
Where? This one is also at Rich Mix, 35-47 Bethnal Green Road, London, E1 6LA.
When? This Saturday December 9th.
More details… here on the D.I.Y. Art Market site.