Although the "c-word" doesn't appear anywhere, Giacomo Bufarini's Parabola di G exhibition at London's Howard Griffin Gallery is another example of how comics can burst off the page and become an immersive 3-D experience.
One of my recurring themes in trying to be an advocate for comics is looking for ways they could reach out to that "Sunday Review" crowd, to become an accepted part of a regular cultural diet that includes cinema, theatre, the visual arts, literary fiction etc.
The material is certainly available – now more than ever. It's more a matter of bridging that gap of perception. For all the gleeful chatter about comics being part of "geek culture" taking over the mainstream, that phrase still smacks of ghettoisation and implies a limitation on what we should expect from our comics (and other graphic narratives).
Of course, one way in which comics can expand their footprint is by stealth, and that's very much what seems to be happening currently at the Howard Griffin Gallery in Shoreditch, East London. The show on display at the moment is Parabola di G, an exhibition and installation by Italian artist Giacomo Bufarini, better known as the street artist RUN.
The show's blurb obviously steers clear of any of our regular identifiers, but the clues are plain to see: Parabola di G is described as a semi-autobiographical story told through a unique series of highly detailed pen and ink drawings that collectively make up a book.
On this voyage of self-discovery, Bufarini is both the creator and protagonist, trapped within his own story. Bufarini plays with levels of reality and metaphor, creating a dreamscape that appears at once fantastical and very real.
The poetic, elusive story itself, laid out drawing-by-drawing around the gallery, depicts the protagonist, G, falling to earth on a comet and embarking on an mythic odyssey that brings him face-to-face with commercial greed, war and the redemptive power of creativity and the imagination.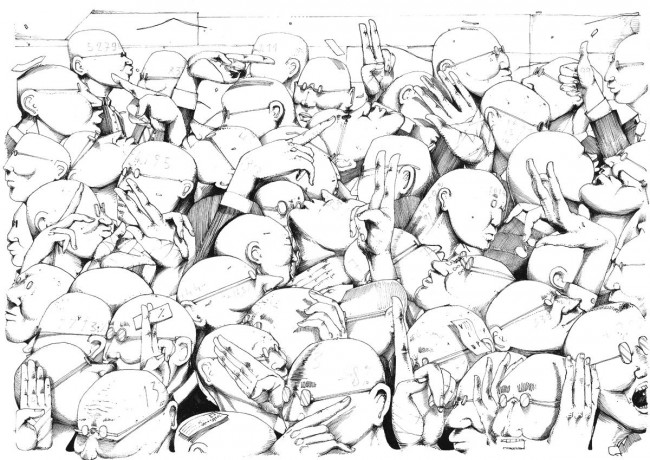 However, the exhibition space has also been rendered into a hand-painted reproduction of one of the book's key locations – a mysterious temple into which G wanders. The Howard Griffin Gallery has done this sort of thing before: earlier this year The Bestiary, a show by the Sheffield-based cartoonist and street artist Phlegm, created a similarly immersive environment.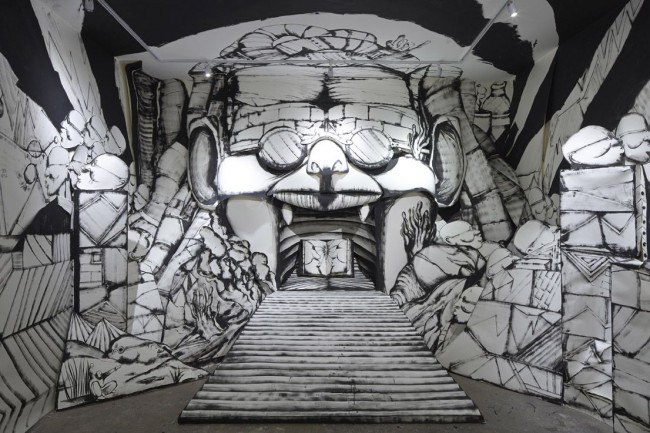 Obviously not every comic creator can find access to the resources and space necessary to produce a show like Parabola di G. However, even if comics remains the art form that dare not speak its name, the exhibition demonstrates how the stylistic possibilities unique to the medium can burst off the page to create a three-dimensional world of its own.
The book of Parabola di G is available for £20, and there's also a downloadable catalogue (PDF) of the drawings at the Howard Griffin Gallery site, where there's also a fuller gallery of photos.
The show is billed to run until December 21st, but the gallery attendant I spoke to on Saturday said that it would be up until mid-January.
Howard Griffin Gallery, 189 Shoreditch High Street, London, E1 6HU; open Tuesday – Sunday 1200-2000, or by appointment.