There's so much going on for Small Press Day this coming Saturday August 13th as we present a hybrid in-person/in-store event. If you're new to the concept then Small Press Day is a celebratory annual event designed to spotlight the possibilities of small press publishing in the UK and Ireland, foster links between shops and artists, and to introduce its practitioners to the far wider audience they deserve.
You can find out all about the in-person events you can join in with across the UK and Ireland over on the official Small Press Day site here. On social media we're asking shops to share photos or videos of their small press sections with the hashtag #SPDShopLocal, and for all of you to share images of some of your fave small press comics with the hashtag #SPDRecommends.
And finally we have a return for the highly popular #SPDBFReview hashtag when Andy Oliver (me!) will be resuming his marathon session from the last two years giving one-tweet reviews of your comics on Twitter. Don't forget that this is how we discovered 2021 Broken Frontier 'Six to Watch' artist Mollie Ray and 2022 'Six to Watch'-er Sammy Ward.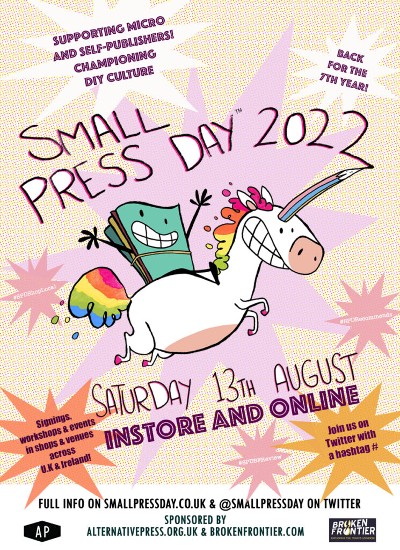 Here's a few FAQs on #SPDBFREVIEW answered, ready for your participation on Small Press Day 2022.
How do I take part in #SPDBFREVIEW?
Choose four pages of your small press comic and tweet them out with a short description, a link to your online store and the hashtag #SPDBFREVIEW. Andy will then quote tweet in reply with a one-tweet review of your comic from the @brokenfrontier account.
Do the pages have to be sequential?
No. What we suggest is that you pick four pages from anywhere in the comic that show off your visual storytelling skills. That will be what Andy will be focusing on rather than narrative. Remember how much he likes talking about the language of comics and its unique storytelling properties? That should give you a clue as to what to choose.
What comics qualify?
Self-published work from the last twelve months, ideally with a store link so we can send people your way for purchases. And work that has not been previously covered at BF only please.
How many comics can I submit?
In the interests of fairness we ask that this is restricted to one comic per artist or Twitter account. If we get a lot of requests we want to make sure to cover as many creators as possible.
I'm a small publisher can I take part?
Sorry but this is a day for self-publishers/small pressers. So if your books have distribution and ISBNs then our usual reviews request channels are still open for you. If you're a micropublisher without distribution, selling through comics fairs and small press sections in comics shops, this is open to you. But best to let your creators submit directly themselves if possible.
I'm outside the UK/Ireland. Can I take part? 
Last year we had a lot of interest from North America and we continue to welcome international submissions for 2022. However, please note that #SPDBFREVIEW takes place between 10am and 6pm UK time. So schedule your tweets if it makes it easier for you.
Will you review everything?
Andy will be working through from 10am to 6pm so the earlier you submit the greater chance. He'll aim to one-tweet review everything he can that comes in that timeframe but we reserve the right not to cover content that may be considered inappropriate or harmful to our community.
What's that bonus for six lucky artists?
Andy will once again choose six comics from #SPDBFREVIEW to feature on Broken Frontier next week in a round-up article to get the message out about them to our wider Broken Frontier audience. So this could be your chance to get featured on the comics site listed the most mentioned by UK comics practitioners to access news and support in the UK Comics Creator Survey 2020!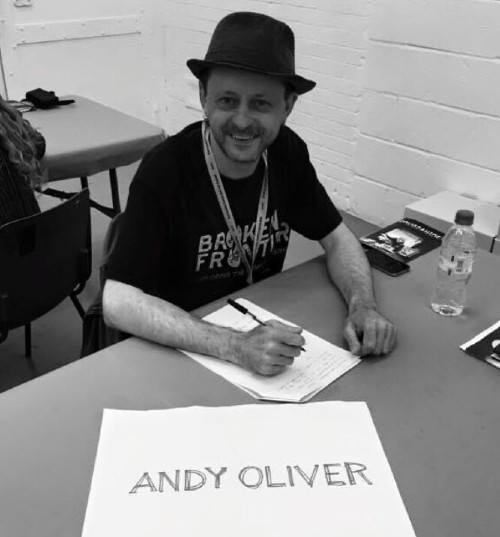 Any other questions feel free to ask us on Twitter. We'll see you all on Saturday 14th for Small Press Day 2021! More details on the Small Press Day site here.