While the UK and Ireland's Small Press Day adopted a hybrid approach for 2022 one online aspect we didn't want to jettison was the popular one-tweet reviews on Twitter. Using the hashtag #SPDBFREVIEW the Broken Frontier one-tweet reviews were designed as a fun way to give brief feedback to as many artists as possible while introducing their work to wider audiences. The idea was that artists would choose four pages of their small press comic and tweet them out with a short description, a link to their online store and the hashtag #SPDBFReview. I then quote-tweeted in reply with a brief 280-character review of the comic.
Once again, the work submitted under that #SPDBFReview hashtag was a reflective mix of the diversity of approaches and styles our small press scene embodies. Once again we promised to also pick six creators to get some "official" space on Broken Frontier. So, below are six creators who particularly caught my eye last Saturday. I've chosen to pick artists who have not appeared on the site before to spread the love. There's a page or two from each below plus relevant links to find out more. Do check out the rest of the hashtag here on Twitter for even more top self-published work! Enjoy, follow some new artists on social media, and maybe pick up a comic or two while you're at it…
The Hiraeth Club by Gareth Cowlin
A comic dealing with the seldom explored topic of sibling bereavement and grief.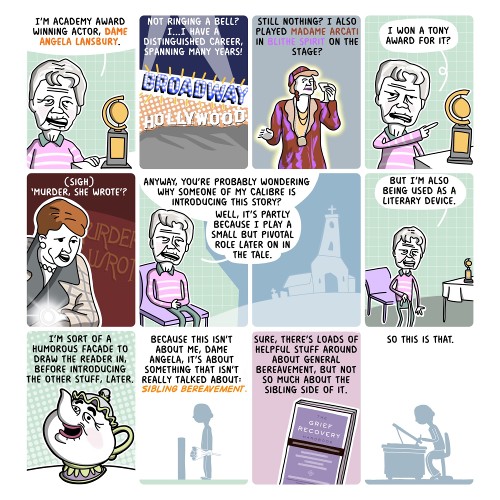 One-tweet review: As you all know I am a huge fan of socially conscious comics work that looks to share lived experiences and speak to people who may have gone through similar life events. This is witty, poignant, clever and affecting in equal measure. Need to read more!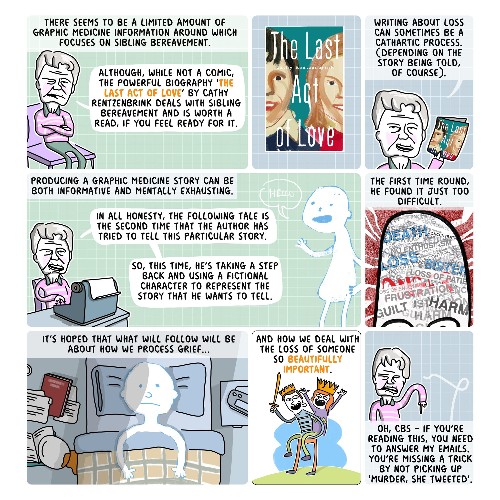 Follow Gareth on Twitter. Download for free here.
The Rot by Phipps, Dolan, Gray and Hatherall
The debut comic anthology from Unseen Spectre Comix, a folk horror dtory about friendship, family, religious trauma, and the beast that's corrupting the forest.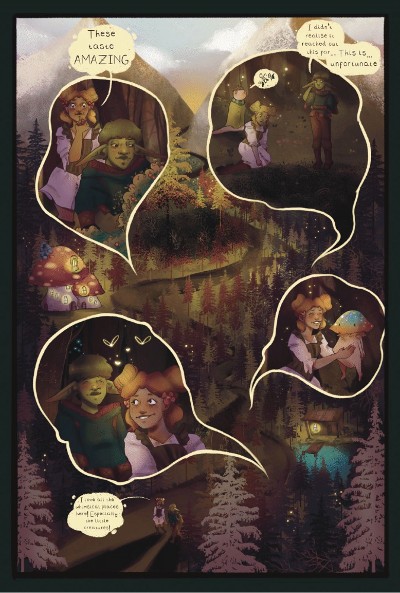 One-tweet review: Top right – remember what I was saying about the language of comics earlier? That's an outstanding uses of scenes within scenes that could only be achieved in comics. And the colouring in the bottom left page to create an eerie forest atmosphere is enchanting.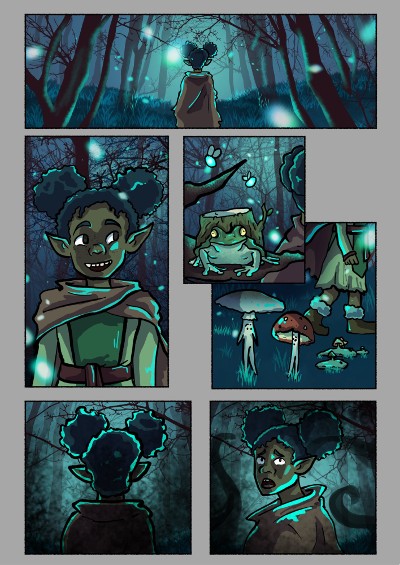 Follow Unseen Spectre Comix on Twitter here. Online store here.
Space Story by Robbie Kieran
"Space Story is a big 160ish page chunk of Star Trek inspired nonsense. A Federation-like ship oversees an Olympic ceremony between planet Piss and planet Shit, while trying not to make fun of their names or incite a war."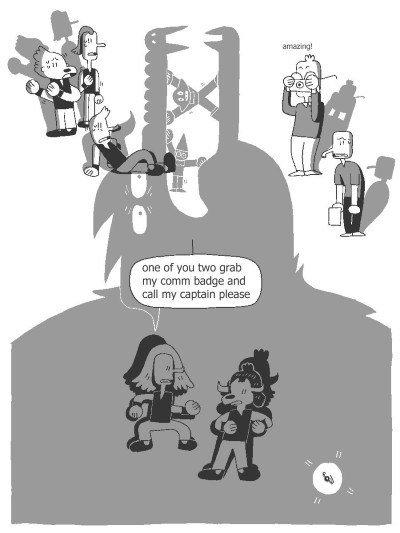 One-tweet review: That top left page is just awesome. Never will you see a better example of "less is more" on a comics page. And the bottom left page contains a multitude of implied narratives in just one image. Another book I want to see more of.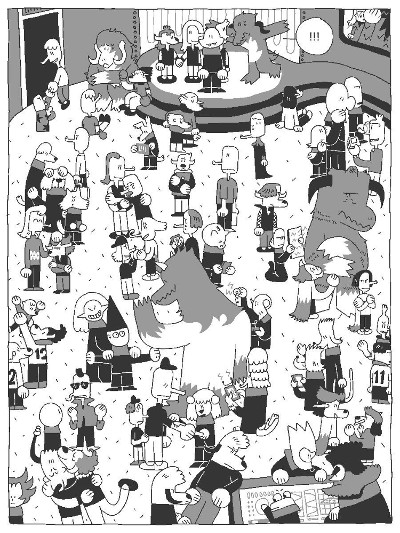 Follow Robbie on Twitter here. Online store here.
Owl People Book 1: The Fruit by Letty Wilson
Owl People is a dark fantasy comic about fairies living secretly in the margins of the human world.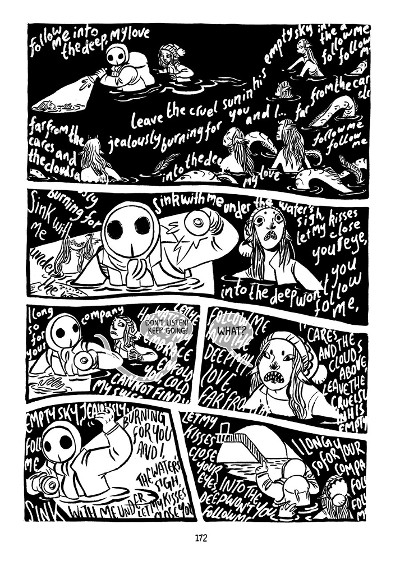 One-tweet review: There are comics that happen to be published in black and white and then there are comics that *use* black and white as an essential part of their storytelling. Look at the use of lettering effects here as the characters are overwhelmed.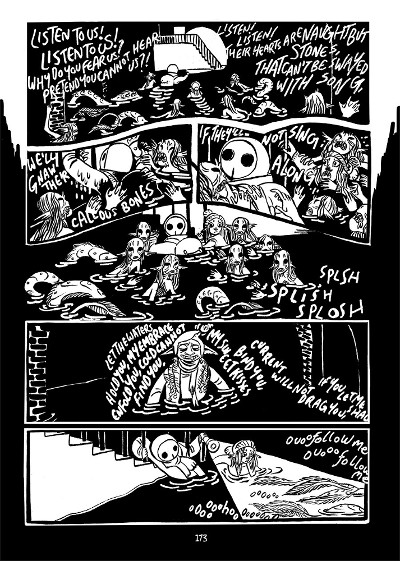 Follow Letty on Twitter here. Online store here.
A Great Hero and Other Stories by Kry Garcia
"A Great Hero And Other Tales is a selection of five stories, created between 2014 and 2019. In these pages, you will find heroes, legends, ghosts and monsters, and a brief explanation of the inspiration behind all of them."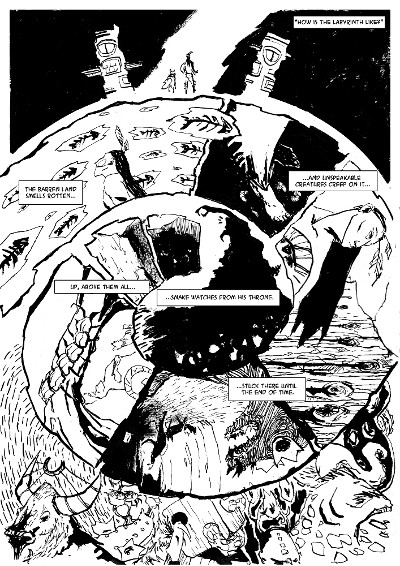 One-tweet review: Again, bottom left page is a fantastic example of using the specific tools of the form to tell stories in ways only comics can. Top right image also strikingly and inventively contrasts both sides of the character interaction in one haunting image.
Follow Kry on Twitter here. Online store here.
Forest Spirit by JSmith
A short fantasy comic themed around gender transition.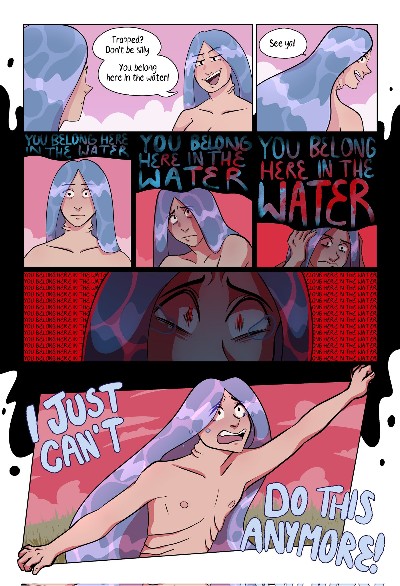 One-tweet review: It's been wonderful to see so many comics exploring and celebrating the trans experience and trans lives with such eloquence in recent years. Check out very different uses of colouring (and lettering!) here to communicate emotional states.