SMALL PRESS DAY IS COMING!
The UK and Ireland's inaugural dedicated day of celebration of self-publishing, micropublishing and DIY Culture is nearly upon us. This week at Broken Frontier we're breaking down events on the day region by region to give you handy bite-sized guides to the multitude of events scheduled on July 9th. Today we conclude with Scotland and Ireland and all the shop signings you can look forward to there on the big day.
You can find all our SPD event guides here.
Forbidden Planet Glasgow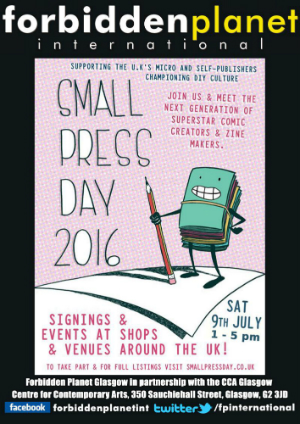 FP Glasgow's Small Press Day runs between 1pm to 5pm and promises the opportunity to "meet loads of amazing independent comics and zine creators" at the Centre for Contemporary Arts (with whom they are working in partnership) at 350 Sauchiehall Street.
Full details on Small Press Day at Forbidden Planet Glasgow here.
Waterstones Glasgow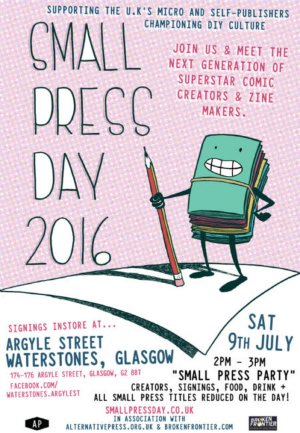 The Argyle Street Waterstones have a 'Small Press Party' between 2 and 4pm. Guests include Chris Baldie (Never Ever After) and Broken Frontier Small Press Yearbook contributor and Team Girl Comic founder Gill Hatcher (The Beginner's Guide to Being Outside).
Full details on Small Press Day at Waterstones Glasgow here
Forbidden Planet Dublin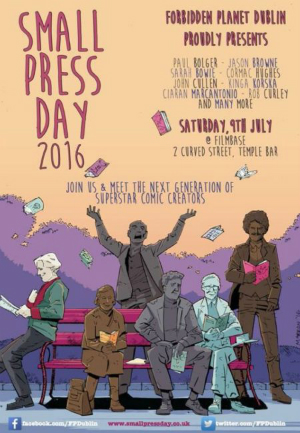 There's a whole host of creators appearing at Forbidden Planet Dublin including Paul Bolger (The Hound), Jason Browne (The Wren), Ciaran Marcantonio & Cormac Hughes (Lightning Strike Comics), Kinga Korska (Brain Fetish), John Cullen (NHOJ Comics), Sarah Bowie (Lidless Comics), Rob Curley (Atomic Diner) and more. It runs from 10.30am-6pm.
Full details on Small Press Day at Forbidden Planet Dublin here
For more on Small Press Day visit the official site here and you can also follow the Twitter account here.
For regular updates on all things small press follow Andy Oliver on Twitter here.