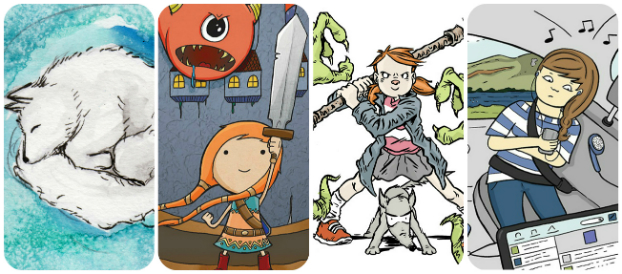 SMALL PRESS DAY IS COMING!
Saturday July 9th sees the first Small Press Day in the UK – an event that seeks to spotlight the exciting new voices in self-publishing and celebrate the ethos of the small press scene. Across the country shops signings, workshops and associated events will be taking place. You can find out all about it and what's on in your local area at the official Small Press Day site here. 
This week, as part of our SPD coverage, we're pointing you in the direction of some of the most interesting uses of the form by UK-based small press creators working in a number of different fields of comics practice. Today we continue with ten top examples of all-ages comics work that showcase some of the finest creators looking to bring comics to the next generation of readers.
If you like what you see then you can investigate further with the online store links included… 
Ghost Cat
Nominated for a British Comic Award last year Craig Conlan's Ghost Cat comics combine a morbid humour with endearing characters and a popping use of colour, while their visual design echoes the classic Harvey Comics feel of yesteryear.
This phantom feline and his similarly supernatural animal pals have starred in a number of minicomics to date including Hello Ghost Cat!, Ghost Cat's Pedigree Chums, Ghost Cat's Pet Hates and the most recent Ghost Cat's BFF. A knowing wit and wonderful comedy pacing make this a true cross-generational comics gem.
Small Pressganged review here
Small Pressganged soundbite: The Ghost Cat comics are a genuinely all-ages read. Kids will love the grotesque naughtiness inherent in the strips – it's cutesy but rather unsettling at the same time – while for adults the sinister but clever jesting will be a source of great appeal.
Buy copies online here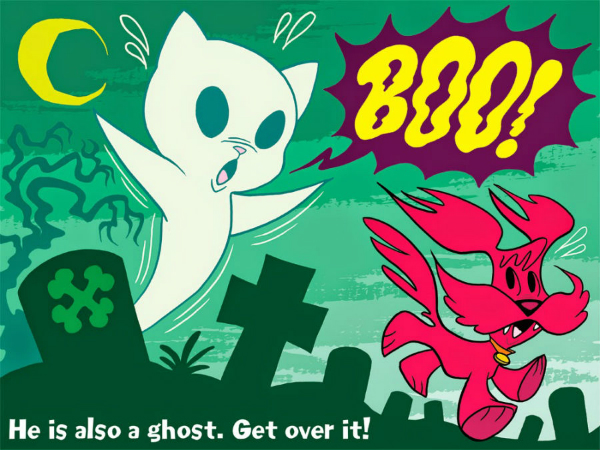 Craig Conlan will be signing at Orbital Comics on Small Press Day. Full details here.
Long Lost Lempi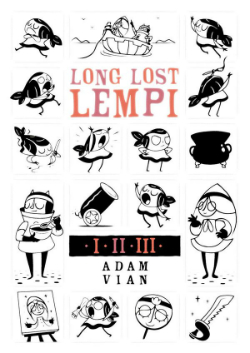 Creator Adam Vian was one of out original Broken Frontier 'Six Small Press Creators to Watch' and is a contributor to the Broken Frontier Small Press Yearbook. It was his magical self-published series Long Lost Lempi  that earned him his place in that line-up and it's continued to garner critical acclaim over the course of its three issues, culminating in a British Comic Award-nomination last year.
Featuring the adventures of Lempi and her buddies Melisse and Ermin as they travel across a fantasy world full of mermaids, genies and pirate ships it's a charming piece of work enriched by Vian's clean line.
Small Pressganged review here
Small Pressganged soundbite: Sometimes you just want a comic that's a fun distraction – some feelgood escapism  that will make the world seem a little brighter on finishing it than it did when you started reading. The 20-odd pages of Vian's Long Lost Lempi fits that bill to a tee.
Find out more about Long Lost Lempi here
Die! Boo! Die!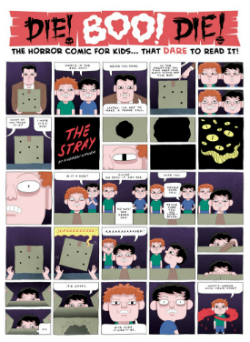 This Paul Harrison-Davies and Andrew Waugh-edited anthology has published two issues to date with the original Boo! Comic morphing into the Die! Boo! Die! incarnation for its second outing. Another comic on this list to have gained a BCA nomination, its follow-up issue was presented in a newspaper-style format featuring creepy supernatural comics from the likes of Rob Davis, Jack Teagle (below), Simon Gane, Jonathan Edwards, Donya Todd and Robert M. Ball.
Body horror, terrifying relatives, haunted fairgrounds and nightmare scenarios are just some of the disturbing elements in this gloriously grotesque collection.
Small Pressganged review here
Small Pressganged soundbite: Paul Harrison-Davies and Andrew Waugh have curated a gleefully sinister collection of shorts in these pages which will undoubtedly have a mischievous appeal to the younger reader.
Buy copies online here priced £5.00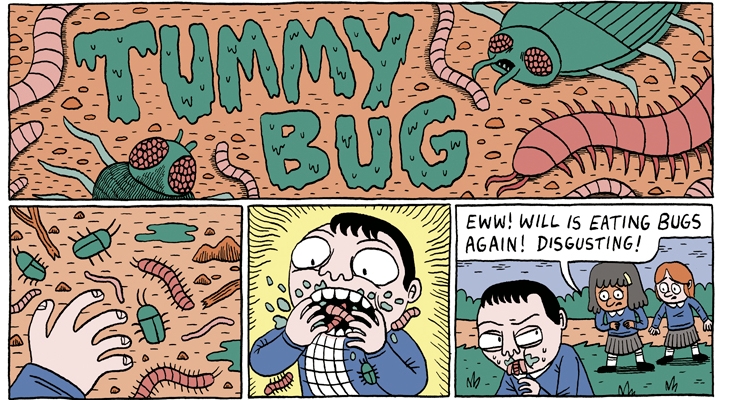 Maleficium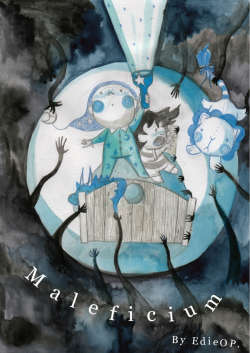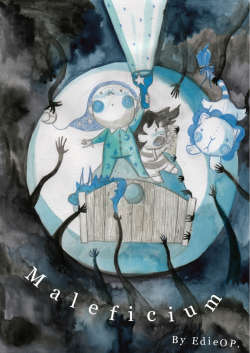 EdieOP uses the tagline "the sunny side of sinister" for her work and it's a soundbite that could not be more apt for the wickedly mischievous tone of her comics. Maleficium was her first full-length graphic novel, published by Avery Hill in 2014, and guess what? Yes, it too was nominated for a British Comic Award.
Maleficium stars young wannabe-wizard Huxley Leighton-Lomax who must protect his Dad and sister Matilda from the shadowy creature that invades their home at night. Recognisable childhood fears and an appealing cast to root for from a unique voice in British comics.
Small Pressganged review here
Small Pressganged soundbite: In Maleficium [EdieOP] the Mistress of Mischief has proved that her ability to captivate and beguile her audience is just as pronounced in a long-form narrative as it was in her shorter style work. An outstanding graphic novel debut from a creator I have no doubt will be reaching an ever greater readership in years to come.
Buy copies online here priced £11.99
EdieOP will be signing at both London's Forbidden Planet and Gosh! Comics on Small Press Day.
The Beginner's Guide to Being Outside
At this point I probably hardly need to mention that Gill Hatcher's acclaimed book from Avery Hill Publishing was also nominated for a British Comic Award (as well as a SICBA Award). The natural world has long been a recurring theme in Hatcher's work and The Beginner's Guide to Being Outside explores that through the eyes of Megan, a 14-year-old girl from Manchester.


Feeling trapped on a fractious family holiday to the Scottish Highlands, Megan's casual downloading of a free wildlife app on her phone leads to her gradual realisation of the wonder of the environment around her. Subtly and touchingly told without overt sentimentality it's a stunningly illustrated graphic novella from the founder of the Team Girl Comic collective.
Small Pressganged review here
Small Pressganged soundbite: Unassuming and delicately constructed, The Beginner's Guide to Being Outside is a triumphant and gorgeously executed piece of all-ages storytelling that I have no doubt will propel Gill Hatcher's profile to the next, and much deserved, level of recognition.
Buy copies online here priced £6.00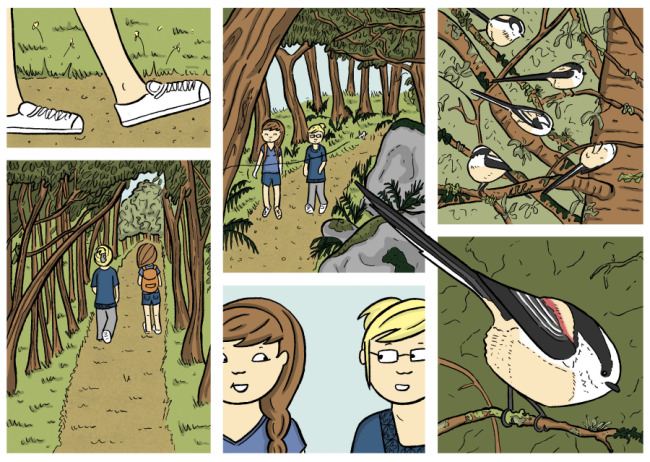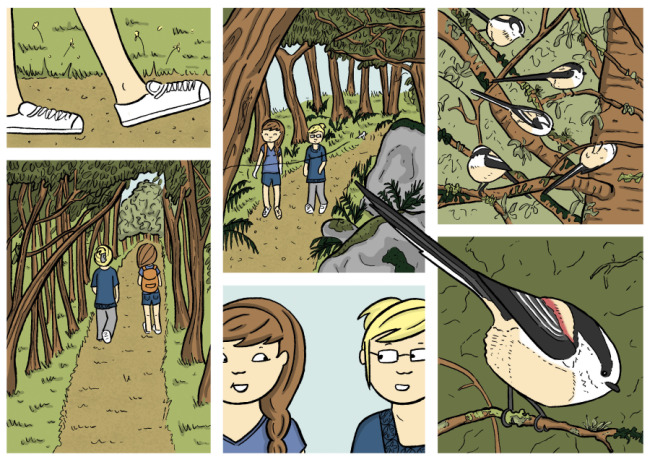 Gill Hatcher will be signing at Waterstones Argyle on Small Press Day. Full details here.
Njálla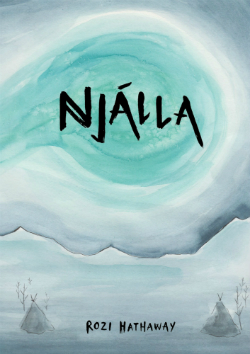 Another of our Broken Frontier 2015 'Six UK Small Press Creators to Watch' Rozi Hathaway's latest comic Njálla was funded via Kickstarter, making its target within just a few short hours of the campaign going live!
Drawing from the myths and legends of the Sámi people – an indigenous culture in northern Europe's Arctic Circle – it follows the adventures of Lieđđi, a young Sámi girl and her best friend, a baby reindeer called Unni as they encounter Njálla, an arctic fox-like spirit creature and attempt to restore balance to the Northern Lights.
With dreamy visuals that emphasise the mystical splendour of the book's narrative, it's among Hathaway's most accomplished work to date.
Small Pressganged review here
Small Pressganged soundbite: A stunning synthesis of unearthly mystery and endearing innocence, Njálla underlines once again the subtle potency at the heart of Hathaway's craft.
Buy copies online here priced £8.00
Rozi Hathaway will be signing at Orbital Comics on Small Press Day. Full details here.
Dungeon Fun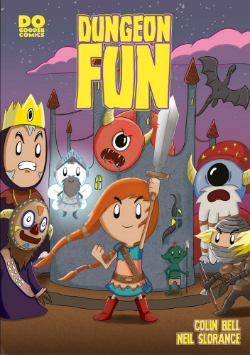 Colin Bell and Neil Slorance's multiple-award winning series is now available in a collected edition of all four issues. It's central character is Fun Mudlifter, a young girl brought up by trolls after she was mysteriously dropped as a baby into a castle moat.
Years later, when a cursed sword is the latest object to be thrown down into her muddy home, she embarks on a quest that will see her interacting with ghostly knights, three-headed monsters, dungeon masters, magical pubs and all manner of other splendid silliness.
Layered humour that adults and kid will appreciate on their own levels have made Dungeon Fun one of the big breakout hits of the small press world over the last few years and most deservedly so.
Small Pressganged review here
Small Pressganged soundbite: A splendid package combining fantasy farce with knowing winks at its readership, Dungeon Fun unashamedly revels in its own absurdity. Not just one to watch, this is one to own and one to treasure.
Buy copies of the collected edition online here priced £12.00
Cindy and Biscuit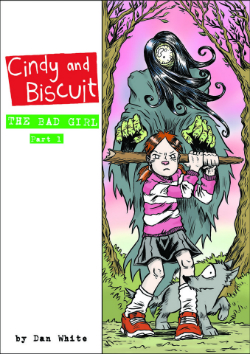 Dan White's Cindy and Biscuit series depicts a world where encounters with aliens and supernatural creatures sit side-by-side with the far more terrifying ordeals of bullying classmates or being sent to bed early by your Mum.
The titular characters are the resilient youngster Cindy and her canine pal Biscuit who see the weird in the world around them that others don't – a robot graveyard in the woods, the Screaming Skull that keeps her awake at night, or a monstrous mermaid on a school outing.
The true genius of White's work is the way in which he makes sure his audience sees reality through the eyes of Cindy, empathising with her and reminding us of our own similar shared childhood experiences. Another British Comic Award nominee.
Small Pressganged review here
Small Pressganged soundbite: Inventive and playful with the standards of sci-fi and horror, and featuring a defiantly determined lead and her faithful canine pal that the reader can't help but root for, Cindy and Biscuit is a wonderful journey through the violently adventurous excesses of its protagonist's imagination.
Buy copies online here
Dan White will be signing at Orbital Comics on Small Press Day. Full details here.
Bang! Crash! Whizz!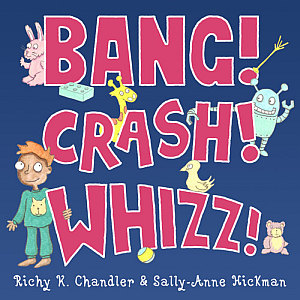 Designed with a much younger audience in mind, writer Richy K. Chandler and artist Sally-Anne Hickman's Bang! Crash! Whizz! centres on that age-old problem of getting an alert and active child to go to bed at night. Two weary parents constantly have to deal with the cacophony coming from their son's bedroom, with each resulting trip revealing ever stranger reasons for the din.
What's particularly lovely about this minicomic is that it's the perfect publication to be read to a youngster by an adult and enjoyed as an interactive and shared experience.
Small Pressganged review here
Small Pressganged soundbite: Bang! Crash! Whizz! is a captivating piece of comics that should be savoured as work that two generations can take pleasure in together!
Buy copies online here priced £4.00

Moose Kid Comics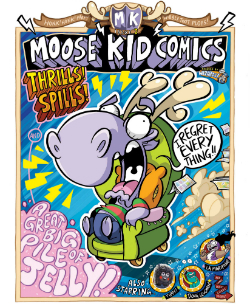 Originating from acclaimed creator Jamie Smart's desire to breathe new life into the concept of the children's comic in the UK, Moose Kid Comics brought together a staggering list of talent to its mission statement including Gary Northfield (below), Mark Stafford, Rachael Smith, Roger Langridge, Warwick Johnson-Cadwell, Alan C. Martin, Sarah McIntyre, Joe List, Viviane Schwarz and many, many more.
The titular Moose Kid was once a normal boy who, in a metafictional twist, was trapped in the pages of a comic by an organisation of evil wizards. That selfsame anthology is the same one we readers are experiencing, full of strips about demonic toddlers, pet super-heroes, spoof ads, robotic protagonists and the like. And the most splendid part of this whole project? It's entirely free to read online…
Small Pressganged review here
Small Pressganged soundbite: What Jamie Smart has achieved here is twofold: on the one hand MKC is a stunning showcase for the potential revival of the kids' comics scene that is at the project's heart, and on the other it also signifies a true sense of community within UK comics – of an entire group of creators pulling together to celebrate both the depth of talent we have here and the validity of the form for a specific demographic. A worthy exercise, and one that deserves both our respect and our support.
Read issues for free online here

For more on Small Press Day visit the official site here and follow SPD on Twitter here. 
For regular updates on all things small press follow Andy Oliver on Twitter here.