We're still on a bit of a high here in the Broken Frontier Bullpen after a joyous day of comics revelry on Saturday for both Small Press Day and the launch of our second Broken Frontier Small Press Yearbook, hosted by our friends at London's Gosh! Comics. Remember those four Broken Frontier key words that I've been saying all year define our approach to comics coverage? Well, you can be assured that there was absolutely no shortage of championing, celebration, collaboration and community on Saturday.
Let's start with Small Press Day first and the twenty or so events being held around the UK and Ireland (as shown in the map below!) as part of the second annual day of promoting all things self-published and micropublished in the comics world. Just like last year's festivities it was another day for constantly checking social media for updates as to what was happening everywhere from Plymouth to Dundee, as pockets of small press activism shared their love of grassroots comics publishing with the online world!
My Small Press Day consisted of trips back and forth across central London with my Broken Frontier colleague EdieOP (above right) as we enjoyed meeting creators at Orbital's programme of signings and at Gosh's themed workshops. But throughout the UK and Ireland there were fairs, in-store signings, workshops, launches and festivals taking place bringing often local self-published creators to the forefront and giving their practice focused recognition on the day.
I'm sure I can speak for my Small Press Day co-organisers Amneet Johal of the Alternative Press and SPD founder David Ziggy Greene when I say huge thanks to all the stores, organisers and activists who took part in the event and, indeed, to everyone who pushes comics self-publishing all year round!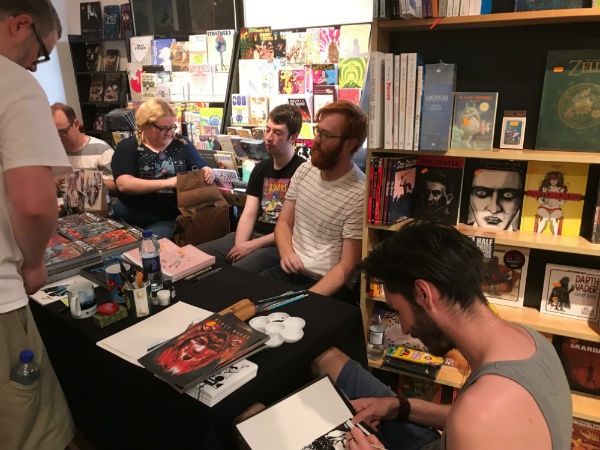 Small Press Day signings at Orbital with Gareth A. Hopkins, Cliodhna Ztoical, Tom Ward, Matthew Dooley and Owen Michael Johnson
Of course Small Press Day extended well into the evening for us at Broken Frontier as we launched our 2017 Broken Frontier Small Press Yearbook in a heaving Gosh! Comics. The second Yearbook is a showcase for the comics craft of our chosen 2016 'Six Small Press Creators to Watch' – Rebecca Bagley, Kim Clements, Brigid Deacon, Emily Rose Lambert, Jey Levang and Ellice Weaver. Since we announced their names at the beginning of 2016 this talented half dozen have been published by the likes of Avery Hill Publishing, Image Comics and (upcoming) BOOM! Studios, and have also featured in major gallery and museum exhibitions.
The Yearbook also features some of our previous 'Six to Watch' artists – Rozi Hathaway, Danny Noble and Emma Raby – as well as a number of established creators who began in the small press world and went on to be picked up by publishers including Grace Wilson (Saving Grace), Rachael Smith (Artificial Flowers, Doctor Who), EdieOP (Maleficium), Steven Tillotson (Untitled Ape's Epic Adventure), Tim Bird (Grey Area) and John Riordan (Sound and Vision).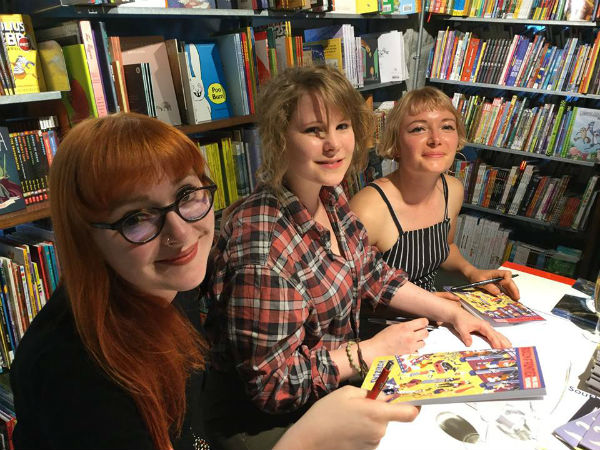 Yearbook contributors Ellice Weaver, Rebecca Bagley and Kim Clements
On the night we were delighted to have Rebecca Bagley, Kim Clements, Jey Levang, Ellice Weaver, EdieOP and John Riordan signing books and entertaining the punters in Gosh with their own brands of amiable – and occasionally inimitable – charm. And with a significant representative chunk of the London small press scene in attendance the sense of comics community in the room was palpable.
As with 2016's Yearbook a significant portion will be sent to publishers and commentators and, this year, half of the 500-copy print run will be split between the artists involved. So look out for them at a fair or festival near you in the next few months if you have a favourite contributor involved. The Yearbook is also currently on sale in Gosh! Comics, Orbital Comics and will soon also be available at the Cartoon Museum. If you're a retailer and you'd like to stock it get in touch with me at andyoliver@brokenfrontier.com. Don't forget you can also order both of our BF Yearbooks online here and see preview art here.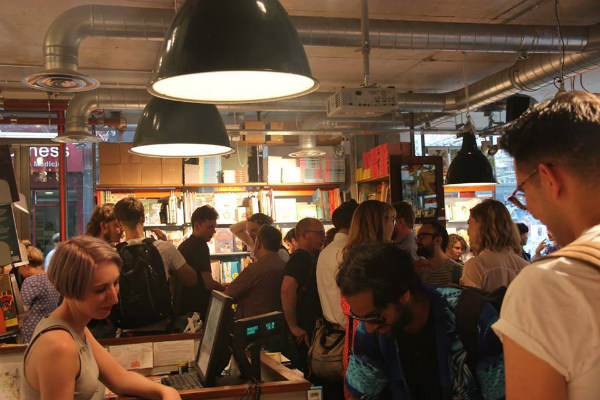 A packed-out Gosh! Comics played host to our launch. Photo by Nora Goldberg
Thanks to Gosh! Comics for hosting us, to our guest artists on the night and everyone who contributed. And a very special tip of the jauntily placed BF hat to Dave White of Avery Hill Publishing for all the technical work on the book and also one in the direction of our fabulously helpful printer Comic Printing UK. These are the people who embrace that idea of small press community and collaboration and that deserves recognition.
I'm not sure how we're going to top Saturday's rather triumphant launch next year but I already have ideas forming for the Broken Frontier Small Press Yearbook 2018. Watch this space in the months to come…
– Andy Oliver, Broken Frontier Editor-in-Chief, July 10th, 2017
For regular updates on all things small press and Broken Frontier follow Andy Oliver on Twitter here.