Like a huge chunk of the UK comics community we're suffering a post-Thought Bubble hangover this week after a fabulous weekend in Leeds for the annual festival. We had a number of BF staff floating around the convention marquees and hall this year and we'll have some thoughts to share with you on the new-look TB later this week. In the meantime here's a collage image of two of just some of the regularly featured Broken Frontier creators that myself, Operations Editor EdieOP and Contributing Writer Jenny Robins bumped into over the weekend. Pics courtesy of Edie…
If you're on something of a comedown after the highs of the weekend don't forget that we have a Thought Bubble-themed Gosh! Comics and Broken Frontier Drink and Draw tomorrow (Tuesday September 26th) featuring Katie Skelly (My Pretty Vampire), Ariela Kristantina (InSEXts), Apila Pepita (Moss Dash) and Sara Valta (Alchemilla). The fun starts in the shop with a Katie Skelly signing at 6pm with the Drink and Draw beginning in The Coach and Horses on Great Marlborough Street at 7pm.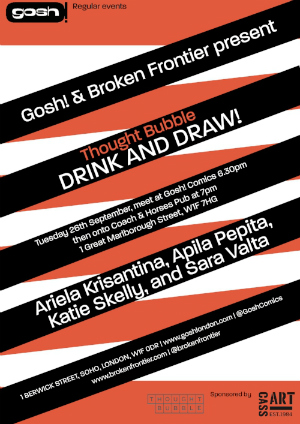 And if that doesn't cure those post-TB Blues for those of you in the UK then don't forget we have Bristol Comic and Zine Fair and the Lakes International Comic Art Festival imminent. And BF will be at both…
– Andy Oliver, Broken Frontier Editor-in-Chief, September 25th, 2017
For regular updates on all things small press and Broken Frontier follow Andy Oliver on Twitter here.