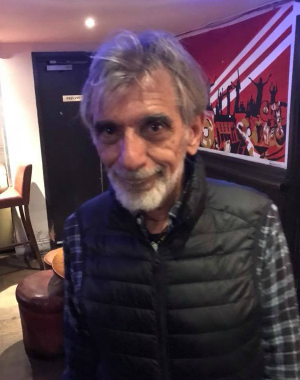 Time has been at something of a premium this last week in the BF Bullpen as we start gearing up for our slightly revamped Broken Frontier Awards (look for an announcement of nominations in a few short weeks) so I'm going to use this space to focus very briefly on our double Drink and Draw festivities this month with our friends at Gosh! Comics.
This past Friday November 1oth saw a very special extra edition of our (usually) monthly event when, in conjunction with the Institut Français and SelfMadeHero, Gosh's Nora Goldberg and I co-hosted a night of comics revelry with the legendary French artist Baudoin. Normally we spotlight three creators at our D&D but such was the staure and incredible energy of this veritable artistic force of nature that he deserved and needed an entire evening to himself!
We spotlighted Baudoin's Dali biography from SelfMadeHero in a review here last week at BF but nothing quite prepared us for his incredible presence on the night. It was an absolute privilege to watch this septuagenarian whirlwind working the room and so enthusiastically interacting with attendees (through a translator!). I've grabbed some screen shots from Twitter at the bottom of this piece of a number of the sketches from the evening's drawing rounds. The subjects that Baudoin chose were 'dance', 'music' and 'silence'. Truly one of the most memorable Drink and Draw evenings in the two and a half years we've been doing this.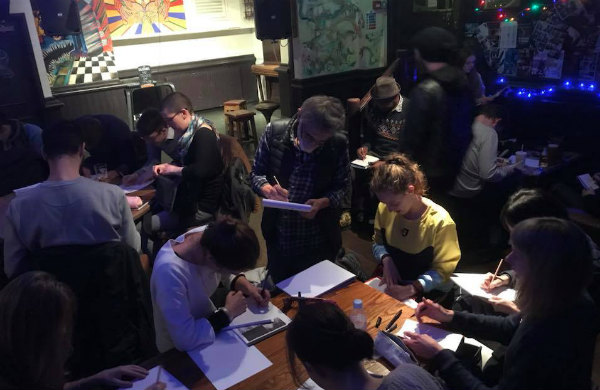 The great man working the room! Baudoin (centre) interacts with attendees
Which brings us round to our next official Gosh/BF Drink and Draw which is now only just over a week away on November 21st. We have three fantastic small press artists who will be in attendance on the night who will be revealed later in the week. If you're in the London area and you haven't popped along to one of these nights this will be your last chance to do so in 2017. So make the best use of the opportunity! It's a friendly, welcoming environment that's built up a genuine community spirit over the last couple of years and even if you're on your own we'll find a friendly crew of people for you to draw with…
– Andy Oliver, Broken Frontier Editor-in-Chief, November 13th, 2017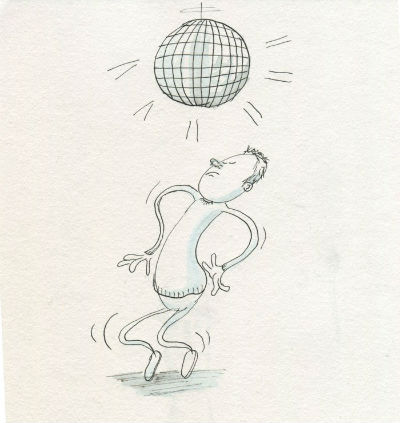 Joe Callanan's take on the theme of 'Dance'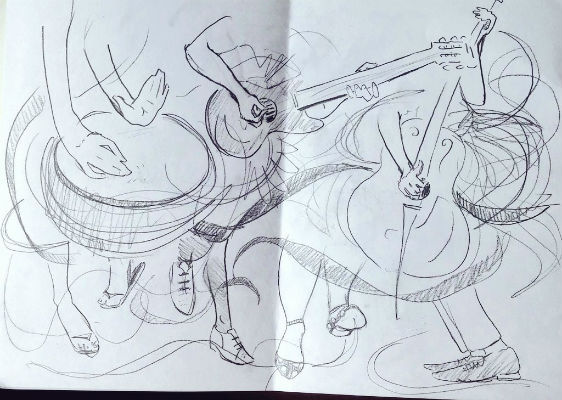 BF's own Jenny Robins with her interpretation of the 'Music' theme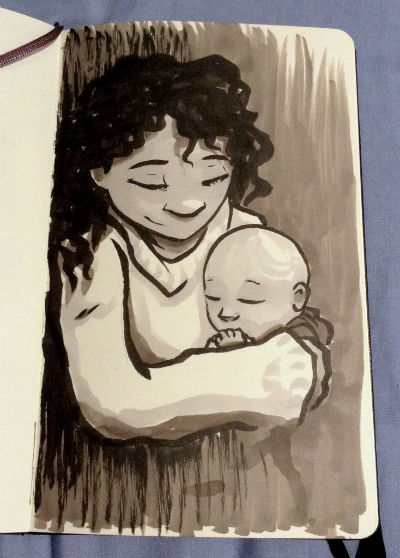 Francesca Dare's 'Silence' illustration
For regular updates on all things small press and Broken Frontier follow Andy Oliver on Twitter here.