In a recent Avery Hill Publishing press release I was quoted as saying of the work of Charlot Kristensen that "Kristensen's vibrant visual characterisation, immersive employment of colour and playful sense of pacing marks her out as a genuinely exciting new emerging talent to watch." This year sees the release of her graphic novel What We Don't Talk About from AHP, described as a book that "examines contemporary issues of race, entrenched bigotry and the difficulties faced by interracial couples."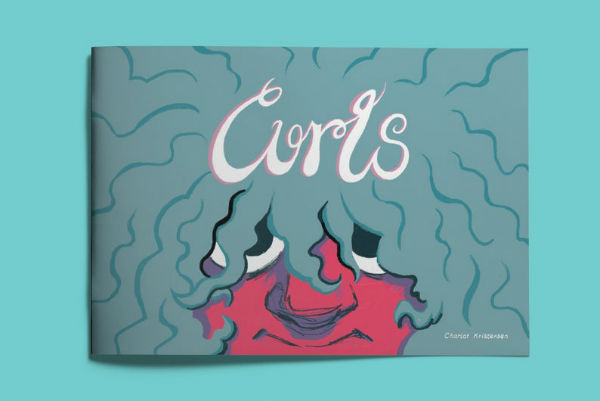 While that project is Kristensen's debut graphic novel she has already published a number of minicomics and zines including Curls. Kristensen's devotion "to representation and empowering women of colour" has also been underlined in Avery Hill's recent press and this short minicomic explores her childhood as a person of colour trying to fit into a society where her naturally curly hair was not accepted.
Employing the too seldom used in comics landscape format Curls looks at Kristensen's early years. In a prologue that uses white space and sparse panelling to evocatively depict the moment of her birth as a blank canvas ready for life, she makes a simple bold statement that will define the rest of the story: I was born with what you would call "bad hair."
From here we observe a young Charlot's school days where she finds that having what is perceived as an unruly head of hair marks her out as an outsider among her white peers in the schoolyard. From outright hostility and ridicule through to equally hurtful inappropriate teasing she begins to resent her own appearance, and becomes obsessed with finding a solution…
Kristensen's story lasts just ten or so pages but works on multiple levels. There's that very personal account, obviously, about growing up in an environment where you are made to feel an outsider simply because of your ethnicity but there are also themes of peer pressure, identity and social profile examined here. Kristensen uses the landscape format to her narrative advantage, giving each page a newspaper strip-style pacing and also employing a highly atmospheric use of both colour and perspective to further the mood and themes of her story. Check out as well her use of cropped perspective to heighten tension and give an almost claustrophobic feel to the memories she relives.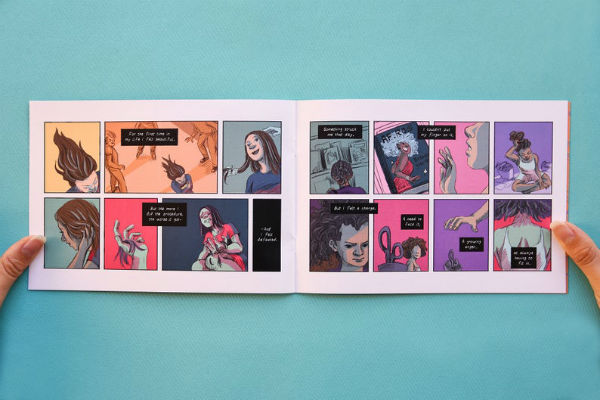 What We Don't Talk About debuts from Avery Hill this May and it's undoubtedly going to be one of the key UK graphic novel releases of 2020. That's no secret to anyone who has looked at the preview art. Those wanting to get some extra pre-publication insights into Kristensen's practice would do well to make Curls their starting point!
You can follow Charlot Kristensen on Instagram here and on Twitter here. Visit her online store here and her website here.
Review by Andy Oliver