It will come as no surprise to anyone following Broken Frontier regularly that Avery Hill Publishing have an incredibly cool slate of releases lined up for 2020 (we announced them here at BF last year). One that we're particularly looking forward to (see our pull quote below!) is Charlot Kristensen's What We Don't Talk About. AHP have released further details on Charlot's debut graphic novel alongside a trailer and preview pages which run below.
FIRST LOOK:
What We Don't Talk About
By Charlot Kristensen
Paperback, 108 pages, full colour, 239 x 160 mm
£11.99 / $14.95   9781910395554
Published 21st May 2020 (UK) * 18 July 2020 (USA)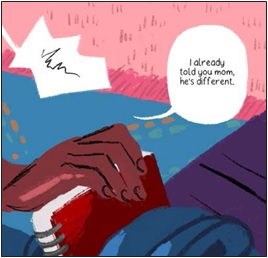 What We Don't Talk About examines contemporary issues of race, entrenched bigotry and the difficulties faced by interracial couples. It's the debut graphic novel from a burgeoning talent devoted to representation and empowering women of colour.
Adam and Farai have been together for two years, and Farai has finally persuaded Adam to introduce her to his parents. She's optimistic, even if her mum isn't! 'I already told you, he's different' … Farai's hopes are shattered when the first meeting turns out to be a tense, horrible experience, leaving her feeling uneasy and ostracised.
When confronted about his parents' behaviour, Adam plays down the situation – telling Farai to calm down and stop being so emotional – and Farai questions the entire relationship and whether Adam is worth the pain he and his family have caused. Ultimately, she takes a stand… will the relationship survive?
With an expressive line and stunningly bold colours, illustrator Charlot Kristensen captures the excitement and optimism of young love, the tension between squabbling characters and the utter heartbreak of being disappointed by the people you love most. What We Don't Talk About is a timely story of the difficulties faced by interracial couples in our society today.
"Kristensen's vibrant visual characterisation, immersive employment of colour and playful sense of pacing marks her out as a genuinely exciting new emerging talent to watch."
– Broken Frontier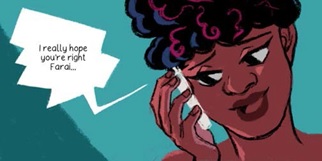 Charlot Kristensen is an Afro-Dane Illustrator based in Dublin. She graduated with an Illustration degree from MDX University, London, in 2015 and is a member of the Drawn Chorus collective. Her work was featured in the anthology We Shall Fight Until We Win (404 Ink / BHP Comics, 2019) Having a black mum and coming from a mixed family, Charlot believes that representation is important to our development. Her art often represents women of colour in hope of empowering them and changing their narrative. The main focus of her work is comics, editorial and book illustration.        charlotkristensen.com     @zolwia