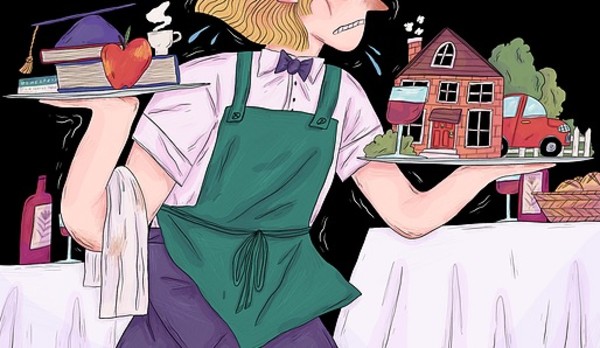 Continuing our new feature for Fridays today at Broken Frontier!
At the end of each week in Follow Friday we run an extensive spotlight profile on an artist we believe deserves far more attention, alongside links to their social media accounts so you can follow their practice further. This week it's the turn of Abs Bailey, also known as Barbawk, one of our 2019 Broken Frontier 'Six to Watch' creators, whose debut graphic novel Zebedee and the Valentines will be published this year by Avery Hill Publishing.
When I interviewed Bailey last year at Broken Frontier she spoke of her first forays into graphic narrative in typically Barbawk style: "Well, the earliest thing I can remember ever remember doing was making these weird little characters from milk bottle tops with my Gran when I was super young, we'd put them into little stories and it's probably safe to say that everything since has been some form of that spiralling out of control."
Abs Bailey at ELCAF in 2019
My first major exposure to her work was in the pages of the Comic Book Slumber Party book Escape from Bitch Mountain (below) in 2018, which was published by Avery Hill Publishing. One in a series of themed, multi-creator anthologies featuring CBSP's signature character Greasy, this one had a fantasy RPG twist to it. Her contribution particularly caught my attention which I was quick to underline in my BF review "Two artists outside of the framing sequence especially jump out here. Barbawk's 'The Quizzard' makes clever use of smaller panels floating across larger images creating a sense of deeper involvement with events on the page as Greasy encounters the challenge of a magical question-mistress."
Bailey's style lends itself to a variety of genres that can be poles apart in subject matter, from quirky and playful fantasy to intense autobio work like her self-published Beyond Death (below) which chronicled life after a difficult break-up. Reviewed here at BF I said of this resonant short: "From drunken solo singing to ABBA to an extended trip to London the jumps between pure comics and single but involved images foster a sense of time's passing; that we are witnessing the embodiment of her experiences rather than a linear progression. "Home is where the heart is and I have moved out" reads one particularly affecting page of symbolism with another showing Barbawk's literally broken form floating on a mass of advice about moving on, capturing her numbness and emotional isolation with great poignancy. Identity too becomes a question for exploration when your whole adult life has been defined in terms of partnership."
Of her self-published work, Swim (below), is arguably her most notable offering to date. A comic that can easily be interpreted as an existential tale about finding one's place in the world, the reality behind its origins is actually more prosaic. It involved a late night Googling session that included the question "Can a fish be afraid of water?"as its starting point…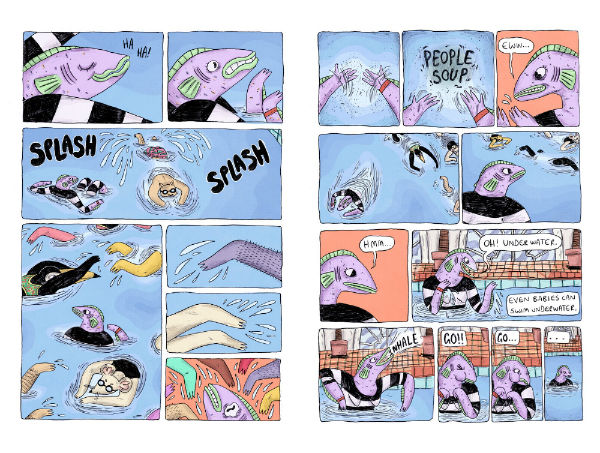 Swim was one of the first Abs Bailey comics I reviewed (at the time she was still using Barbawk as her artist name) and followed "trout girl" Fish whose fear of swimming in a world of anthropomorphic animals had an obvious ironic twist. In my 2019 BF review I noted that "Visually, Barbawk creates an engagingly caricatured animal world that feels all the more human for its detachment from reality. Her sequential storytelling is particularly strong, especially in terms of a sense of movement and of time's passing (full-page shots with multiple iterations of Fish moving through the image are most memorable in this regard)."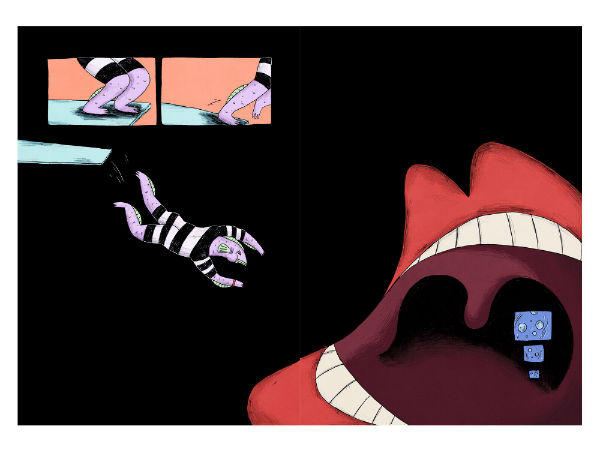 Bailey provided a creator commentary on Swim here at Broken Frontier last year where, among other aspects of the comic, she discussed its cross-media approach: "Originally, Fish was going to be a poseable muppet-like puppet, with rods to pose her. However, I went into making her without planning anything, and after three days, a LOT of tin foil, and two old shirts, I had a totally rigid and unmoveable doll. Plan B was to take a ton of photos (I think it ended up being about 600) from different angles, and photoshop elements taken from these together to have a fully posed figure. I only used this when Fish is underwater, to try and represent that strange, submerged feeling where only what's directly in front of you seems real and everything above the water is almost in another world. The Fish doll is also a little uncanny, and I think it worked pretty nicely to make the panel where she begins to drown more visually uncomfortable than it would if it were drawn."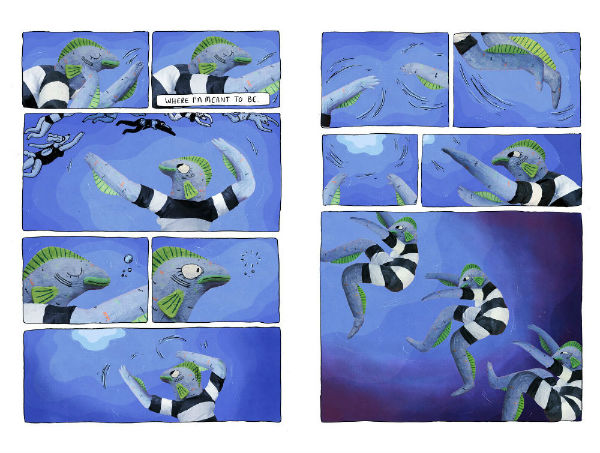 Bailey also has an eye for the bleakly humorous in her work and her self-published back catalogue includes the satirical comics Bert + Ernie: Serial Killers and Elmo's ABC (below). She's also frequently contributed to small press anthologies, including 'Rat Hole' in the currently Kickstarter-funding Cool Comics Club which you can back here.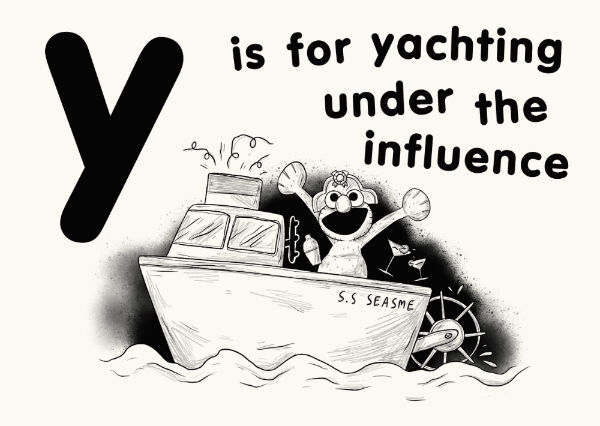 Coming in 2020 is Zebedee and the Valentines (below), Bailey's debut long-form graphic novel from the acclaimed Avery Hill Publishing. The solicitation for the book reads:
1982. A pub, somewhere in a small suburban town in the South of England. Zebedee and The Valentines have just played the gig of their lives. The seven people watching them agree.
With a big battle of the bands approaching, lead singer Zebedee and his motley crew of punks seem ready to blow up. But when the Devil is booking your gigs and the competition is fierce, was it ever really going to be that easy?
The debut graphic novel from incredible new creator Abs Bailey, Zebedee and The Valentines is a psychedelic tale of betrayal, tragedy and triumph told through the lens of the 80s, and with the amps turned up to 11.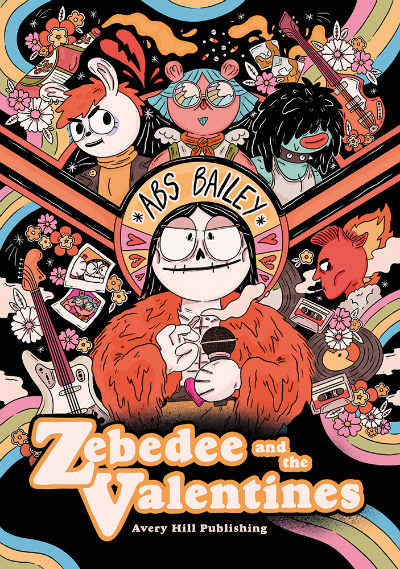 You can pre-order it from the Avery Hill Publishing site here and you should, because the previews we've seen so far indicate it's by far the very best work from Abs Bailey to date. The preview pages below give you more of an idea of the tempo of the story.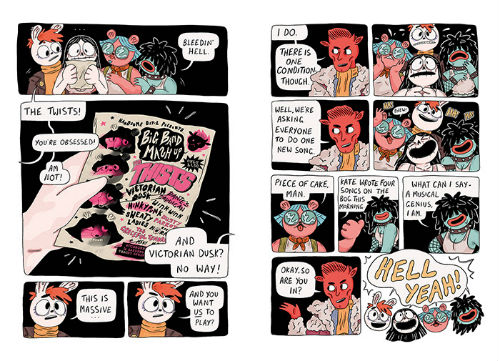 It's always pleasing, of course, to see all our Broken Frontier 'Six to Watch' creators going on to ever bigger things but in the case of Abs Bailey that satisfaction is heightened by the true crossover appeal of her work, the energy she brings to her sequential art, and the way in which she works the page to draw her audience in to the nuances of her storytelling. Make sure you pick up Zebedee and the Valentines this year because it has breakout book written all over it!
For more on the work of Abs Bailey you can visit her site here and make sure to follow her on Twitter and Instagram.
Feature by Andy Oliver