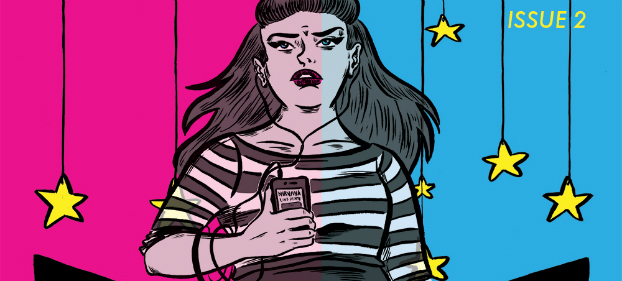 Metroland has a very special place in Avery Hill Publishing history. It's a link back to the South London outfit's early days when the now Ignatz-winning and Eisner-nominated publisher were still effectively part of the DIY culture scene putting together self-published zines. Back then Metroland was an ongoing strip in their Tiny Dancing and Reads anthology offerings. In 2014 AHP rebooted the series as writer Ricky Miller was joined by acclaimed illustrator Julia Scheele (One Beat Zines, Queer: A Graphic History).
Miller described the book to me in a BF 'Small Press Spotlight On…' interview in 2014 in the following terms: "Metroland is a story I've had in my mind for about 8 years, from back when I used to spend massive amounts of time in or watching my friends' bands, or DJing at little indie club nights.  It's about a woman called Jessica Hill who arrives in the life of an up-and-coming indie band called Electric Dreams and changes everything.  It turns out she has the ability to travel through time, so she and her band-mate Ricky Stardust decide to go and fix a lot of things to do with music that they believe have gone wrong in the past. In the midst of all of this Electric Dreams are falling apart, there's a killer on the loose and the end of the world may or may not be about to happen…"
Today Ricky Miller provides us with the latest in our series of 'Small Press Inside Looks' – creator commentaries designed to give our readers a unique perspective on the creative process behind their favourite indie books – and talks about the Metroland story to date and what the future holds…
Metroland #2 Page 1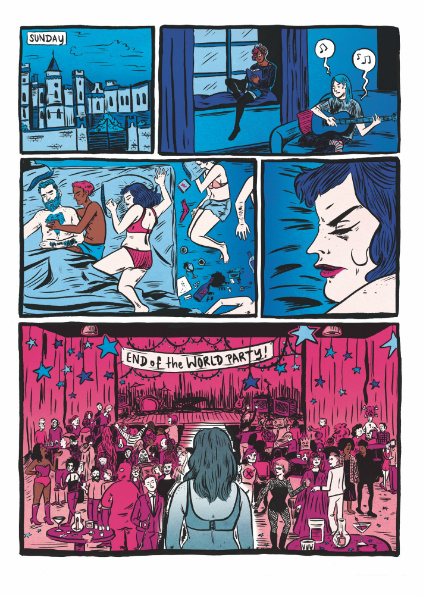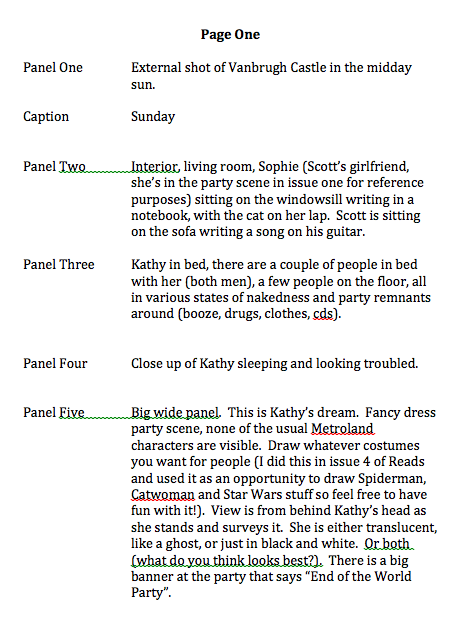 This is probably my favourite page from the whole series. In the third panel Julia perfectly displays the aftermath of a slightly debauched party. The seediness…the mess…the oncoming hangover and comedown…I love the stress on Kathy's face in the fourth panel as well. A great lesson in how to convey something is going on without needing action or text. You can just tell Kathy is having an intense dream. Then the party scene; endless fun figuring out who all of the fancy dress characters are.
Metroland #2 Pages 17 & 18
Here we have Ricky Stardust out looking for Jessica Hill, his best friend who went missing in issue one. The scenes depicted here were frequent occurrences in a big chunk of my twenties. Drinking too much in bars and clubs. Staying out after everyone else had left…hooking up with the wrong people…losing all of my stuff.  Trying to get home. Ricky Stardust isn't me, but a lot of what I did in that time is explored through him. Going out all the time, looking for something/anything, in all of the wrong places. Metroland is a good way to exorcise that part of my life.
Metroland #3 Page 1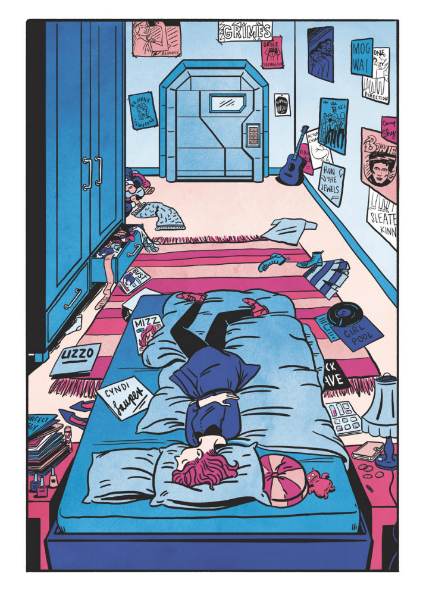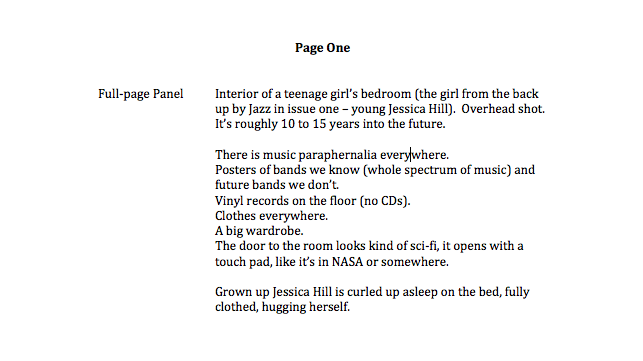 One of the main reasons I asked Julia to be the artist on Metroland was that I knew we had a similar sensibility when it came to music and in particular I could just leave her to her own ideas on most of it. This is particularly true when it comes to the character of Jess, who has barely been in the book so far, but in the wider story is the main character. Here we see Jess in her childhood bedroom, taking a rest from whatever is going on with her. All of the musicians that Julia chose to put on the posters are perfect and exactly who Jess would be in to.
Metroland #4 Page 9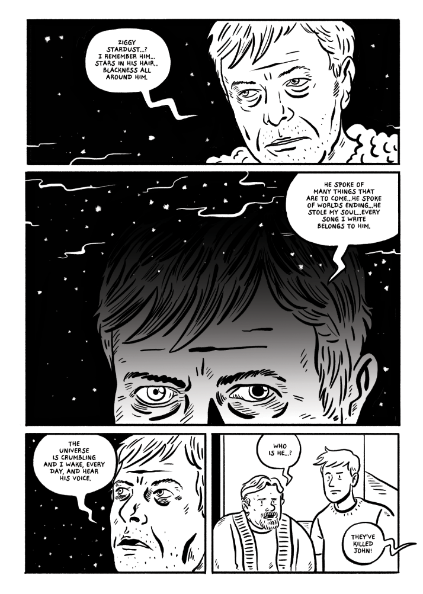 Issue 4 is going to be a double-sized final issue of this Metroland story. It rounds out the tale of Ricky Stardust and Electric Dreams' time in London trying to make it as a band. Metroland will return and continue the ongoing story of Jessica Hill but it will probably be in longer one-shot format story arcs. Here's a work-in-progress page from Julia for Metroland #4, featuring David Bowie.  As 2016 played out, some of the stuff I was working on in the book started to seem vaguely relevant to what was going on now, starting with the death of David Bowie.
Bowie (and Ziggy Stardust in particular) has always been a massive influence on this book; particularly Five Years, Lady Stardust and Rock N Roll Suicide.  On top of that, plotlines in the book such as the world seeming like it was coming to an end, the deaths of a large number of musicians happening at once and hints of a slightly deranged dictator in the White House have come of age recently. That was accidental but going forward a lot of what is happening now is going to start feeding back into the series; especially in Metroland: US Tour; a one-shot in the very early planning stages.
You can buy the first three issues of Metroland from Avery Hill Publishing's online store here. Follow Metroland on Twitter here, Julia Scheele here and Avery Hill Publishing here. 
For regular updates on all things small press follow Andy Oliver on Twitter here.