A follow-up to 2018's anthology I Feel Machine – an exploration of the darker implications in our relationship with technology – SelfMadeHero's I Feel Love similarly brings us six unsettling short stories on the bleaker side of amorous attachment. Once again overseen by editors Krent Able and Julian Hanshaw, it also contains work from an impressive line-up of indie talent including Anya Davidson, Benjamin Marra, Cat Sims and Kelsey Wroten.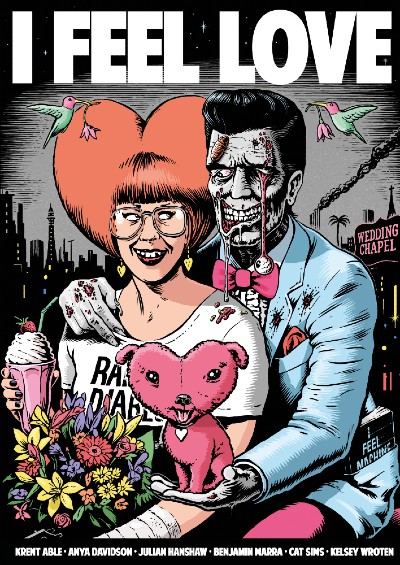 Fittingly described as "the kind of book you don't take home to meet your parents", I Feel Love is brimming with alt comics talent eager to subvert genre standards. If you're looking for the insipid conventions of the traditional romance comics of yesteryear it goes without saying this will not be the book for you. As with previous Able/Hanshaw collaborations, in places it doesn't so much push the boundaries of taste as bulldoze and flatten them in its unrepentant wake…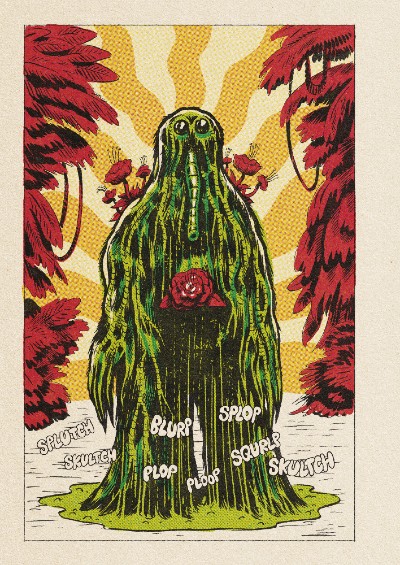 The tone is set by Benjamin Marra's 'Teen Swamp Monster Love' (above), a nostalgic pastiche with echoes of Bronze Age anthology horror comics, retro underground ephemera, and anti-drug morality literature. For one freshman there are horrifying repercussions to embracing the freedoms of his new student lifestyle when a moment of hedonistic experimentation opens up an unexpected world of free love; one that comes with a botanical twist. That theme of the fragile borders between repression and oppression has some echoes in Anya Davidson's 'Hurt/Comfort' (below), a claustrophobic yet dizzying character study that takes slash fiction as its starting point in a story where the borders between reality and fan-fiction gradually blur, as its protagonist's mental state is eroded.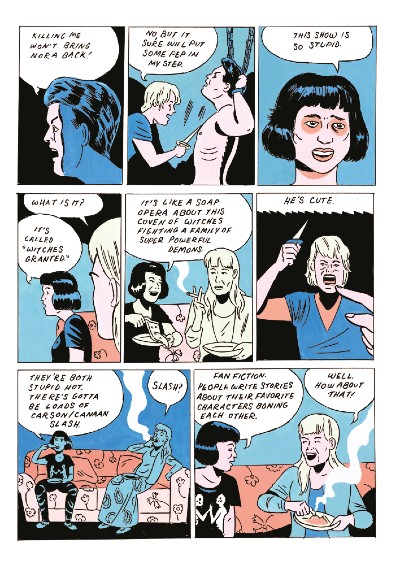 Julian Hanshaw's colour choices in 'I Want to Watch' (below) give a suitably off-kilter feel to the book's most subdued (albeit chillingly so) tale. One that embraces a downbeat and near nihilistic tone in its doomed account of a would-be voyeur wanting to spice up a failing relationship. The shifting perspectives and visual characterisation tell as much of the story as the dialogue does here, emphasising the desolate existence of Hanshaw's central character whose life isn't so much empathetic as full-on pathetic. Despite all the critical acclaim for his work over the years, Hanshaw has never had the recognition his output (Tim Ginger in particular) has deserved. That's long overdue and 'I Want to Watch' underlines his ability to bring the reader so firmly into the headspace of his cast, whether they are sympathetic characters or not.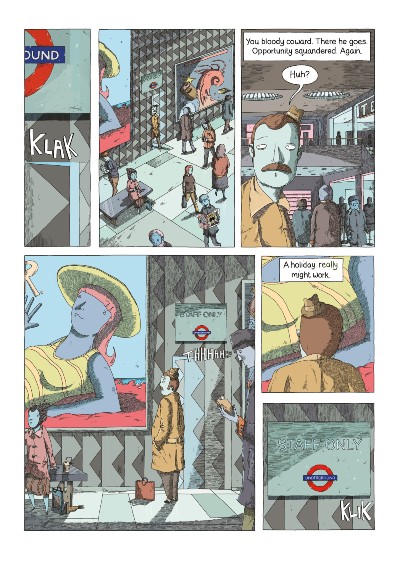 Krent Able's silent story 'Black Balloon' (below) is all secret agents, exploding heads, deeply disturbing body horror, meta moments and disquieting recurring motifs. In short, it ticks all the content boxes that Able fans will be looking for and have come to expect. From a technical standpoint, Able's panel-to-panel storytelling is a masterclass in constructing and pacing a wordless story, always one of the trickiest things to pull off successfully in comics.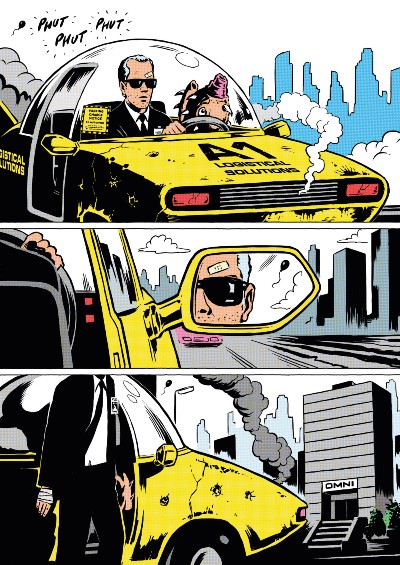 Kelsey Wroten's loose cartooning on 'The Anchor' (below), a journey of self-discovery featuring a woman who volunteers to be walled in alive as a punishment for her sins, perfectly complements the story's medieval setting. Wroten's use of colour here is particularly of note, virtually bursting off the page in places in an explosion of hues and tones.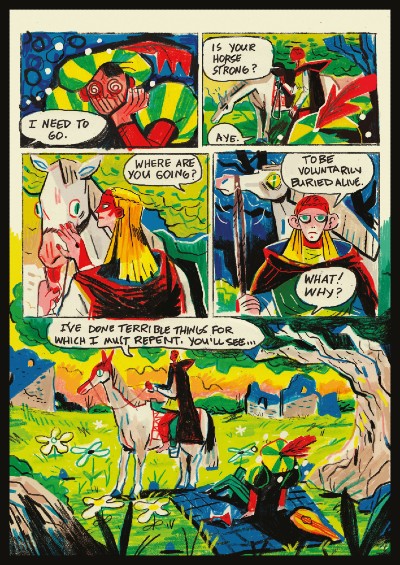 The highlight of the book for me though was undoubtedly 2018 Broken Frontier 'Six to Watch' artist Cat Sims's 'The Burgeoning' (below), another botanical body horror entry with some truly unnerving individual imagery. Sims has established herself as one of UK small press comics' most important social commentators (her short comic XENOS: At the Edge of Life a few years back was remarkably prescient given the events of the last year) but here she gets to flex some very different storytelling muscles in a creepy genre offering with echoes of the Moore/Bissette/Totleben Swamp Thing era. Intense in pacing and delivery, 'The Burgeoning' should bring Sims's comics to the wider audience they deserve.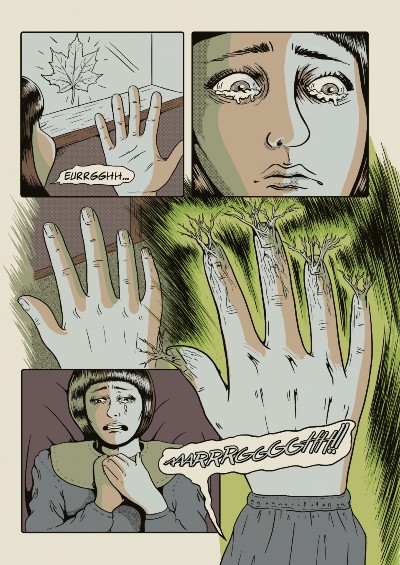 Whereas I Feel Machine had, on occasion, some profound social commentary to make, I Feel Love veers further towards a more obvious line in dark humour. That's an observation not a criticism though, and in that respect it follows in the traditions of a long line of popular comics anthologies going right back to the EC range. The more gratuitous elements, of course, will understandably not be to every reader's tastes. But for those who like their horror/satire/comedy/drama to be unashamedly morbid and defiantly uncompromising I Feel Love will hit all the right notes. And, as ever with such projects, it's also an excellent entry point into the work of the individual creators for those wanting to investigate their practice further.
Krent Able, Julian Hanshaw, Benjamin Marra, Anya Davidson, Kelsey Wroten, Cat Sims (W/A) • SelfMadeHero, £14.99
Bookplate edition available to order online here from Gosh! Comics
Review by Andy Oliver