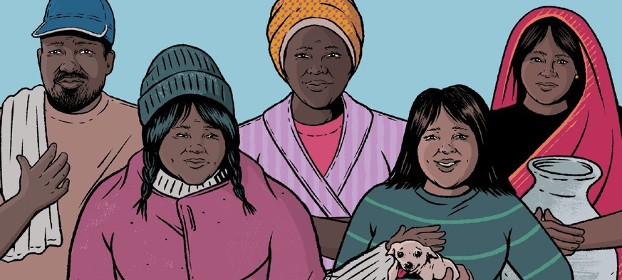 With an unwelcome but sadly appropriate synchronicity I found myself reading and reviewing Everyday Stories of Climate Change on the evening of the day the UK hit its hottest temperatures in recorded history, the highest level of emergency warning was issued by the Met Office for the first time ever, and the country went into shutdown. And yet the climate change deniers were out in force, throwing around terms like "snowflake" and making out of context references to a summer heatwave nearly 50 years ago, as if it were an ecological "Get Out of Jail Free" card.
This, of course, is our greatest challenge if we have any hope of reversing humanity's current stubborn, carefree and determined descent into oblivion. Vested interests still downplay the realities of the situation, continuing to value profit over planet, and casually dismissing the evidence as fearmongering in order to advance their agendas. That's capitalism for you. Change starts at the grassroots and, as we know, comics are an excellent medium for communicating both complex ideas and lived experiences. Everyday Stories of Climate Change is one such project, taking the testimony of families in five different countries to illustrate not just the environmental damage wreaked but also the accompanying societal change too.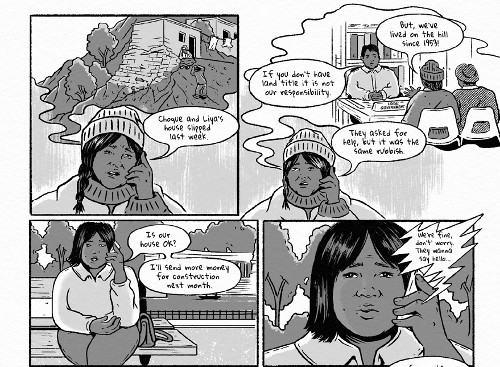 Written by Gemma Sou, Adeeba Nuraina Risha and Gina Ziervogel, and illustrated by Cat Sims, Everyday Stories of Climate Change takes us on a global tour that brings to light some of the consequences of global warming that you may not be so familiar with, and the effects they have on working families from lower income backgrounds. In Bangladesh, through Raju and his family, we learn how rising sea levels have caused the local drinking water to become salinised and the soil to become too salty to grow essential crops. In South Africa we observe Elna's plight as depleted rainfall levels have dire consequences for the community. A trip to Bolivia shows us homes being lost to subsidence after heavy rainfall, while in Puerto Rico in the aftermath of Hurricane Maria food shortages force families to adapt to new circumstances. And finally we visit Barbuda where, similarly, Hurricane Irma has had devastating effects on every societal and environmental tier.
Sou, Rishi and Ziervogel use a classroom-based framing sequence to visit each of these scenarios, allowing a younger reader a frame of refence entry point into the story. Each section breaks the environmental impacts down into easily digestible accounts of the issues involved without trivialising them or patronising the readers. Backed up with text pieces on climate change, conversation points, and further resources, Everyday Stories of Climate Change is both a starting point for discussion and a plea on behalf of the poorer nations of the world for the richer ones to take responsibility for the actions that have impacted them.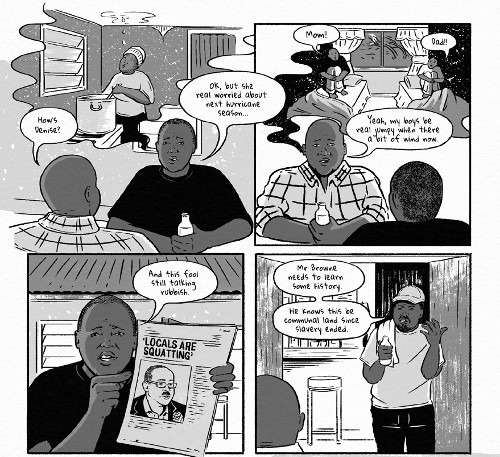 Work like this is primarily about using comics to communicate complicated issues with clarity and accessibility to audiences not necessarily as familiar with the form. So in that regard this isn't the platform for wild visual experimentation. Artist Cat Sims though (herself an illustrator with a track record of perceptive and prescient social commentary) uses the medium with subtle craft here, eschewing ostentation for a more nuanced and powerful connection with the reader – speech balloons depicting events pictorially, panels overlapping to denote a sense of place and movement, and one notable montage double-page spread emphasising the global relation between all events.
Everyday Stories of Climate Change is available to download for free in digital format here. An ultra-relevant social and educational project, and an excellent example of comics activism at its finest.
Gemma Sou, Adeeba Nuraina Risha and Gina Ziervogel (W), Cat Sims (A)
Review by Andy Oliver