EARTH DAY WEEK! This week at Broken Frontier our Earth Day-themed review coverage has looked at comics and the environment from the perspectives of graphic journalism, biography, anthologies, satire and experimental comics. What we haven't touched on yet is pure genre comics escapism in its serial format and, thanks to the timely recent publication date of Jimmie Robinson's Junk Rabbit from Image Comics, we have the chance to do just that today.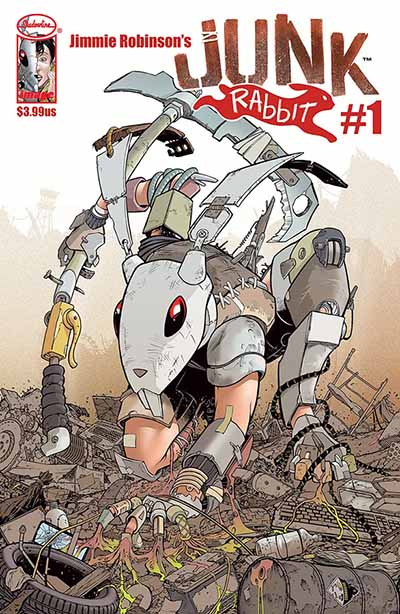 It's 2198 and "super-capitalism has birthed global hyper-consumerism", leading to a US where great mountains of trash make up most of the environment. The rich elite have escaped to colonies in space, the better off are living in domed cities, and the poor are relegated to making landfill encampments their homes. It's a world where climate change, pollution and homelessness have conquered all, and where society has become divided along the simple lines of where people sleep at night.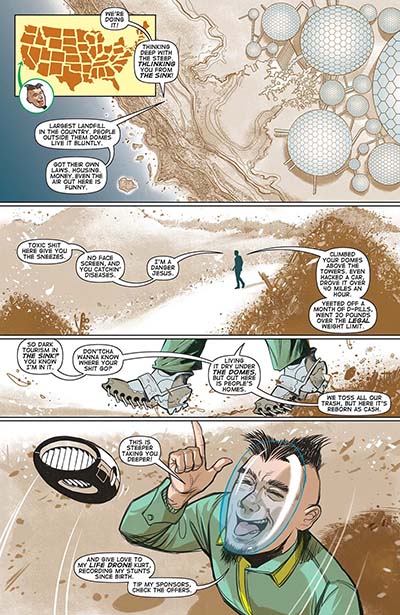 When a reality streaming star, and the heir of one of the dome city's most influential families, is murdered live mid-broadcast in the wastelands outside his city a chain of events is set into motion. Detective Omina and her operatives are sent out to the Sink encampment for answers as to the involvement of the mythological figure the Junk Rabbit in the killing. Here we also meet local siblings Sylv and Ash and their friend Lance who look set to get caught up in events. Who or what is this mysterious costumed figure and what is the Junk Rabbit's agenda in the midst of all this desolation?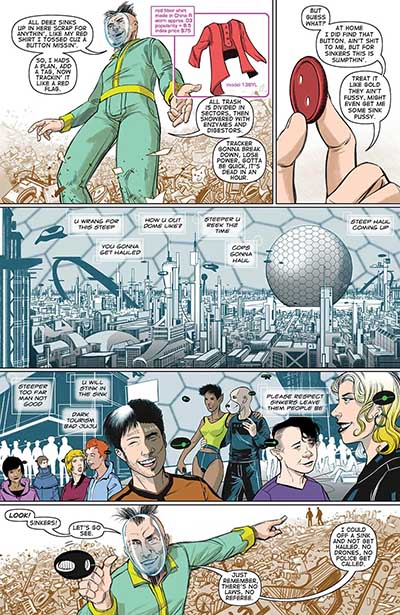 The first thing to note here is the incredible world-building feat that Robinson achieves in just 26 pages. We're immersed in the decay and the inequality of this future Earth immediately, with great towering mountains of garbage greeting us in the first few pages in comparison to the relatively sterile and soulless environs of the domed city. This is a society that works on an adapted transactional basis, with its own cultural evolution, idioms and use of language. Robinson sets up his mystery here with adept pacing, carefully introducing to us the players by bringing us directly into their lives rather than describing them, and gives us a future that, sadly, seems all too familiar.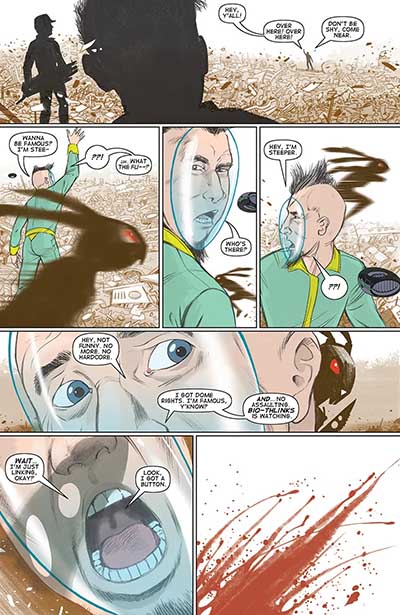 With some intricately realised visuals when it comes to the characters' surroundings and an intelligent use of subdued colour to create a sense of all-pervading oppression this is a moody and atmospheric storytelling environment. One sequence, in particular, stands out when we first meet the Junk Rabbit as a speeding blur shifting through the backgrounds and foregrounds of panels; a sense of implied movement and violence that is chilling in its choreography.
Terrifyingly relevant, and pitch perfect in terms of opening chapter narrative structure and pacing, it will be well worth watching where Robinson goes with the mystery that sits at the heart of this dystopian thriller in the months to come.
Jimmie Robinson (W/A) • Image Comics/Shadowline, $3.99
Review by Andy Oliver