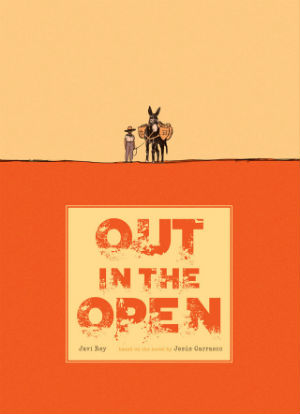 ELCAF FORTNIGHT!
Adapting novels into comics form is a tricky path to navigate. Often such cross-media exercises fall into the trap of attempting to wrap images around the existing prose, resulting in densely packed panels that lose sight of the purer visual storytelling of the form.
It's obviously understandable because the adaptation doesn't want to lose the original voice and style that made the source material a success in the first place. However, sometimes a bolder (and braver) choice is to capture the essence of the original story; to use the traits of sequential art to brings its themes and mood to life in another medium rather than awkwardly trying to transplant it there.
Out in the Open sees Javi Rey adapt Jesús Carrasco's bestselling and widely acclaimed debut novel into comics in a manner that plays to the strengths of the graphic narrative form. A young boy is forced to flee the small settlement that was his home and escape into an outback that has been devastated by drought. Hunted by a group from the town including the local sheriff, and unable to fend for himself in this harsh environment, he is befriended by an elderly goatherd who will become a vital figure in his quest for survival. But with his pursuers closing in, and the awful truth of his ordeal in the town revealed, events begin to build to a violent conclusion…
What is so intriguing about Rey's adaptation is how so much is said without words. Each "chapter" of the graphic novel begins with either introductory or accompanying prose – and there are occasional interludes – but the bulk of the book relies on the minimal dialogue of its source. Instead Rey lets subtle visual characterisation and an astonishingly evocative use of colour communicate the plights of Carrasco's characters.
The sense of all-pervading heat permeates the book with arid orange and yellow hues creating an atmosphere of oppression throughout. But Rey also uses colour to heighten the horrors of the boy's past in sections of more vivid, almost hallucinatory, dream sequences that underline the terrible realities he's seeking to escape.
It's a potent and gripping tale that allows us to invest in the two central characters in a very short period of time. Out in the Open is so touching because it reminds us that, in a world where the very worst of what we can be threatens to overwhelm us, it's the small acts of humanity that sit at the story's core that have the greatest power.
Jesús Carrasco (W), Javi Rey (A/Adaptation) • SelfMadeHero, £14.99
SelfMadeHero will be exhibiting at ELCAF. Visit their site here and follow them on Twitter here.
Catch up on all our ELCAF Fortnight articles to date here. ELCAF runs from June 22nd-24th. Full details on the ELCAF site here and you can also follow the festival on Twitter here.