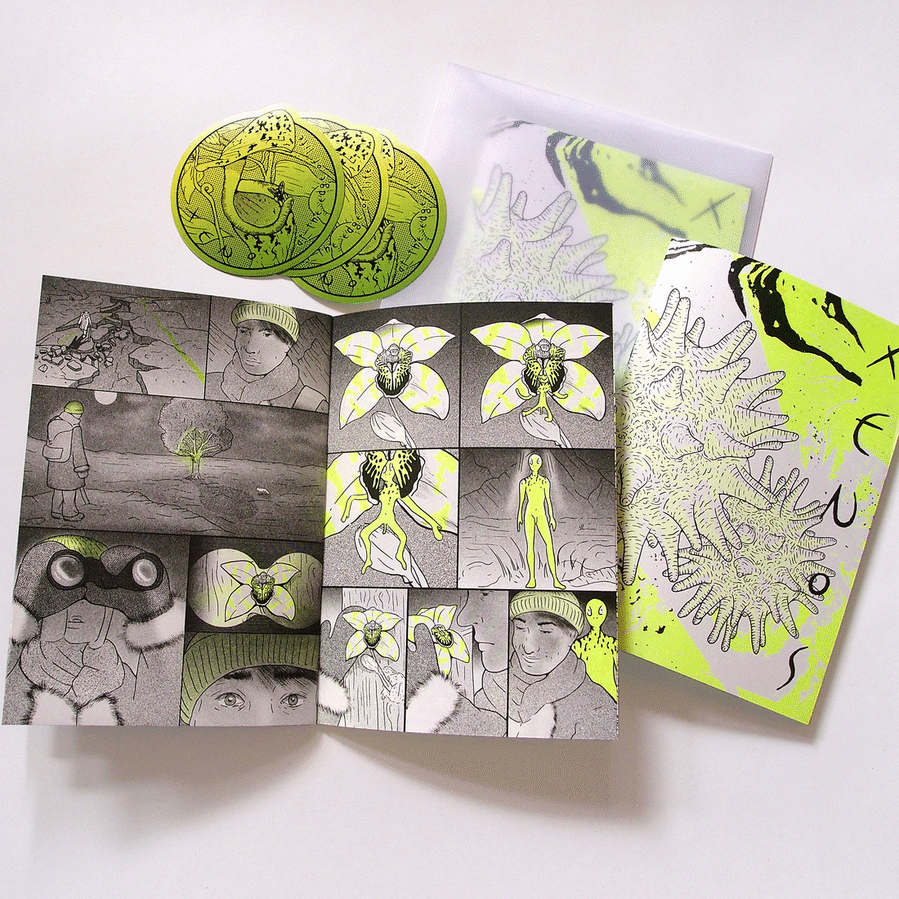 Describing the work of Cat Sims in XENOS: At the Edge of Life as "social commentary" seems a desperately inadequate term for such an undeniably potent piece of pure visual storytelling. Sims is one of our 2018 'Broken Frontier Six Small Press Creators to Watch' with XENOS already being named not just our 'Comic of the Festival' when it debuted at this year's ELCAF but also nominated in the 'Best One-Shot' category in this year's Broken Frontier Awards.
XENOS is a study of an environment close to collapse; an ecosphere that has already teetered over the precipice of irrevocable disaster. It's split into five sections that deal with different scenarios but with each superficially disaparate segment either segueing into or echoing those around them. From polluted, dystopian landscapes to ways of life lost by global warming; from the wider ramifications of an exploited labour force to the horrors of intensive meat production; through to the genesis of new and mutated diseases XENOS is an unrelenting and uncompromising account of our brutal, clinical and devastating exploitation of the natural world and its repercussions.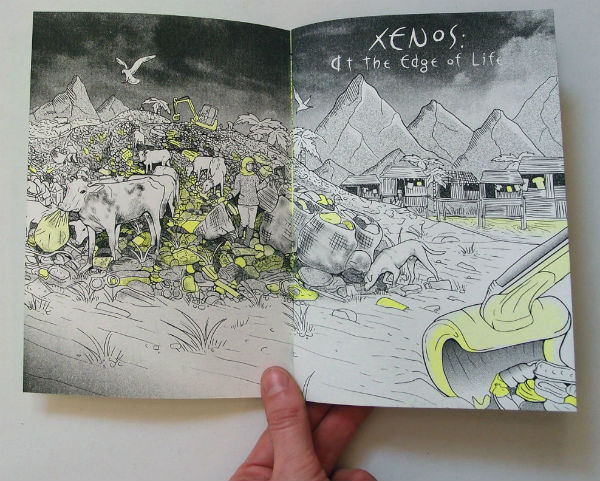 What makes this tour of overconsumption, toxification and blatant disregard all the more effective in delivery is that outside of chapter captions it's told without words, with Sims conveying the severity of the situation through her bleak, stark imagery. Exposition is irrelevant because, perhaps ironically, we react to and understand Sims's message on a far more instictive and visceral level. Contrasting the intricate realism of her work with nightmarish visual metaphor, and with recurring motifs tying the separate parts into an overarching whole, Sims also utilises a fluorescent yellow on her black and white pages (which photos really cannot do justice), further emphasising tone and the deleterious effect of humankind's presence on the fragile natural systems surrounding it.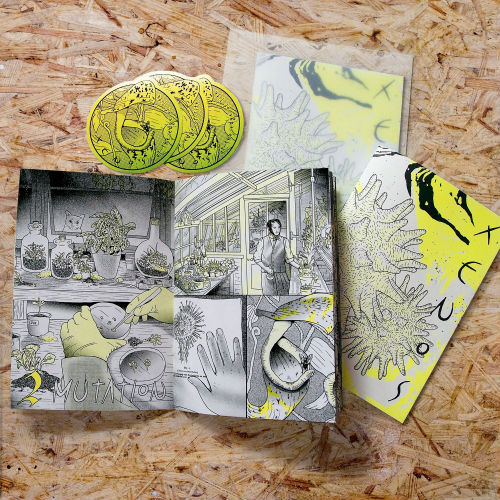 XENOS jumps through time zones, constantly playing with our notions of "between the panels" comprehension to give us a wider overview of the chronology of the challenges we face (and have created), and making full use of the carefully constructed contrasts and narrative parallels on show. It results in a finale that tramples any conceived borders between speculative and science fiction with a moment that feels both surprising and yet inevitable. It's a comic, though, that also deftly underlines that nodding in quiet agreement as we journey through its pages is an insufficient reaction to its themes; that passive approbation without action is tantamount to complicity.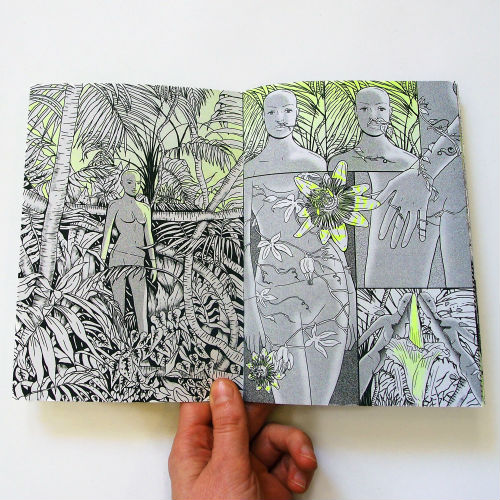 The depth of research here is obvious and in terms of narrative, visual craft and the striking effectiveness of its message it's undoubtedly the strongest graphic narrative Sims has put out to date. XENOS actually feels ripe for expansion into a much longer-form and even more far-reaching story. A fitting way to round off our small press coverage this year because XENOS is one of the most powerful comics I've reviewed in 2018. In fact it's one of the most powerful comics I've ever covered in 'Small Pressganged' and one that's fully deserving of all its multiple mentions on the site over the last twelve months.
For more on her work visit her site here and follow her on Twitter here and Instagram here. You can find her online store here. 
For regular updates on all things small press follow Andy Oliver on Twitter here.
Review by Andy Oliver